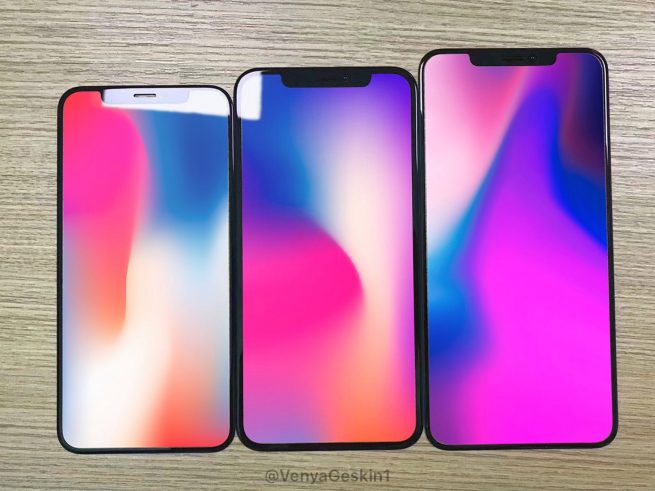 For the past few months we have been hearing rumors about Apple releasing three new models of iPhone this year. This is expected to include an upgraded iPhone X, an iPhone X Plus with 6.5-inch display and a 6.1-inch cheaper model with an LCD display.
Now Bloomberg is reporting that Apple is indeed going to release three new models of iPhone this year, all of which will feature a design that will be similar to that of iPhone X. Bloomberg notes that Apple is going to continue using the iPhone X design and offer the devices that are likely to ditch the home button in favor of a bezel-less display and Face ID. Due to similar nature of the design this year is being labelled as an 'S' year, that suggests focus will be on internal specifications and features rather than on design.
The report notes the high-end iPhone X, which is dubbed as D33 internally will have new software features that will be exclusive to the larger 6.5-inch device. This includes ability for users to view content side by side, allowing them to use multiple apps such as Mail and Calendar at the same time, similar to how they can do them same on an iPad. In some regions Apple is also expected to launch this model with dual-SIM capabilities.
Apple is also going to ditch the iPhone 6 inspired design and will be replacing the iPhone 8 with an LCD iPhone. This LCD iPhone is said to have a 6.1-inch display and is codenamed N84 internally. According to the report this particular iPhone will come in multiple colors and have aluminium edges rather than having stainless steel edges found on the iPhone X and upcoming OLED models. Citing a person familiar with the matter the report says this new iPhone might not have the edges and the glass back made up of same color to help in keeping the production simple. Compromises like these will help in keeping the price on the lower side.
In addition to releasing new iPhones, Apple is also said to be working on a new Apple Watch and new iPad Pro models. The report from Bloomberg notes that the new Apple Watch will most likely feature the same design however it will sport larger displays that will be 'nearly edge-to-edge'. New AirPods and AirPower charging mat, which was announced last year is also expected to launch later this year.
For the iPad Pro lineup, Apple is rumored to launch two new models including an 11-inch model and a 12.9-inch model. Both these models are expected to lose the home button and have Face ID unlocking.