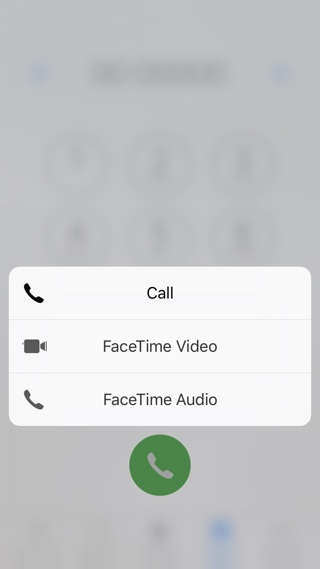 3D Touch was added to make the life of iOS users more convenient. While the new technology has been nothing short of impressive, there's still a long way to go for it to become the preferred mode of input for iPhone users. There are many 3D Touch shortcuts that can greatly reduce the time it takes for users to perform simple iOS tasks. One such shortcut in the stock Phone app makes it possible for users to select what kind of call they want to make.
The shortcut can be accessed through the Keypad screen of the Phone app. Once you are on the Keypad screen simply type in the phone number and force tap on the green call button. When you do a call menu will appear with options including Call, FaceTime Video and FaceTime Audio. This simple shortcut makes it super easy to select the type of call before you even make it, saving you precious time.
Similarly if you have a phone number added to your contacts, then you can access its Contact entry and force tap on the 'Call' button to access a similar menu.
Did you know about this Phone app 3D Touch shortcut? If yes, do you ever use it? Let us know in the comments section below.