In this review, we are going to take a close look at the Harber London Office Backpack. This premium backpack is a great option for those who are looking for a new backpack for their MacBook and other everyday carry items.
Harber London Office Backpack is a premium backpack, which means it is not only made with rich full-grain leather but it is also priced accordingly. So should you consider this backpack and splurge $414 on this bag? Read on to find out.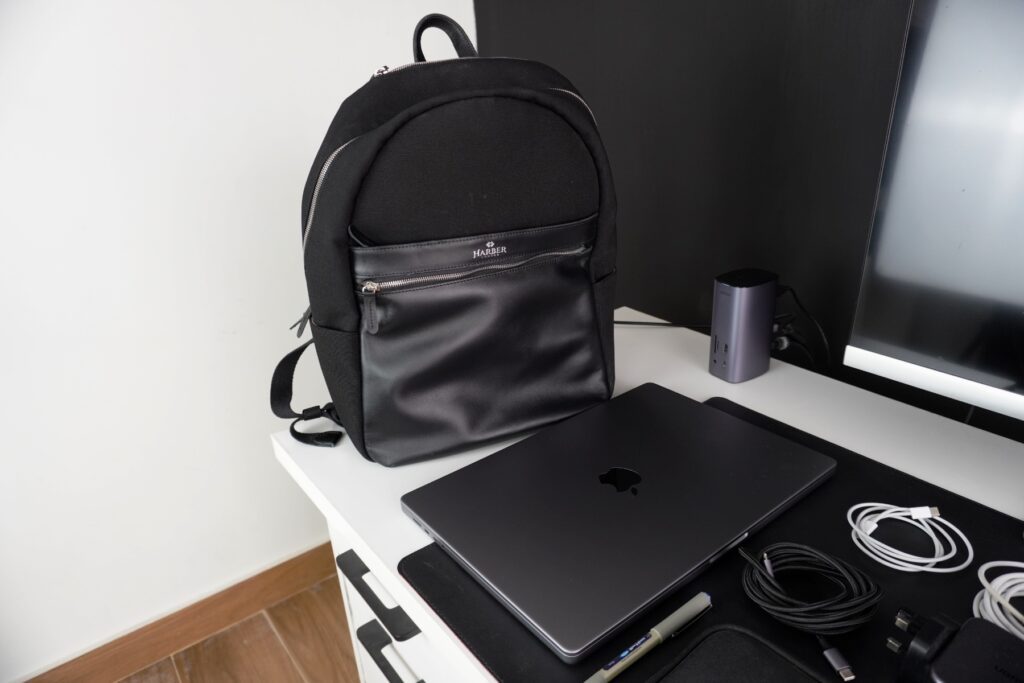 Before we dive deep into the nitty-gritty of this new backpack, it is important to highlight the fact that Harber London provided this product to us for the purpose of reviewing. Having said that we have offered our sincere and honest review of the product below.
The Harber London Office Backpack is designed with everyday use in mind. This makes it great for people who commute to the office or co-working space on a daily basis. It has spacious pockets, is made up of premium yet durable materials, and offers enough compartments that you will run out of ideas about what to put in them.
Design and materials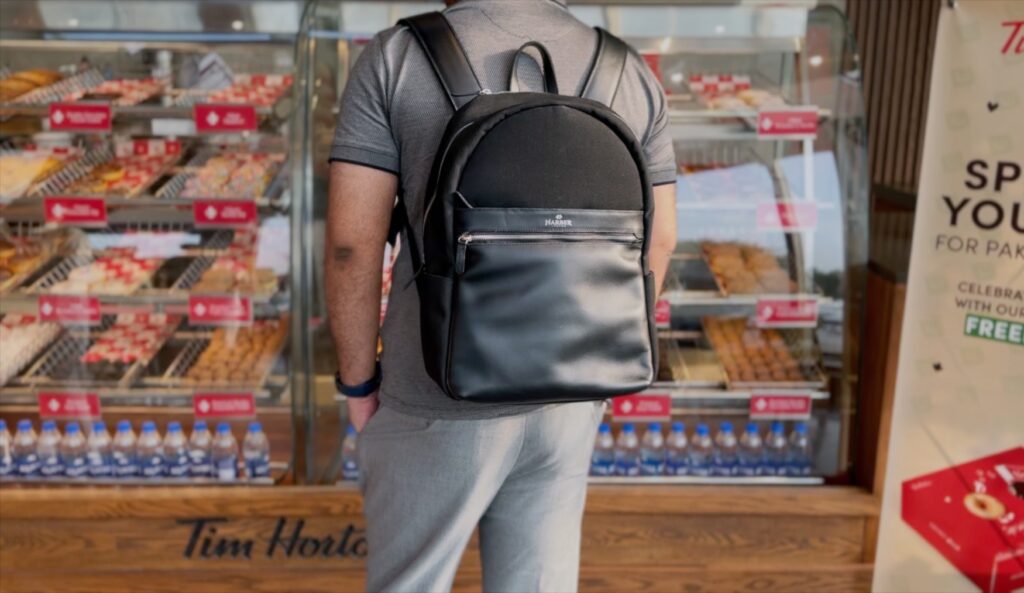 Let's talk about its design first. The Harber London Office Backpack is made up of rich full-grain leather and recycled plastic bottle fabric. This combination of materials adds a nice balance to the appearance and durability of the backpack.
This backpack comes in four color options. I chose the all-black option for this review, and I love it. At the front of the backpack, you get a large leather pocket along with a visible zip for the front pocket. Behind it is another pocket that is hidden from plain sight. The top half of the backpack features recycled plastic bottle fabric.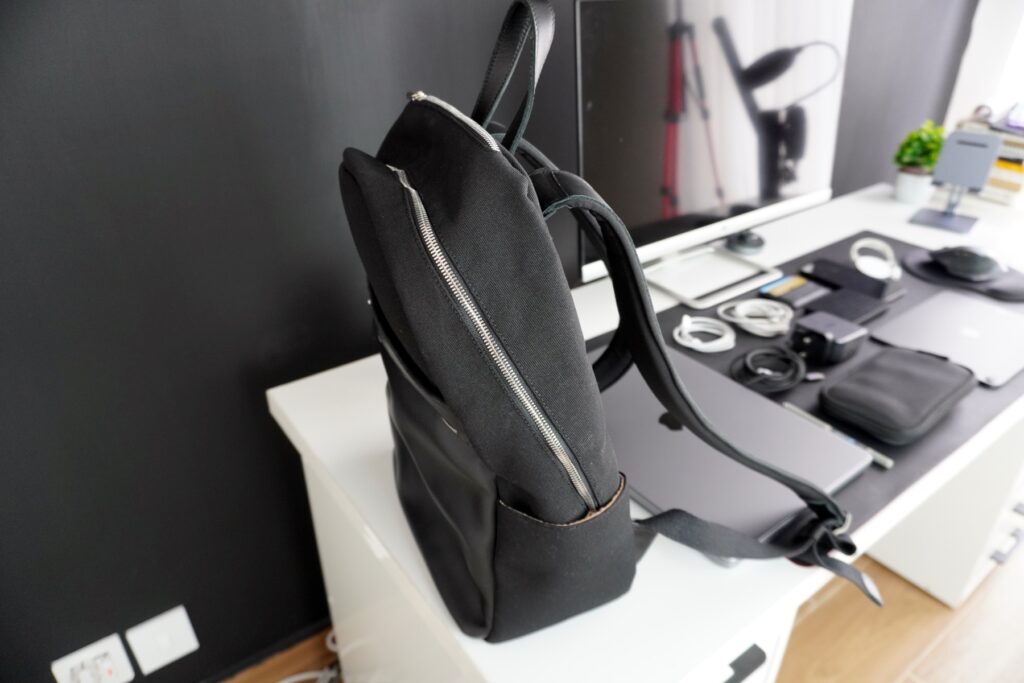 The premium full-grain leather on this backpack is said to age beautifully and develops a unique patina over time. As a fan of the premium leather aesthetic, I am looking forward to seeing how that patina develops as it ages.
The back of this backpack is also made up of the same recycled plastic bottle fabric while you also get a leather handle look and shoulder straps.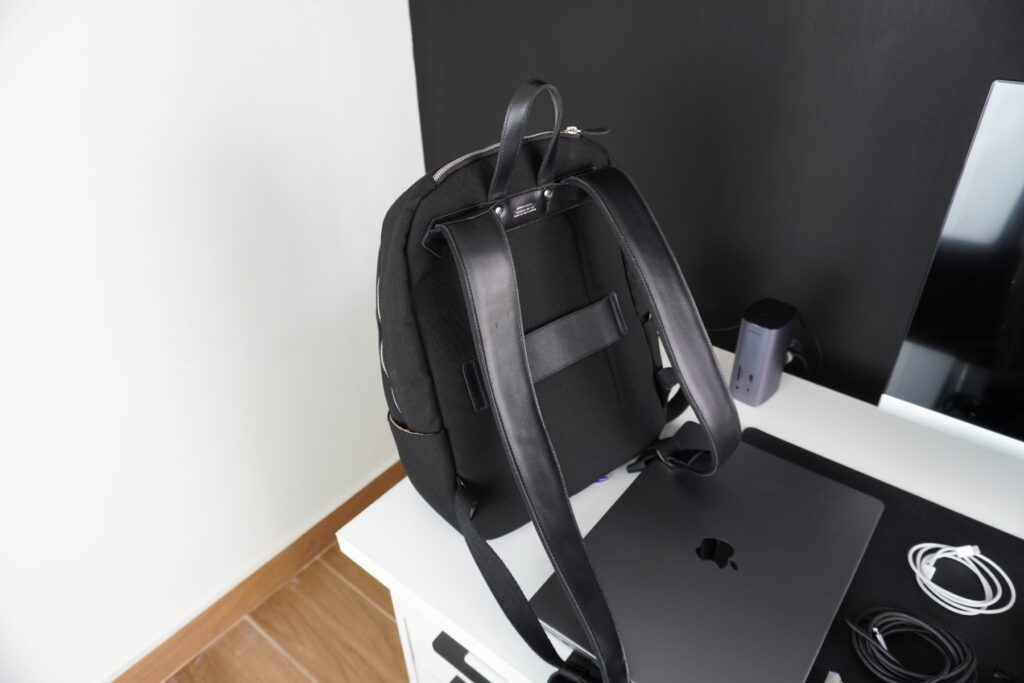 The backpack has four external zip pockets, two on the front and two at the top. There's a water bottle holder on each side of the backpack.
Storage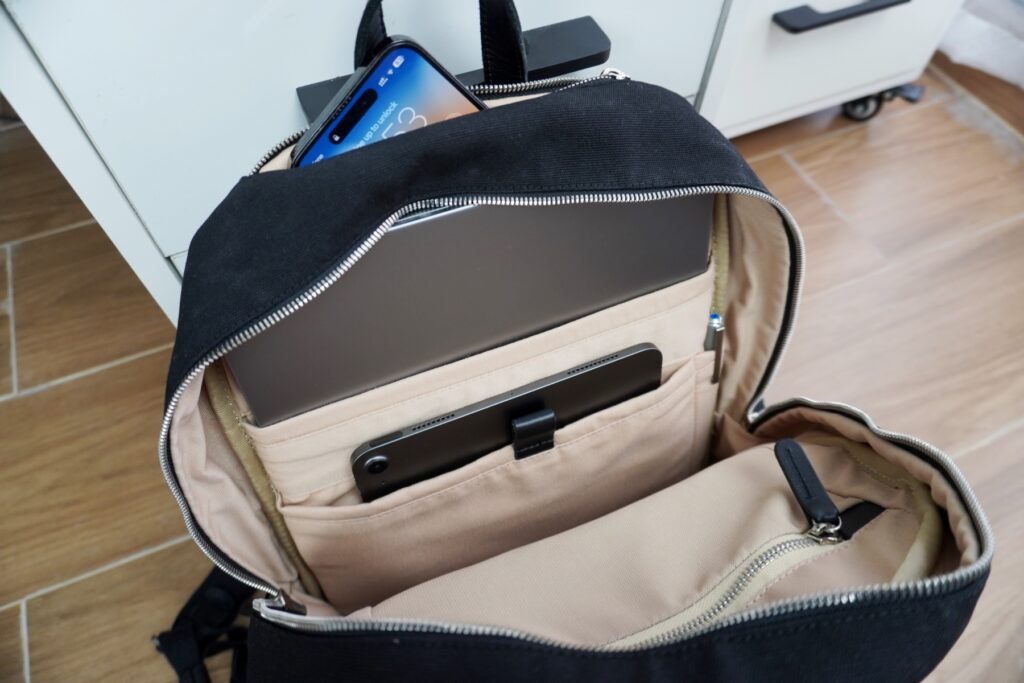 When it comes to storage the Harber London Office Backpack is capable of holding a surprisingly large amount of goods for you. This is an 18L backpack that weighs 1.30 kg and has dimensions of 43 x 29.5 x 14 cm.
With this backpack, you get two zipped external pockets at the front. The front pocket is great for storing items that you need quick access to. It is a nice big pocket that can carry larger items without any issues. There's also a second pocket right behind it, which is great for storing items like charging cables, business cards in the dedicated business card holder, and keys. It even has a built-in keychain with a carabiner that lets you store keys safely.
My favorite pocket in the whole backpack is the one located at the top. This easy-to-access zipped pocket allows users to put their iPhone, AirPods, or passport in it. This is a super useful pocket that can be easily accessed and can house a large phone like iPhone 14 Pro Max without any problems.
Moving onto the main compartment of this backpack. This particular compartment is the biggest and most spacious one. This is the one where you will store your most-priced possessions.
The Office Backpack features a dedicated and padded laptop compartment that is big enough to store a 16-inch MacBook Pro. Although you might face some trouble when putting the big laptop in and out. This bag is perfect for a 14-inch MacBook Pro or a 15-inch MacBook Air. However, I have been using it with a 16-inch MacBook Pro and don't mind the occasional effort it takes when putting the device in and out.
There's also a dedicated iPad pocket in the backpack that is big enough to store a 12.9-inch iPad Pro. You also get a nice little Pen holder that you can use to store your Apple Pencil or an actual pen.
On the other side of the big compartment, you get two smaller pockets that are great for storing chargers, cables, external hard drives, and other similar-sized items.
There's also a zipped pocket on the inside of the backpack. This pocket is great for storing your wallet, cash, credit cards, and other items that you want to store safely.
The main compartment of this backpack is very spacious. You can easily store a large number of items in this pocket without worrying about the space getting crammed.
Things it can carry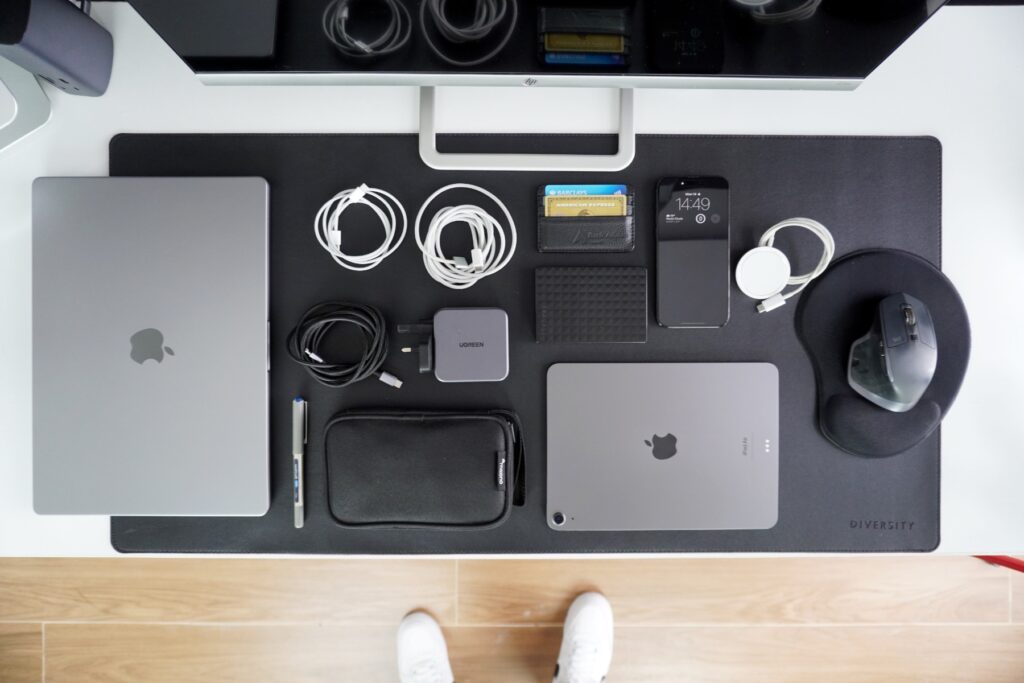 Here are some of the items that I have been regularly carrying in this backpack with a lot of room to spare:
16-inch MacBook Pro
10.9-inch iPad Air
AirPods Pro
iPhone 14 Pro Max
MX Master mouse
Mousepad
External hard drive
Wallet
140W charging brick
MagSafe cable for MacBook
MagSafe Charger for iPhone
2 USB-C cables
1 Lightning cable
A small pouch
A pen
A water bottle
I have been carrying all of the items mentioned above on a regular basis. Even with all of these things inside the backpack, it did not feel heavy or full in any way. I suspect I could fill many more items in the backpack if I wanted to, however, I was able to carry everything I wanted without making any compromises.
The Harber London Office Backpack is easy to carry around on your back. It features swiveling shoulder straps that are padded to make wearing the backpack comfortable. The straps adapt to any shoulder width while you can also adjust the length according to your liking.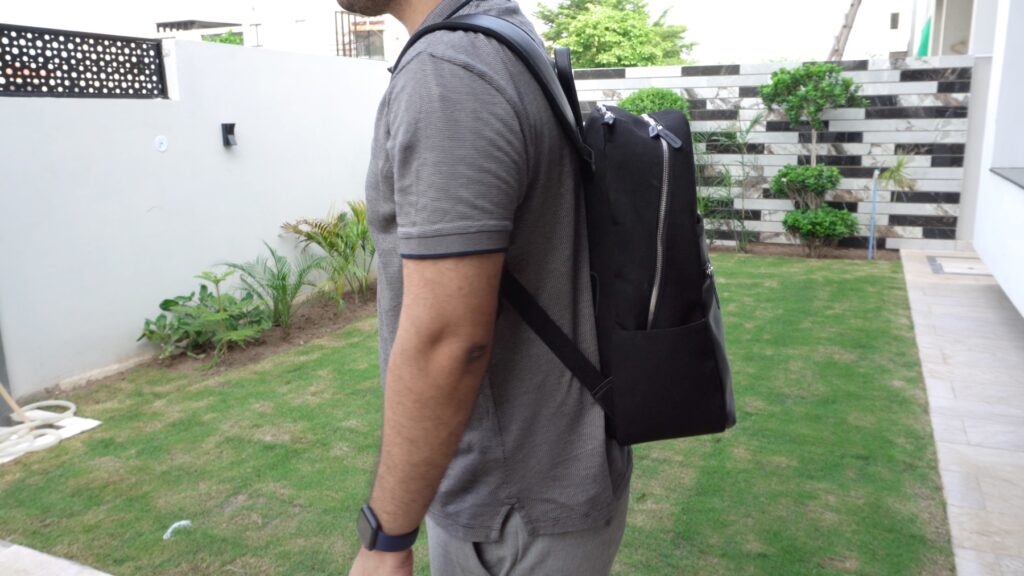 Final Verdict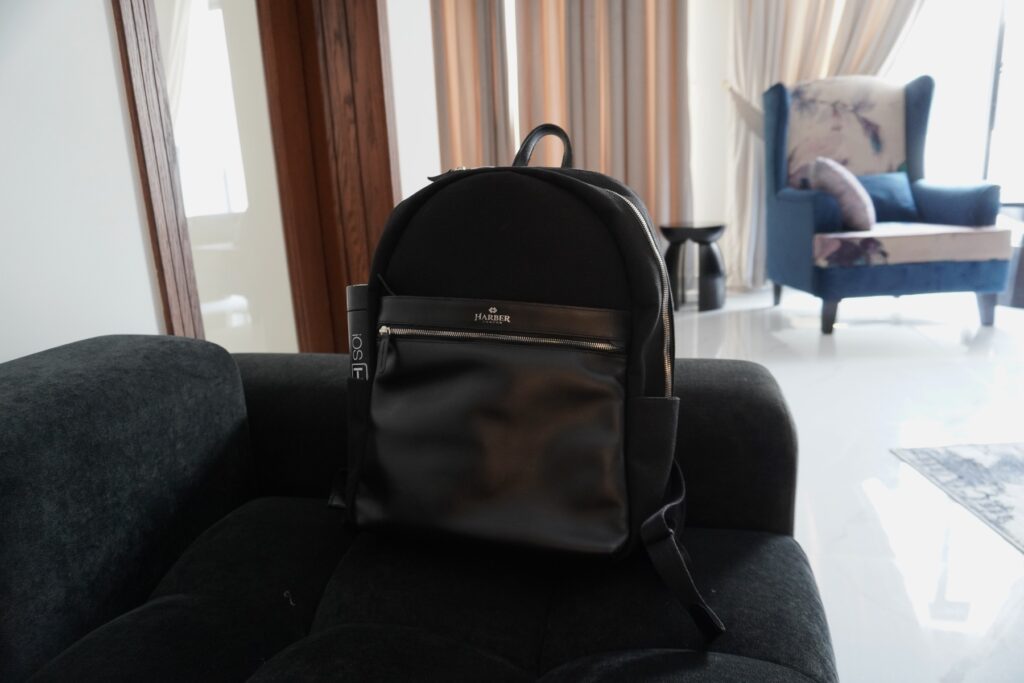 After using the Harber London Office Backpack for over a month I have to say that I am thoroughly impressed by this backpack. It has a nice blend of design, practicability, and durability that make it a perfect day-to-day use backpack for MacBook and iPad users.
Here are a few good and bad things about this backpack.
The Good
Premium full-grain leather design
Spacious and practical pockets
Padded compartment for laptop protection
High-quality zips that open and close smoothly
iPhone pocket at the top
Dedicated compartments to carry iPad and Apple Pencil
Comfortable padded shoulder straps
The Bad
Pricey
Can be difficult to put a 16-inch MacBook Pro in and out
All good things cost more money, and this is especially true for the Harber London Office Backpack. This is a beautifully designed backpack that aims to fulfill every need of its users and succeeds in doing so.
The only issue that one might face when deciding to buy this particular backpack over other options is its high price point. The bag costs $414 or £319. If you can afford it, then go for it!
Pricing and availability
You can buy the Harber London Office Backpack in four color options. The backpack costs $414 on the company's official website here.
Disclosure: iOSHacker may receive a commission if you purchase products through our affiliate links. For more visit our privacy policy page.