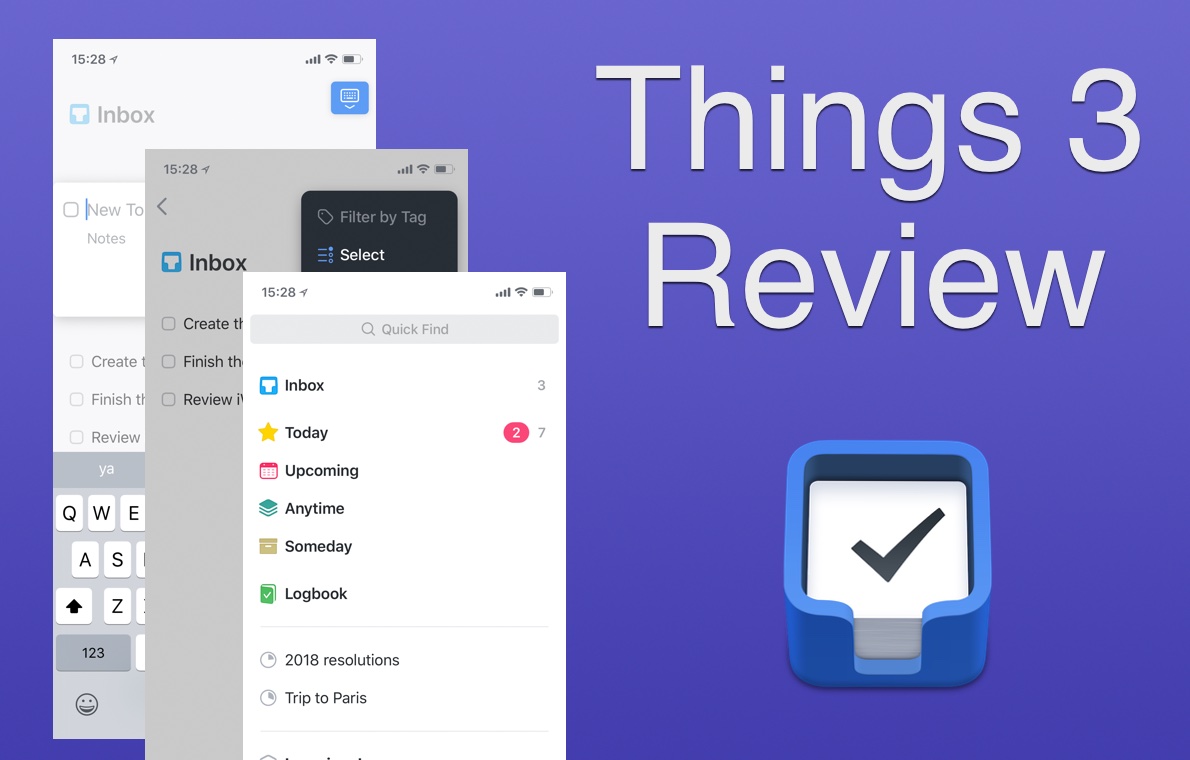 One of the most important apps that you can have installed on your iPhone, iPad or Mac is a to-do list app. If you happen to have all of these devices, then an app that lets you access your to-do lists and reminders across all of them can be a game changer and give you a productivity boost. That's exactly what Things 3 does. Most of you might already be familiar with the Things To-Do app, due to the fact that it has been around since late 2007.
Quite recently the app got a major redesign and overhaul that was 5 years in the making. As a result they have won several awards including Apple Design Award in 2017. This and its cross-device availability made it the obvious choice for me to try it out. I have been using the Things 3 app on my iPhone, iPad, Mac and Apple Watch for last few months, and after using it for this long I can share my thoughts on whether this app is worth its price tag or not. Hopefully this review will help you in making a decision for yourself.
Design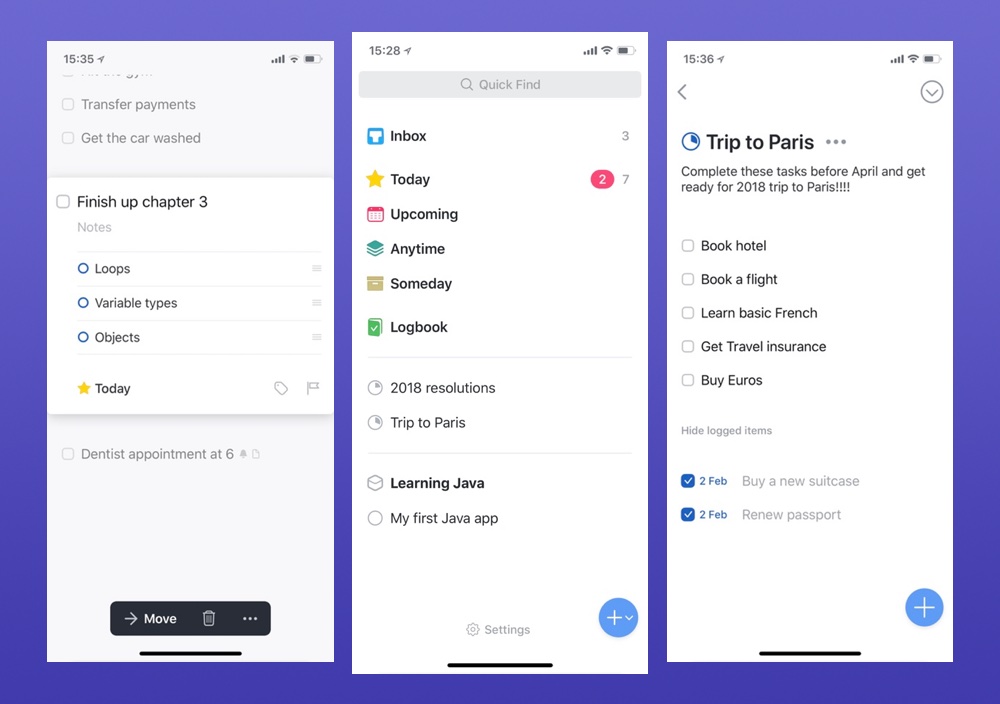 Things 3's design is a work of art. Its minimalist look and practical placement of UI elements makes it super easy to use. It is designed in such a way that you can focus on the task at hand rather than spending much of your time using the app. You will get used to it the moment you download it without having to spend much time or effort into figuring things out. The conveniently placed and omnipresent Magic '+' button will let you add new To-Do to your list while you can quickly add title, notes, reminder, tags, check-list and deadline before saving it.
With this app you can neatly organize your tasks in Today, Upcoming, Anytime or Someday sections. This lets you separate tasks that need to be completed today from the tasks that you can do anytime you like, or those long term tasks that don't need to be in any list. All of your previously completed tasks are placed under Logbook section, so you can view them anytime you like.
My favorite feature of the Things 3 App is that you can quickly add a checklist to any of your tasks. This not only lets you organize sub-tasks more effortlessly but also removes the clutter from the main list. You will always know which tasks have sub-task checklists thanks to the checklist icon right next to its title.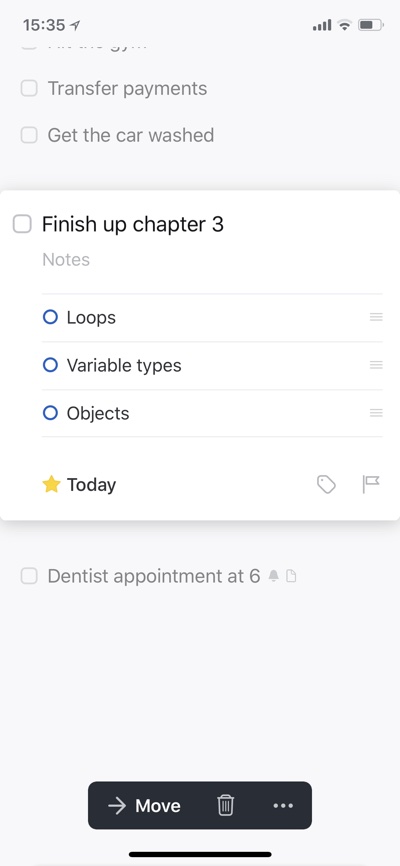 You can not only move different to-dos up or down based on your preference but you can also grab the Magic '+' button and conveniently drop it in the list where you want to add your next to-do. This is super convenient and makes organizing the to-dos's a much better experience. You can also select multiple tasks and move them together in a single gesture.
Since you can add projects to Things and manage individual tasks related to it from one place, the app shows a useful and motivating progress pie chart that closes as you complete new tasks belonging to that project. The circle fills when you complete all the tasks belonging to a project, which looks super nice. For me closing the pie gives a similar satisfaction as closing Activity Rings on my Apple Watch, which helps in completing tasks more quickly and avoid procrastination. Speaking of projects, the app also lets you add notes and headings related to a project.
Once you have created relevant headings, you can move your tasks under these headings that makes it easier to find what you are looking for and group similar tasks together. For example, when you are going shopping, you can group all the items that you can buy from the same shop in a single heading, so you don't forget to buy things when you are at that shop.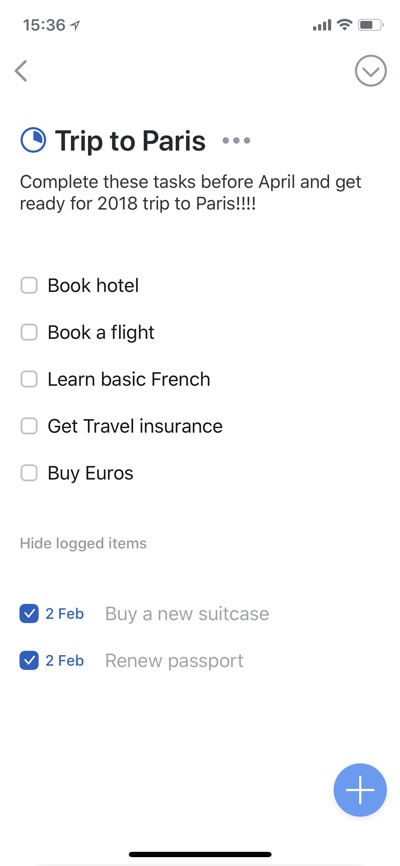 The design section of this review wouldn't be complete without talking about the animations. The smooth animations that are displayed when you tap on the add button to create new entries, navigating through pages and accessing different menus adds a layer of polish to the app's already great user-interface.
Features
Things 3 offers a range of useful features that aid in completing those tasks and meeting deadlines. You get the Things Cloud functionality, that makes sure all of your to-do's are synced between your devices. The syncing almost works in real-time, so any task you add to your lists or mark as complete will instantly update on other devices.
Things also offers Siri integration, which means you can create new to-dos or mark the existing ones as completed using the digital assistant. The Siri functionality will be even more useful for those who end up buying the HomePod smart speaker from Apple.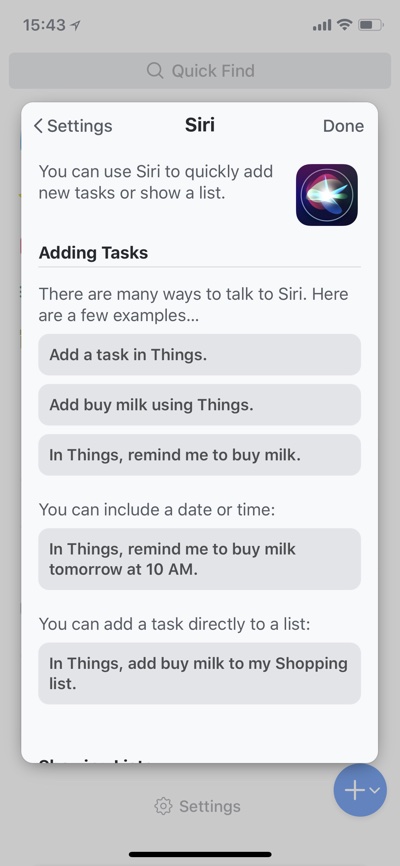 There's also a Calendar Events feature, once you activate it Things 3 will automatically import all of your Calendar events and show them int he Upcoming section. The Upcoming section will also list tasks with deadlines, which is convenient. This is a super useful feature for me as it allows me to take a quick glance at what's on the my agenda in the coming days and get prepared for it in advance. Once you activate Calendar integration you will also get all of your pending events for the day in the Today section. You can also choose to integrate Things 3 app with the stock Reminders application. That way you can import to-dos from the app. These reminders will appear in the Inbox section.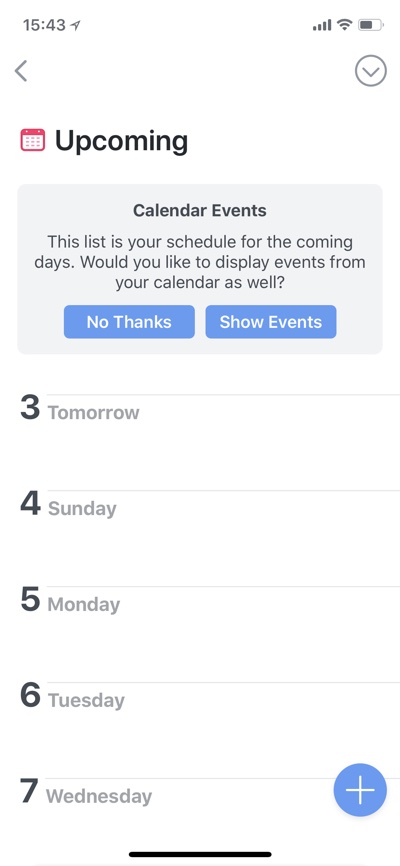 Recently Things also brought a useful feature called Mail to Things to its apps, which makes it possible for users to add new to-dos to their Inbox by sending emails to Things Cloud. This not only gives you a way to add to-dos from a machine that does not have Things installed but also makes it possible for you to share your address with a colleague, who can add tasks to your Inbox. You can also take advantage of IFTTT and other automation services with this functionality. You can enable Things Cloud and see your address by going to in-app Settings > Things Cloud > Mail to Things.
All Things 3 Apps
Things 3 is available separately on iPhone, iPad, Mac and Apple Watch. While iPhone and Watch versions are tied together, you have to purchase the iPad and Mac versions separately. You may not own all of the devices or simply choose not to buy all three versions of the Things 3 app, for that reason I have briefly talked about each version separately below.
Things 3 for iPhone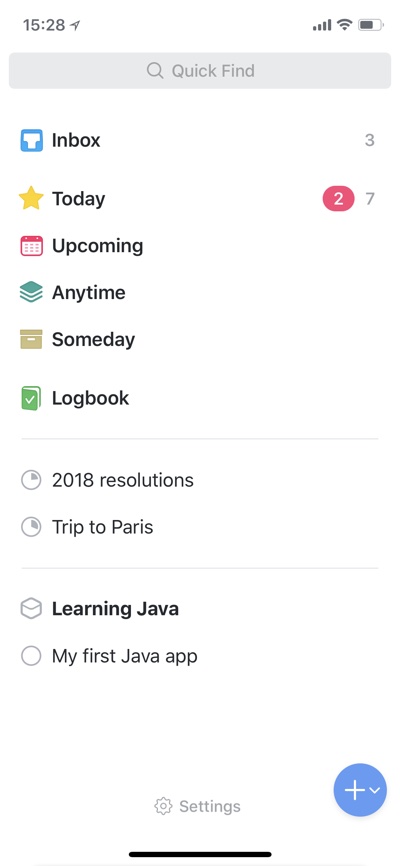 Lets talk about the iPhone app first, as this is perhaps the app that you are definitely going to get. As soon as you launch the application you find a simple interface that will look familiar if you have been using Things on desktop or tablet. You will see what usually appears in the side as the main screen with options like Inbox, Today, Anytime and more. You can tap on these items to see a list of to-dos.
New to-do's can be added using the Magic '+' button that is found on almost every page of the app. Just tap on it once and quickly add a new entry to the list you are currently viewing. The functionality of the Magic '+' button changes a little when you are on the main screen. When you tap on it from the main screen a menu appears that lets you perform three tasks including new to-do to inbox, adding new project to the app or adding new areas. We will talk about the New Area feature in the 'Best Features' below.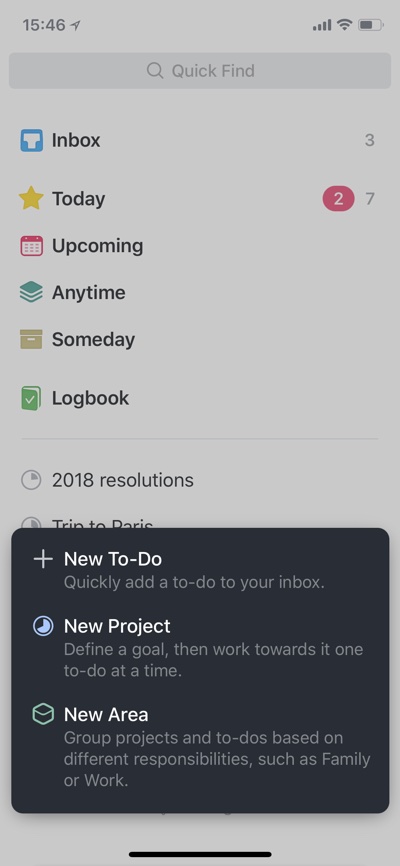 You can mark tasks as done by tapping on the checkmark button once. The app also offers gestures that let you quickly add a reminder alert and a deadline to a to-do by simply right swiping on it. You can also swipe left on an entry to move it to another list or project.
The useful hide the keyboard button that appears on the top is more useful on iPhone's smaller display than it is on iPad, however we can appreciate this small detail that can make it super convenient to get rid of the keyboard quickly to see the tasks at the bottom.
Things 3 for Mac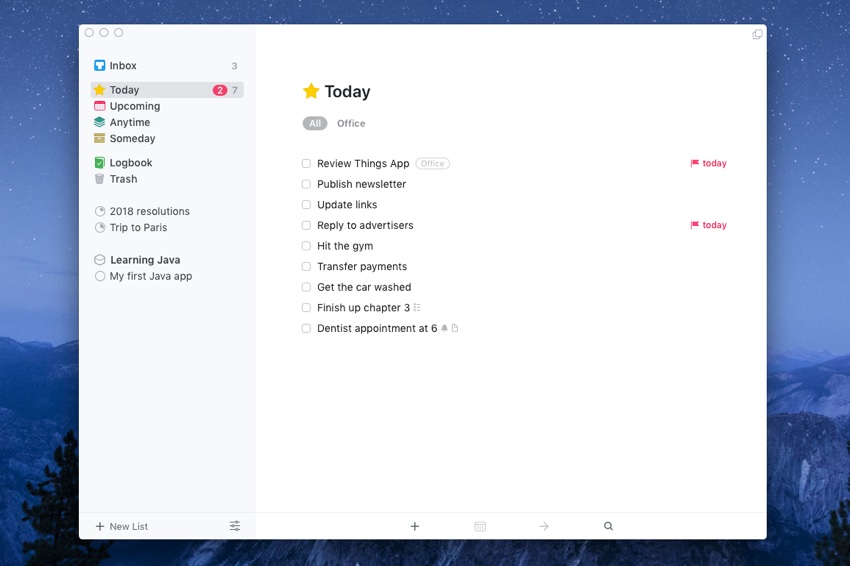 The Mac App looks very similar to iOS version in terms of design, however it has a few tricks up its sleeve that make it stand out. You get the useful 'Trash' feature only on the Mac, which lets you view all the to-dos that you have previously deleted. You can choose to restore the deleted tasks by clicking on the Repeat option from the menu or empty up the trash with one click.
While the app is already minimalistic, you can take the minimalism to the next level by hiding the sidebar with a simple swipe on the Magic keyboard. When the sidebar is hidden you can access the list of different sections from top of the app window. You also get the ability to open each section in a different window, which can be very useful at times.
Other than that all the features and design details apply to the Mac version of the application and there's really nothing to complain about it, apart from the suggestions that I have made in the improvements section below.
Things 3 for iPad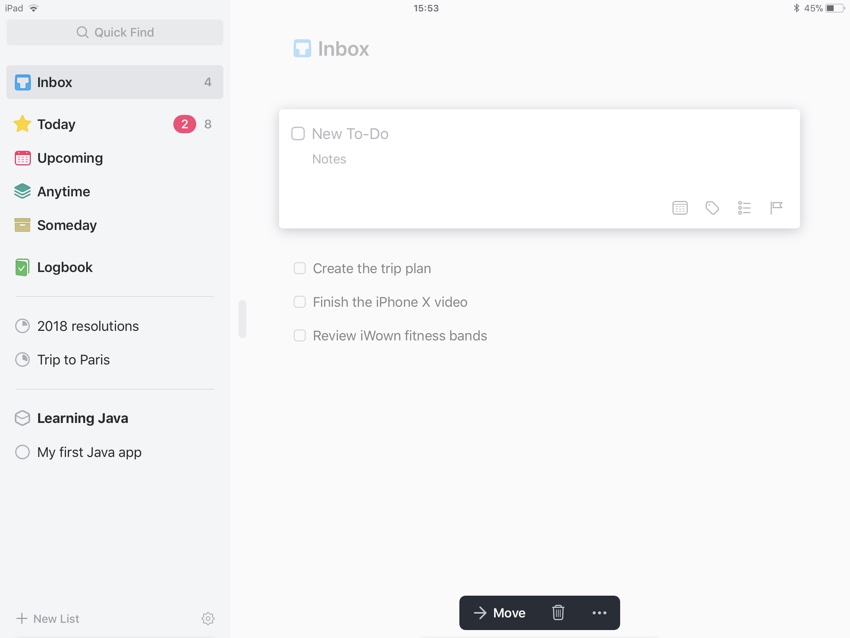 The iPad version is very similar to the Mac app, however it is also missing the Trash section. The beautiful animations I mentioned earlier look especially great on the iPad Pro's ProMotion display. Just like the Mac app you can hide the sidebar and get a full screen view of your to-dos by tapping on the sidebar button.
Things 3 for Apple Watch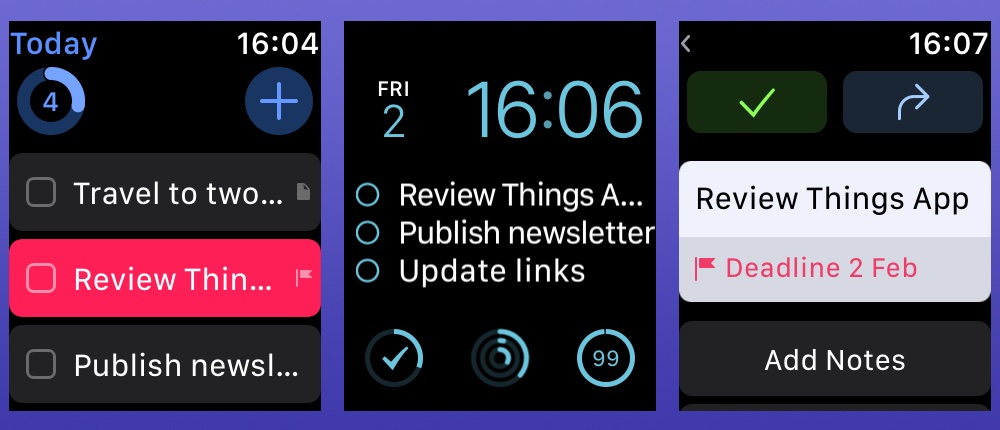 The Apple Watch version of the app, that you can choose to install alongside the iPhone version is surprisingly powerful. You can add to-do's to your favorite Watch face, mark to-dos as done, add new to-dos using dictation, read notes attached to a to-do and more. If you are using an iPhone version of the app, you have to install Things for Watch on your Apple Watch.
Best features
Things 3 has so many features that it is easy to forget about them, however you can greatly improve your productivity by integrating them in your workflow. For example, you can use tags when creating a new to-do. While you can add tags to existing tasks it is easier to do this when creating them and save time. Once tags have been added to tasks you can quickly get a list of tasks attached to a certain tag in one place. Tagging to-dos can help you in distinguishing between tasks that are important in that particular moment.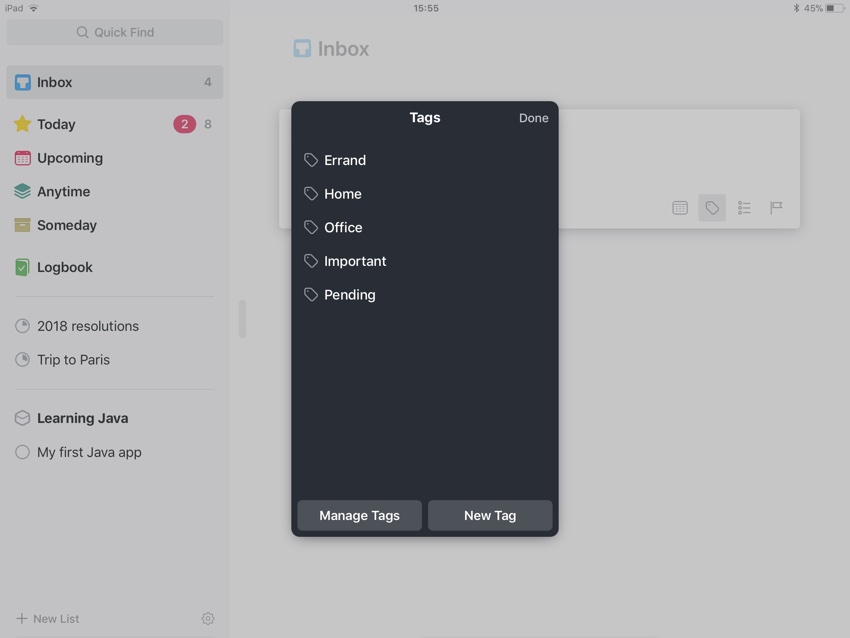 With HomePod, the Things app's Siri support can make life a lot easier for you. Since you can add tasks with Siri you don't even have to touch your iPhone to add new to-dos to your lists. You can also make Siri add tasks to a particular list by simply mentioning the list name in your command. You can also ask Siri to show you a particular list. When using Siri to interact with Things make sure you include the word 'Things' in your command, for example "Show my Errands list in Things." otherwise Siri will get confused and attempt to show you items from the Reminders app.
I really like the fact that Things lets you create a 'New Area' where you can group projects and to-dos together. This makes it possible for users to separate different types of tasks from each other. For example, you can create new area for family and add your personal projects in that new area, keeping the work related tasks separate.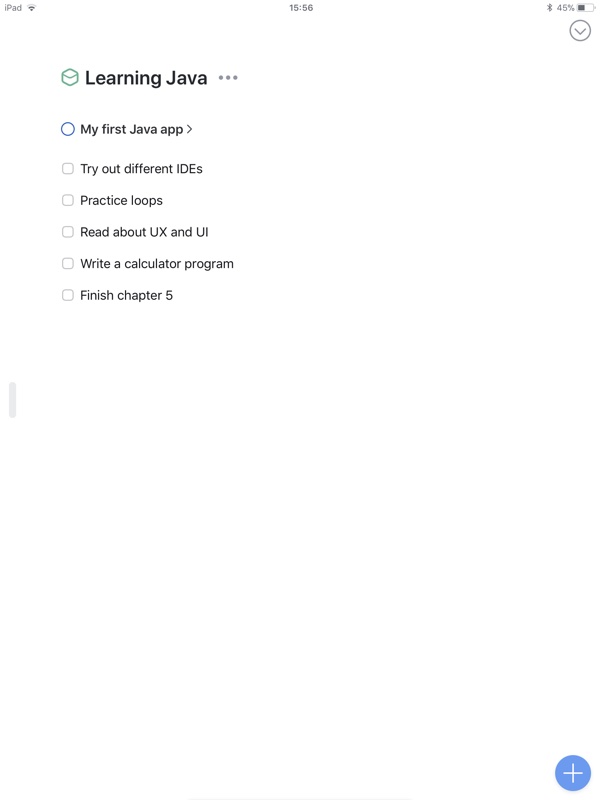 Things that can be Improved
Things 3 isn't perfect by any means and there are things that if added will make the user experience better. Here are a few things that I would love to see in the future versions of this application.
While I am a big fan of the minimalistic design of the Things app, sometimes it feels like it is too bright. The app looks really good when you use it with iOS 11's Smart Invert feature. So a dedicated dark mode option will allow users to not only have a different look for the app but it will also make it easier to use the app at night time.
Perhaps more importantly Things app needs some collaboration features. Although the main focus of the app is to help an individual, features like ability to share a Project or specific 'area' with others and allowing them to mark to-dos as done or make changes to the list will go a long way in making the app perfect for everyone.
Conclusion
The award winning design, attention to detail, cross-device availability and amazing task management features of the Things 3 app make it a great task management app for an individual who is looking for a to-do app that can help in managing both personal and work related tasks. The fact that you can easily separate different types of tasks from each other and focus on what's most important for the day make it a perfect app for users. However it is not for everyone and those who rely on collaboration when it comes to task management might want to look somewhere else.
The pricing of the app, which comes at a total of around $78 for all three versions might also be deal breaker for some. I honestly believe that whole iOS app should have been sold together instead of CulturedCode charging for iPhone and iPad apps separately.
If you ignore the price and lack of collaboration features, then Things 3 is the best task management app for Apple users and you should at least give it a try to see if it works for you or not.
Pricing and availability
Things 3 app is available through the iOS and Mac App Stores. You have to buy the iPhone, iPad and Mac apps separately. Below you can find the download links and pricing details for each version. A 15 day free trial is available for Mac users.
Disclosure: iOSHacker may receive a commission if you purchase products through our affiliate links. For more visit our privacy policy page.