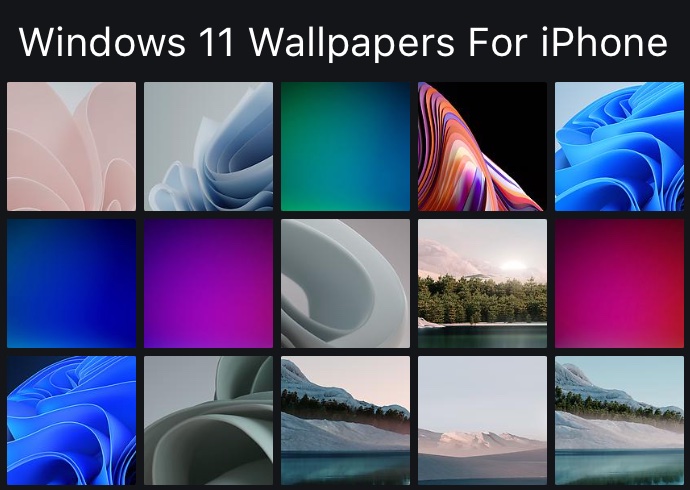 In this post you will find Windows 11 wallpapers that have been resized to fit any iPhone or Android smartphone. Go ahead and download the leaked Windows 11 wallpapers on your mobile device.
If you follow tech news, then you would know a whole internal build of Microsoft's upcoming Windows 11 was leaked online. While the leaked build revealed a lot of new features and design changes that are coming to the desktop operating system, it also featured a bunch of new Windows 11 wallpapers.
The leaked Microsoft Windows 11 wallpapers are pretty nice and look great on desktops. While Microsoft designed these wallpapers for desktop screens they also look great on iPhones.
If you're like us and really dig the new Windows 11 wallpaper, and want to use these wallpapers on your iPhone or Android smartphone, then we have got you covered.
Here you can find high resolution Windows 11 wallpapers for iPhone and Android. These wallpapers fit nicely on all smartphone screen sizes and have been specifically crafted for iPhone 12 Pro Max, the highest resolution iPhone out there. This means you can use these wallpapers for iPhone 12, iPhone 12 Pro, iPhone 12 mini, iPhone 11 Pro Max, iPhone 11 Pro, iPhone 11, iPhone XS, iPhone X, iPhone 8 Plus, iPhone 8 and more.
You can download these wallpapers to your iPhone or Android device by simply long pressing on them. Once the image has been saved to your device's library, you can go ahead and apply these images as your home screen and lock screen wallpapers.
Download Windows 11 Wallpaper For iPhone and Android Phones