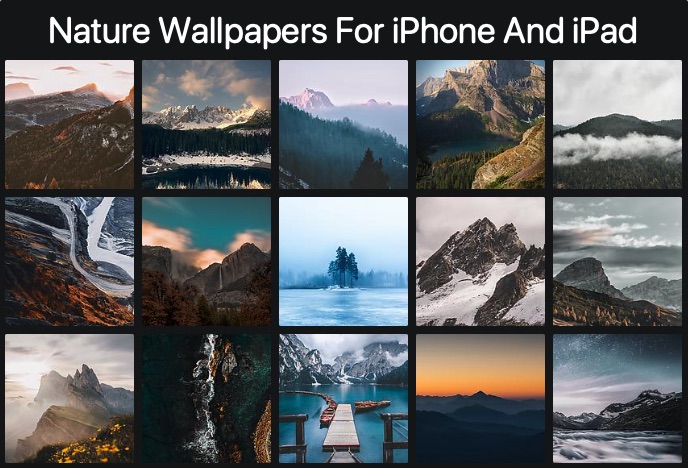 Looking for some soothing nature wallpapers for iPhone or iPad? Then you have come to the right place. Here we have featured some beautiful and scenic nature wallpapers that work best with iOS devices.
The best thing about these wallpapers is that you can use them on both home screen and lock screen on your device, and they will look perfect on them.
To save these nature wallpapers on iPhone or iPad simply long press on the image and then tap on save image option. Once the image has been downloaded it will be saved to your device's Photos app. Simply head to the Photos app to apply your favorite image as the device's wallpaper.
All of the nature wallpapers featured in this post have a high quality resolution. This means you can easily use them on any model of iPhone. This includes iPhone 11 Pro, iPhone 11 Pro Max, iPhone 11, iPhone XS, iPhone XS Pro, iPhone XR, iPhone SE, iPhone X, iPhone 8, iPhone 8 Plus, iPhone 7, iPhone 7 Plus and more.
Similarly iPad users can also take advantage of these beautiful photos and use them as wallpapers for their device. I have been cycling these HD nature wallpapers on my iPad Pro and am more than satisfied with their resolution.
The wallpapers might not appear as high resolution on Macs though and can appear blurry. However if you like any of them enough it is worth giving a shot.
Download 15 Nature Wallpapers for iPhone and iPad
In this beautiful nature wallpapers you will find mountains, lakes, ice, sunsets and much more!
There you have it folks, these are the 15 nature wallpapers that we feel you would love to download on your iPhone, iPad and iPod touch. What do you think about these wallpapers? Share your thoughts int he comments below.