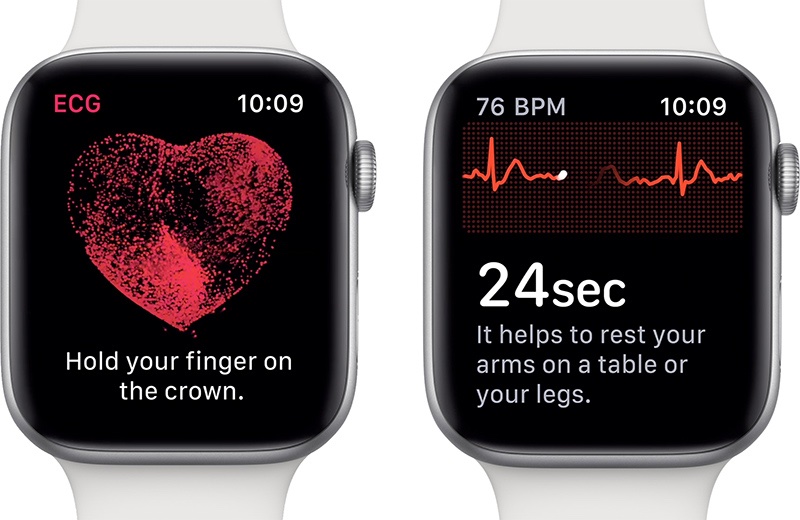 With watchOS 5.1.2 and iOS 12.1.1, Apple has finally activated the ECG feature for those who have Apple Watch Series 4. With this new functionality Watch Series 4 users are able to take electrocardiogram or ECG test right from their Apple Watch. Having this feature on your Apple Watch is a big deal, as it allows users to take ECG tests at home and share data with their doctor, who can gain insights about your heart rhythm and look for irregularities.
How To Take ECG Test With Apple Watch
Make sure you are wearing your Apple Watch comfortably on the wrist that you have selected in Apple Watch app.
Open the ECG app on your Watch and rest your arms on a table or your lap.
Hold the Digital Crown of your Apple Watch with the index finger of your other hand without pressing it.
Wait for 30 seconds for the device to complete the recording, keep your finger on the Digital Crown during this time.
After the reading you will receive your classification, then you can add symptoms and choose your symptoms.
Finally tap the Save to note any symptoms and tap the 'Done' button.
Best Practices For Taking ECG Test On Apple Watch
It is important to follow few simple guidelines and best practices to make sure the ECG test you take on your Apple Watch is successful. These best practices can also help if you are getting 'Inconclusive' result during the test.
Before taking a test make sure your Apple Watch isn't tied loose on your wrist. Also, make sure the back of your Apple Watch is touching your wrist.
Make sure both the back of your Apple Watch and your wrist are clean and dry.
Rest your arms on a table or your lap while you are taking the recording.
Relax and make sure you are not moving too much.
Make sure you are wearing your Apple Watch on the wrist that you have chosen during setup. You can check the wrist by going to iPhone's Watch app > My Watch Tab > General > Watch > Orientation.
Make sure you are away from any electrical interference from electronic devices that are plugged into an outlet.
How To Read ECG Test Results On Apple Watch
After a reading has been taken successfully you will get different results. Here's what they mean.
Inconclusive
You may be getting Inconclusive reading for a number of reasons. It may happen because you are not wearing your Apple Watch properly or are not resting yoru arms on a table while recording. Read the ECG best practices for Apple Watch above to help with this issue.
Sinus Rhythm
If you get this result, then it means your heart is beating in a uniform pattern between 50 and 100 BMP. You will get this reading when upper and lower chambers of your heart are beating in sync. This result only applies to the reading you just took, and does not necessarily means you are healthy. If you're not feeling well, then you should contact your doctor.
Atrial fibrillation
The Atrial fibrillation or AFib result means that your heart is beating with an irregular pattern between 50 and 120 BPM. The AFib is the most common form of serious arrhythmia or irregular heart rhythm. If you get this reading and you have not been diagnosed with AFib, then you should go to your doctor.
Low or high heart rate
The Apple Watch cannot check for AFib if your heart rate is lower than 50 BPM or 120 BPM. In this case you will get a recording that is considered inconclusive.