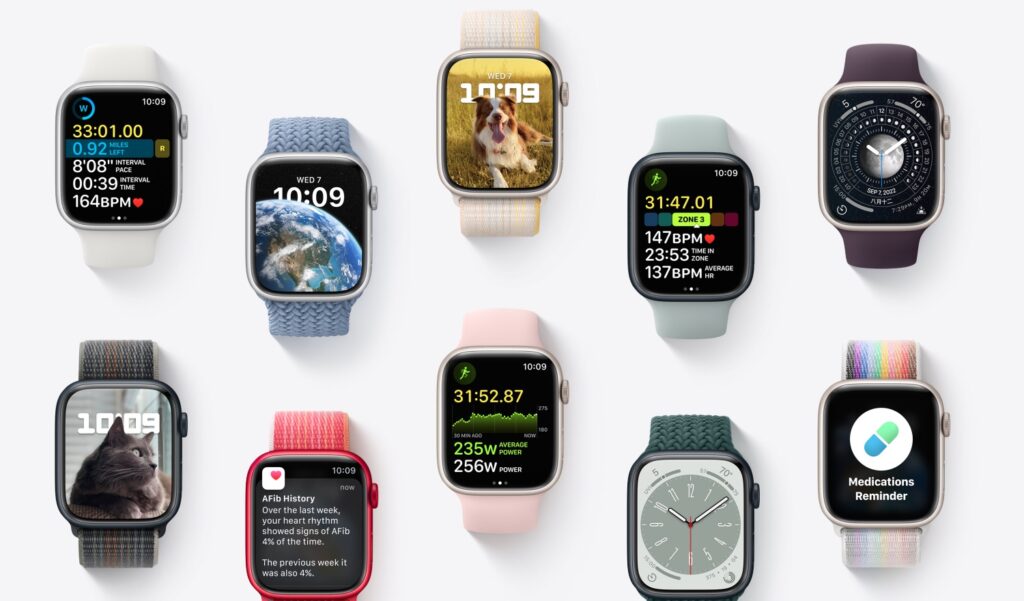 Apple has released watch 9.0 update for Apple Watch and the update is now available for download. The new update brings many new features and improvements for supported Apple Watch models.
To update simply head over to the Watch app on your iPhone and tap on My Watch tab. From there tap on General and then on Software Update.
watchOS 9 is compatiblity list
watchOS 9 has been released for the following Apple Watch models.
Apple Watch Ultra
Apple Watch Series 8
Apple Watch Series 7
Apple Watch Series 6
Apple Watch Series 5
Apple Watch Series 4
Apple Watch SE 2
Apple Watch SE
New Watch Faces
With watchOS 9 Apple has introduced three new Watch faces including Metropolitan, Playtime and Astronomy. Lunar Watch face, which is part of the Astronomy watch face shows different phases of the moon and allows users to choose between Islamic, Chinese and Hebrew calendars.
Customization options for Portrait face and ability to customize the background colors and gradients of Module Compact, Module and X-Large Faces has been added.
New Workout Features
watchOS 9 brings updates to the Workout app and now features new Workout views that allow users to turn the Digital Crown to get new views for Activity Rings, Heart Rate Zones, Power and Elevation.
Heart Rate Zones have also been added to the workout views, which show users their current intensity levels with the help of Training Zones. In Workouts users can also tailor their work and recovery intervals to suit their training styles and receive alerts for pace, heart rate, cadence and power.
Apple Watch also tells the user if he or she is on pace to meet their goal. A new Race Route feature, which will allow outdoor runners and cyclists to choose a range against their last or best result has been added.
A new Running Power measure has been added that shows a measure of user's effort and helps them to stay at a level that they can sustain.
Apple Watch running watchOS 9 will be able to automatically transition between swim, bike and running.
For those who track pool workouts with their Apple Watch, it can now detect kickboards automatically and tracks it as a new stroke type for pool sim workouts.
Workout summaries have been enhanced in watchOS 9 and iPhone's Fitness app. Now users can scrub through their fun to see progress details.
Medication Reminders
With watchOS 9 Apple Watch will now help you in taking meds and vitamins. The Watch can now remind you of your medicines and let you log them right from your wrist. All of this data is available in iPhone's Health app.
Sleep app enhancements
Sleep app on Apple Watch can now track Sleep in a better way. It can track how much time you spend in REM, Core and Deep sleep. In addition to that you can track your sleep overtime with comparison charts that are available in iPhone's Health app. You also get to see your respiratory rates and heart rates during sleep.
Other features
New ability lets you track the time your heart shows signs of AFib
You can now see how your lifestyle affects AFib
New features for kids who do not own an iPhone
Podcasts app is now available to kids using Apple Watch where they can discover and follow new podcasts
Home app and key feature is now available to children using Apple Watch (available later this year)
New accessibility features and enhancements including the ability to control Apple Watch from iPhone
New unobtrusive banner notifications that appear when you are using the Apple Watch
Changes to Dock, which now prioritizes apps running in the background
Ability to create new events in Calendar app
New keyboard support for French, German, Italian, Japanese, Portuguese and Spanish
New trainer callouts for Fitness+ and guidance on Rowing, Cycle and Treadmill Run/Walk incline