Apple Watch complications are pretty static as they do not change based on user's time, location or current activity. If you have created an Apple Watch watch face with your favorite complications, then this watch face will remain the same no matter if your situation has changed. To overcome this most people set up more than one watch faces and switch between them based on time of the day or their upcoming activities.
I have wanted to have contextual Complications on the Apple Watch for a long time. As having a dynamic watch face that would automatically change the complications would make my life much easier. I would like the Apple Watch to automatically replace the Phone app shortcut with Workout app shortcut when its time for the gym, replace the Weather forecast with another complication when I return home or add an Activity complication to my current watch face when I head out for a walk.
While setting up this watch face I was torn between adding shortcut to Workout app which is useful for starting workouts quickly while I also wanted the ones I ended up including. So yeah contextual complications would be great

— Zaib Ali (@xaibali) September 17, 2019
While Apple has yet to bring contextual complications to the Apple Watch, the newly released Watchsmith app gives users the ability to do this. This cleverly designed app allows users to set a different complication for different hours of the day.

For example, you can choose to have an upcoming events watch face in the morning and have a workout related complication during the hours that you typically spend at gym. Watchsmith does not change complications based on location, so you will have to manually select the hours for which you want a certain complication to appear on the watch face.
The best thing about Watchsmith is that it works for several categories and supports many watch faces. This includes Workouts, Weather, Health, Calendar, Timezones, Games and Astronomy.
How It Works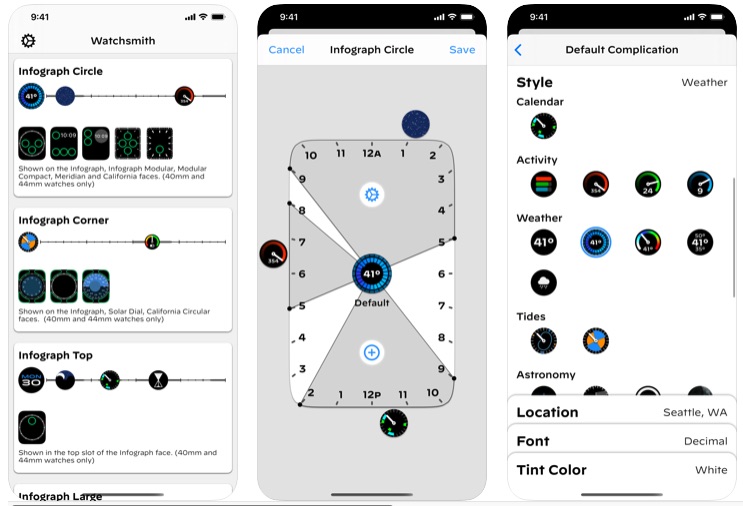 Using Watchsmith to add time based contextual complications to a watch face is simple once you get hold of how it works. You can start from the iPhone app where you first select which watch face you want to work with. Here you get multiple options including Infograph Circle, Infograph Corner, Infograph Top, Infograph Large, Modular Small and X-Large.
Then from the next screen you add time slots and then assign a complication to each hour of the day. You can even add 24 different slots and add a different complications for each hour of the day. Once you have set up the hourly slot and assigned the complication simply hit the 'Save' button.
Then open the Watch app on your iPhone and go to the Face Gallery tab. Choose the watch face that you have configured in the Watchsmith app and add the Watchsmith complication to it at your desired position. Finally hit the Add button to add this watch face with Watchsmith complication to your Apple Watch.
Once the watch face with dynamic Watchsmith complication has been added to the Apple Watch this complication will change based on the hour of the day. Rest of the complication slots in a multi-complication based watch face will remain available and act as they normally do.
Watchsmith app is available in the App Store for free here. It is also free to use for the most part, however certain complications and categories such as Weather can be unlocked with a $1.99 per month subscription.