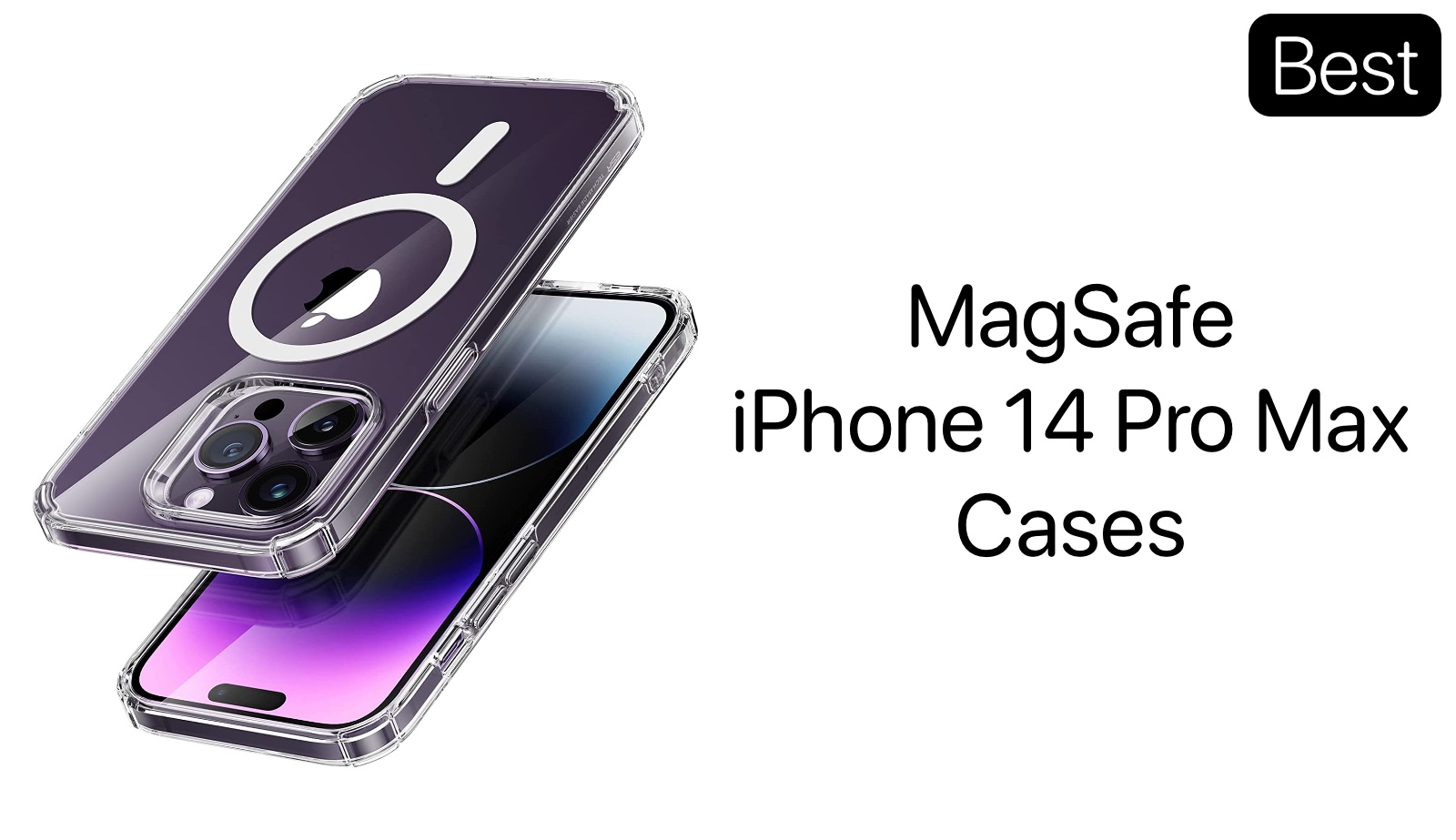 It is essential to get a stylish and protective case for your newly purchased iPhone. It's worth noting, however, that not all iPhone 14 Pro Max MagSafe Cases support one of the device's best features: MagSafe.
Using magnets, MagSafe wireless charging technology lets you charge your phone quickly and safely. The MagSafe can be used in conjunction with all manner of magnetic accessories, including car mounts, phone grips, and wallets.
It is impossible to guarantee that a magnetic connection between an accessory and a case will work properly if you buy an old case. Hence, MagSafe-compatible cases have magnets integrated into their backs, which ensures they work with MagSafe.
We have rounded up the best iPhone 14 Pro Max cases with MagSafe from third-party brands you can trust.
Looking for rugged iPhone 14 Pro Max cases? Then check our guide here.
Best MagSafe Compatible iPhone 14 Pro Max Cases
Here are some great everyday cases for iPhone 14 Pro Max in a variety of styles, prices, and sizes.
1. OtterBox SYMMETRY SERIES+ CLEAR Antimicrobial Case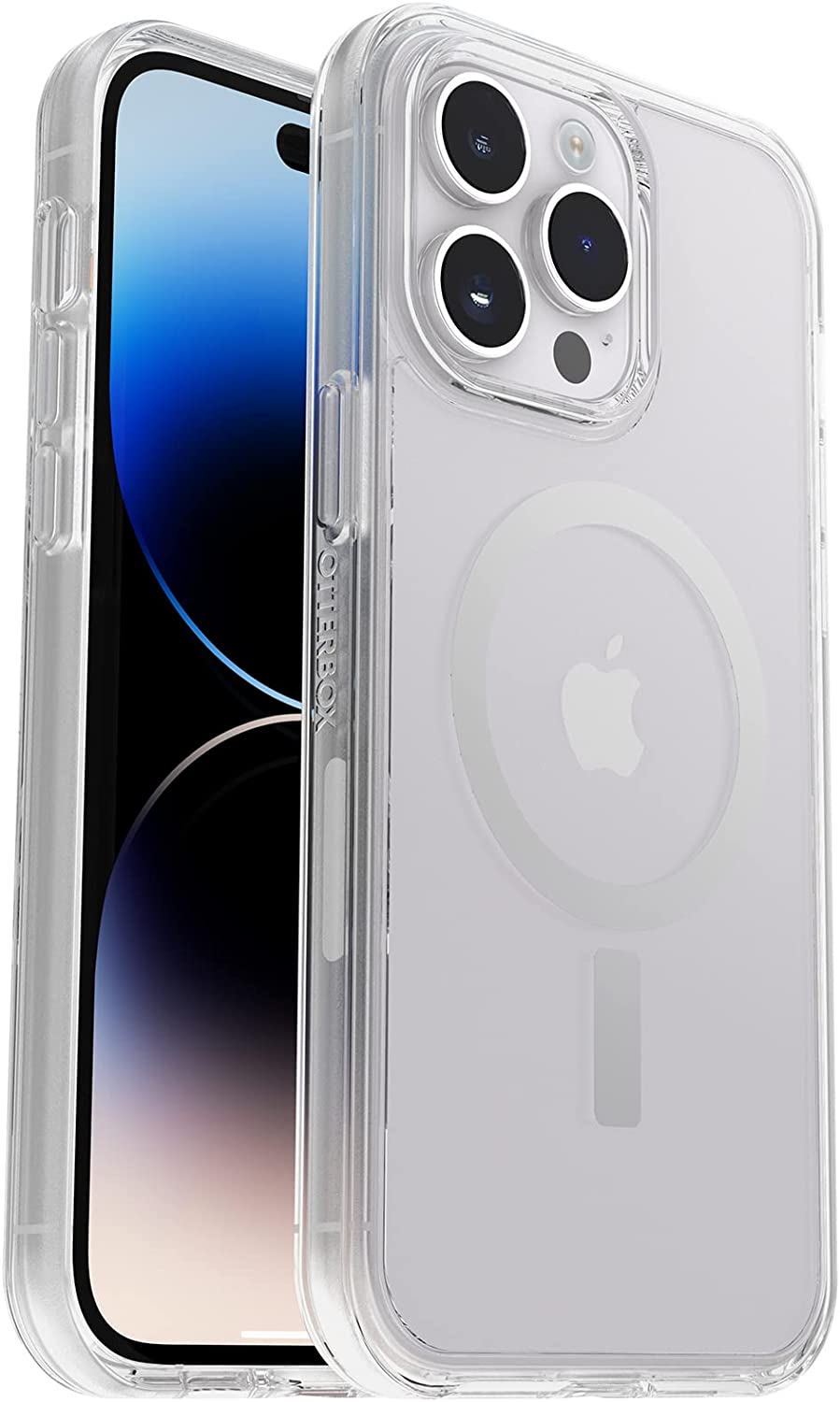 Made with more than 50% recycled plastic, OttorBox clear case fits perfectly on the iPhone 14 Pro Max.
The Drop+ has 3X the number of drops as the military standard (MIL-STD-810G 516.6), and it works with both wireless and MagSafe charging pads (built-in magnets).
Easy installation and removal make it easy to switch up the look. Raised edges protect the camera and screen. It meets or exceeds all international military-grade drop protection standards. The SlimShield is lightweight and designed to not interfere with wireless charging. It's also compatible with most other wireless charging technologies.
Buy OtterBox SYMMETRY SERIES+ CLEAR Antimicrobial Case for $39 here.
Want to consider more best iPhone 14 Pro Max clear cases? Then check our buying guide.
2. TORRAS Magnetic Guardian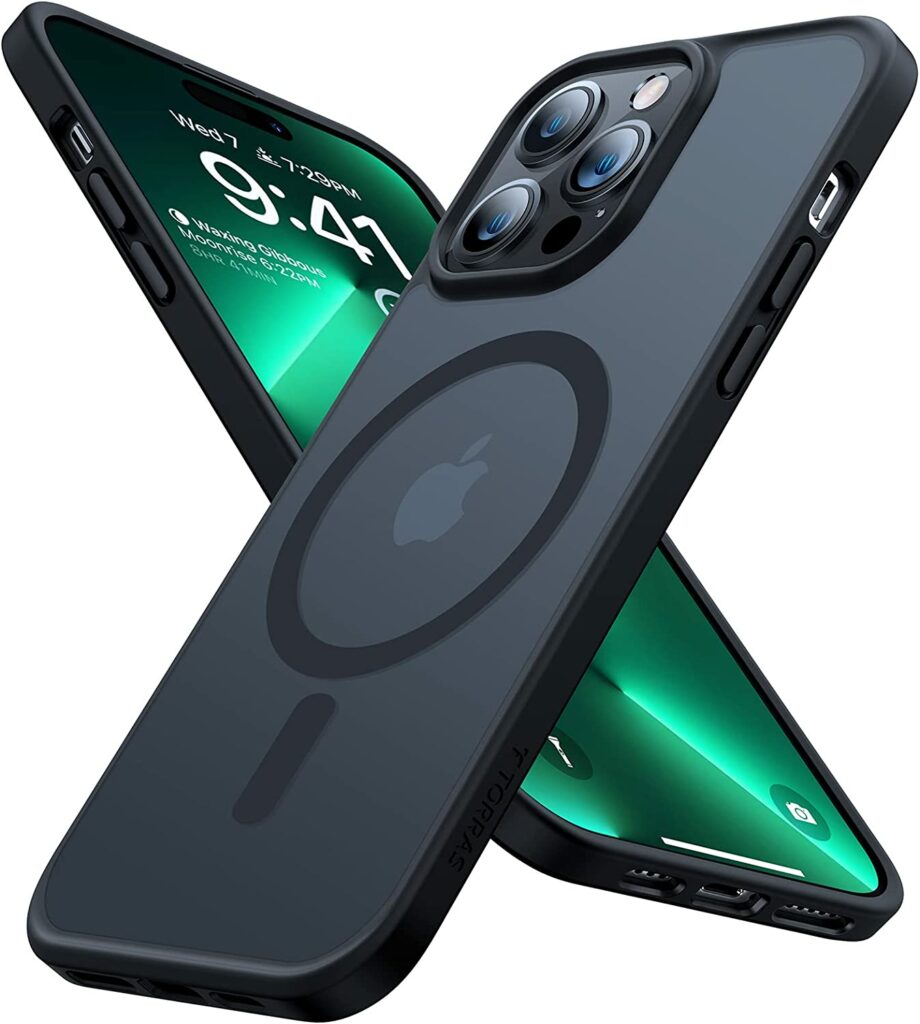 No magnet compares to a TORRAS magnet! This super-strong magnet is made from 38 pieces of N52 super-strong magnets, giving it a vertical strength of 13N, as opposed to a standard magnet of 8N. With aligned magnets, the iPhone 14 pro max case stays in place perfectly and provides a surprisingly firm grip. Magnetic rings embedded in the device undergo thousands of hours of testing under high pressure. It won't rip, crack, or curve.
Experience the dramatic improvement in the power of the Pro Magnetic Halbach Array Technology! With this black iPhone 14 Pro Max case, you can charge your device wirelessly at speeds up to 20W with a Qi-certified charger. The device works with a colorful family of accessories, including magnetic leather wallets and sleeves, stand wireless chargers, credit cards, and key fobs.
Designed with military-grade drop protection, the cute iPhone 14 pro max phone case with mag-safe is SGS&ROHS certified. In addition to the 3rd generation X-SHOCK 360° airbags all around, the upgraded S-Shock 360° Surrounding Airbags offer a honeycomb-type structure that helps them withstand shocks and drops. In addition, its raised screen lips and lifted camera bezels prevent scratches, smudges, fumble, bumble, and tumble resistance by 1.2 millimeters.
Buy TORRAS Magnetic Guardian for $29.99 here.
3. Spigen for iPhone 14 Pro Max Case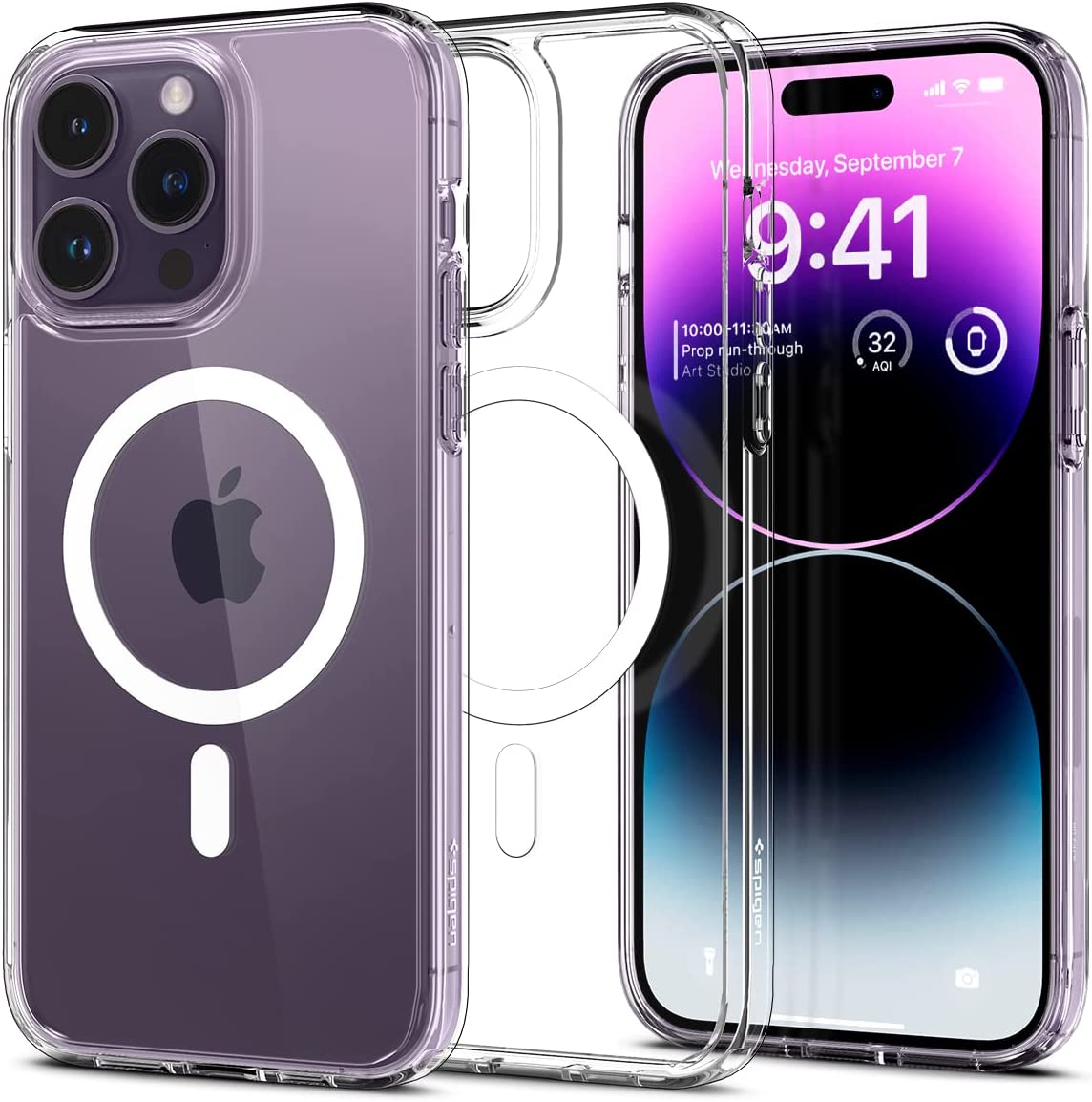 With the production of quality Apple cases and screen protectors, Spigen has made its name in the industry and is considered one of the best MagSafe cases for iPhone 14 Pro Max.
With its Ultra Hybrid (MagFit) case, Spigen offers shock absorption with Air Cushion Technology, resulting in better drop and impact protection. A built-in magnet makes this case MagSafe compatible, and tactile buttons protect the display and camera.
It is also equipped with Air Cushion Technology for shock absorption. All in all, with Spigen, you can rest assured that your phone will be safe and sound, or at least as secure as it can be when (God forbid) you accidentally drop it in the toilet.
Buy Spigen for iPhone 14 Pro Max Case for $24.99 here.
4. ULTIMAL Case Designed for iPhone 14 Pro Max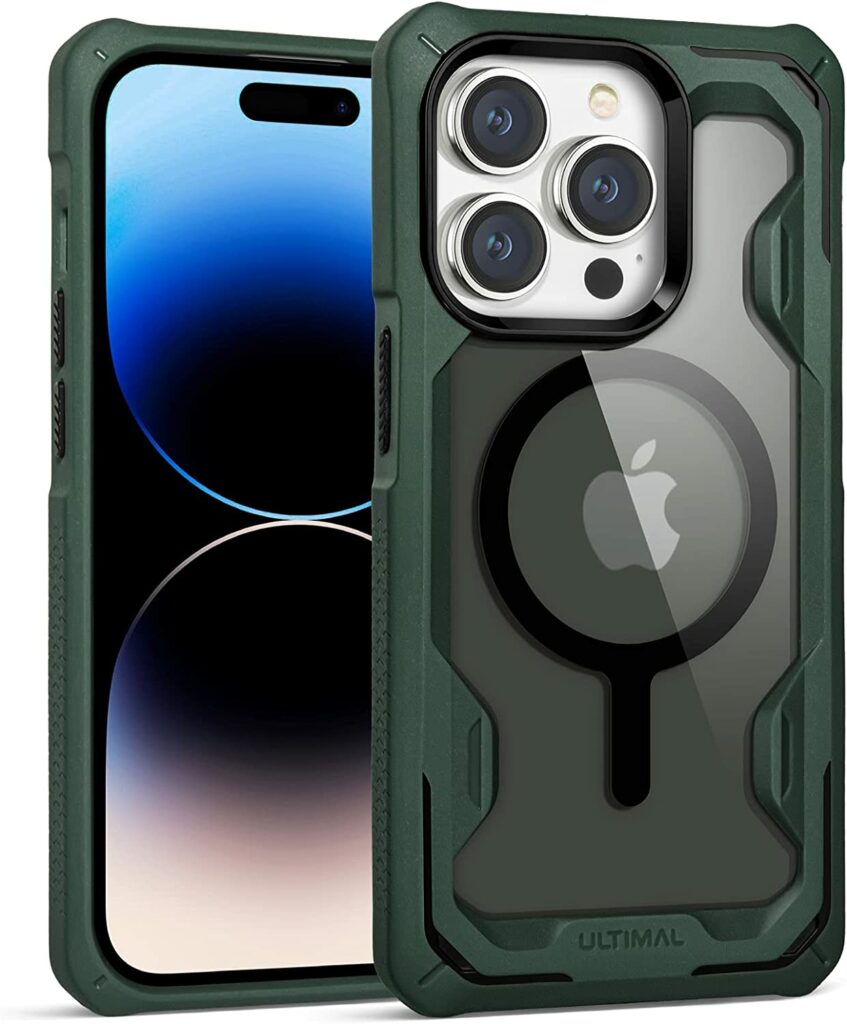 TPU frame absorbs and deflects shock when your device is hit by an impact, thanks to its special corners with extra space for protection against potential bumps and drops. Moreover, the back of the device is covered with clear tempered glass, providing maximum scratch and bump protection
The raised lip is approximately 1.5mm wide and keeps your screen and lens from dropping and scratching
This product was designed with carved textures on the handheld portion to prevent slipping off. To ensure compatibility with Magsafe, it is equipped with a strong magnet.
Buy ULTIMAL Case Designed for iPhone 14 Pro Max for $18.99 here.
5. Apple iPhone 14 Pro Max Clear Case with MagSafe ​​​​​​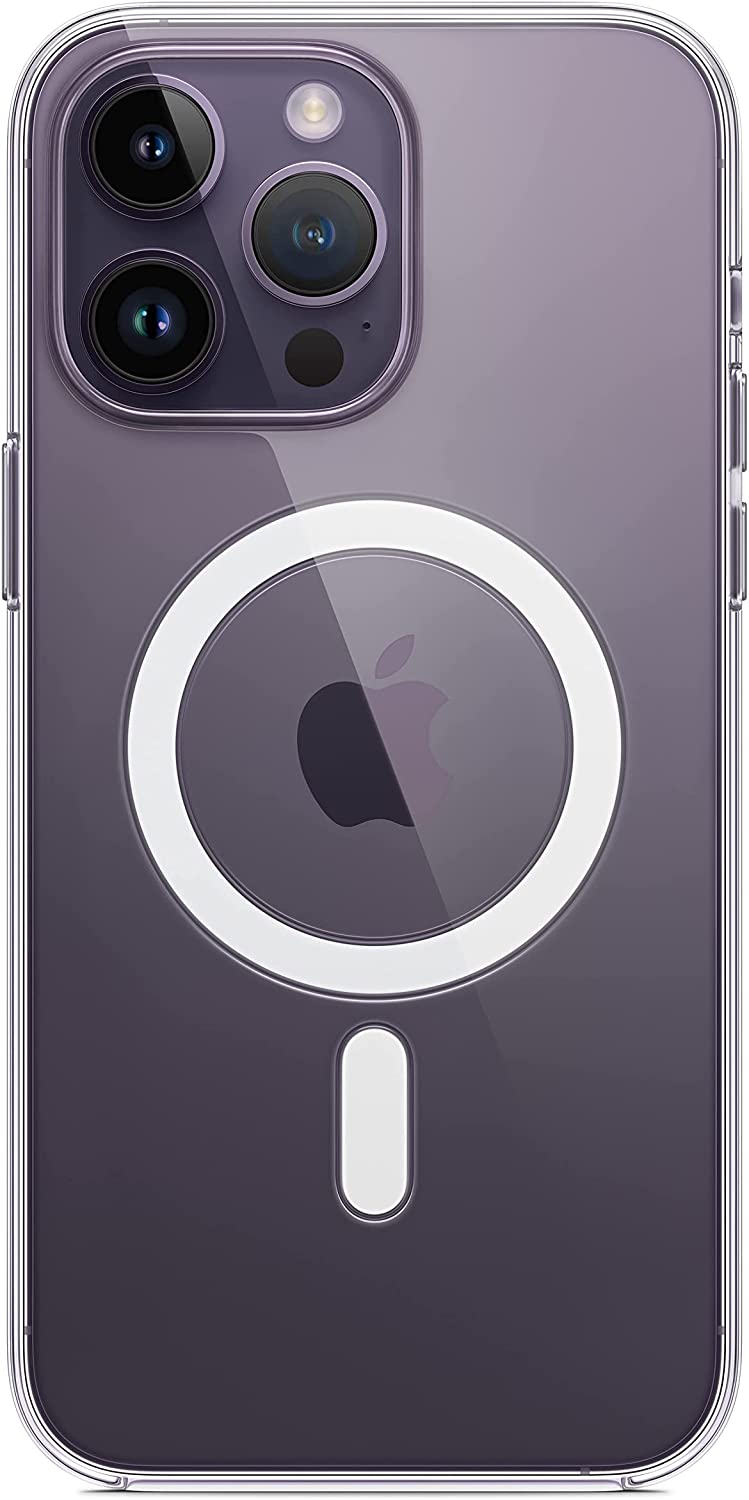 The Apple-designed case offers a thin, light, and easy-to-grip design that protects and preserves the beautiful color of your iPhone 14 Pro Max.
The case is made of polycarbonate with optically clear properties and flexible materials for easy use. Both the interior and exterior surfaces have been coated with scratch-resistant material. In addition, the coatings and materials are designed to prevent yellowing over time.
This case features built-in magnets that perfectly align with iPhone 14 Pro Max, so you can experience a magical attachment experience and faster wireless charging every time. You can either attach your MagSafe charger or Qi-certified charger to the case when it's time to charge your iPhone.
All Apple-designed cases go through thousands of hours of testing during design and manufacture. The case looks great and protects your iPhone from scratches and falls.
Buy Apple iPhone 14 Pro Max Clear Case with MagSafe ​​​​​​​for $39 here.
6. SUPCASE Unicorn Beetle Mag Case for iPhone 14 Pro Max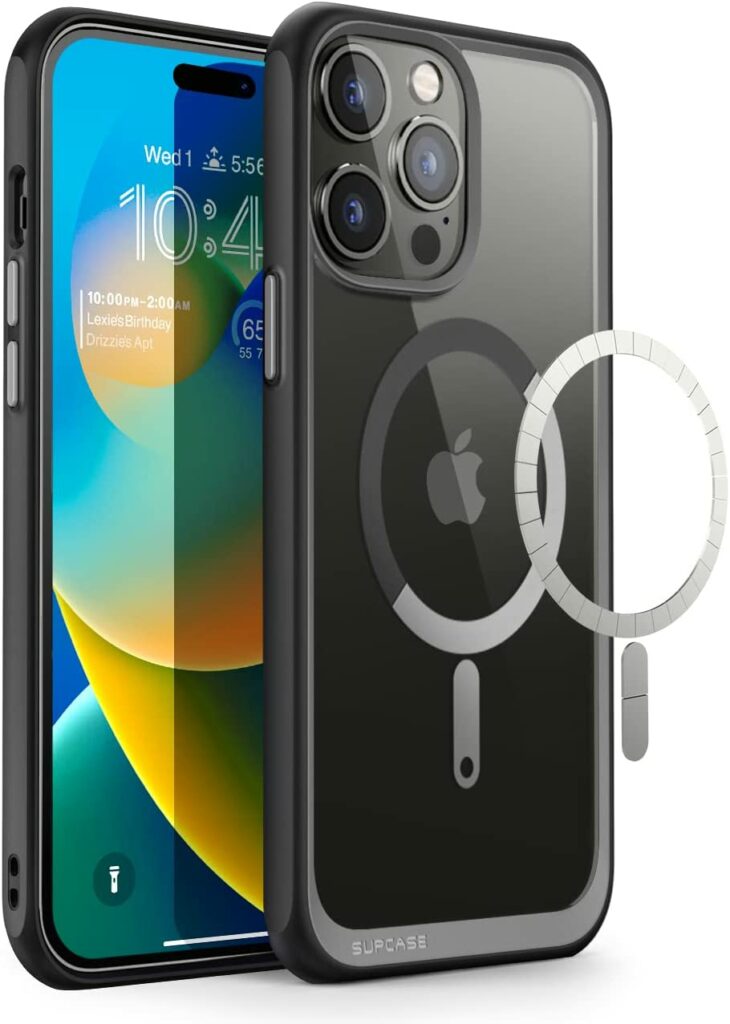 With a sturdy PC back combined with a shock-absorbing TPU bumper, your iPhone 14 Pro Max will be adequately protected with the Supcase Unicorn Beetle Mag Case.
It has a transparent back cover and is highly scratch-resistant.
By elevating the bezels, you prevent scratches from occurring on the touchscreen and camera lens when they are placed facedown. The precise design of case cutouts allows you to easily access all smartphone features, functions, and ports. The raised bezel also helps to protect the phone from drops, shocks, and impacts. The case itself is lightweight, slim, and ergonomic, making it comfortable to hold and use. It also has a non-slip inner layer that prevents the phone from slipping out of your hand.
Buy SUPCASE Unicorn Beetle Mag Case for iPhone 14 Pro Max for $23.99 here.
7. ESR Krystec Clear Case with HaloLock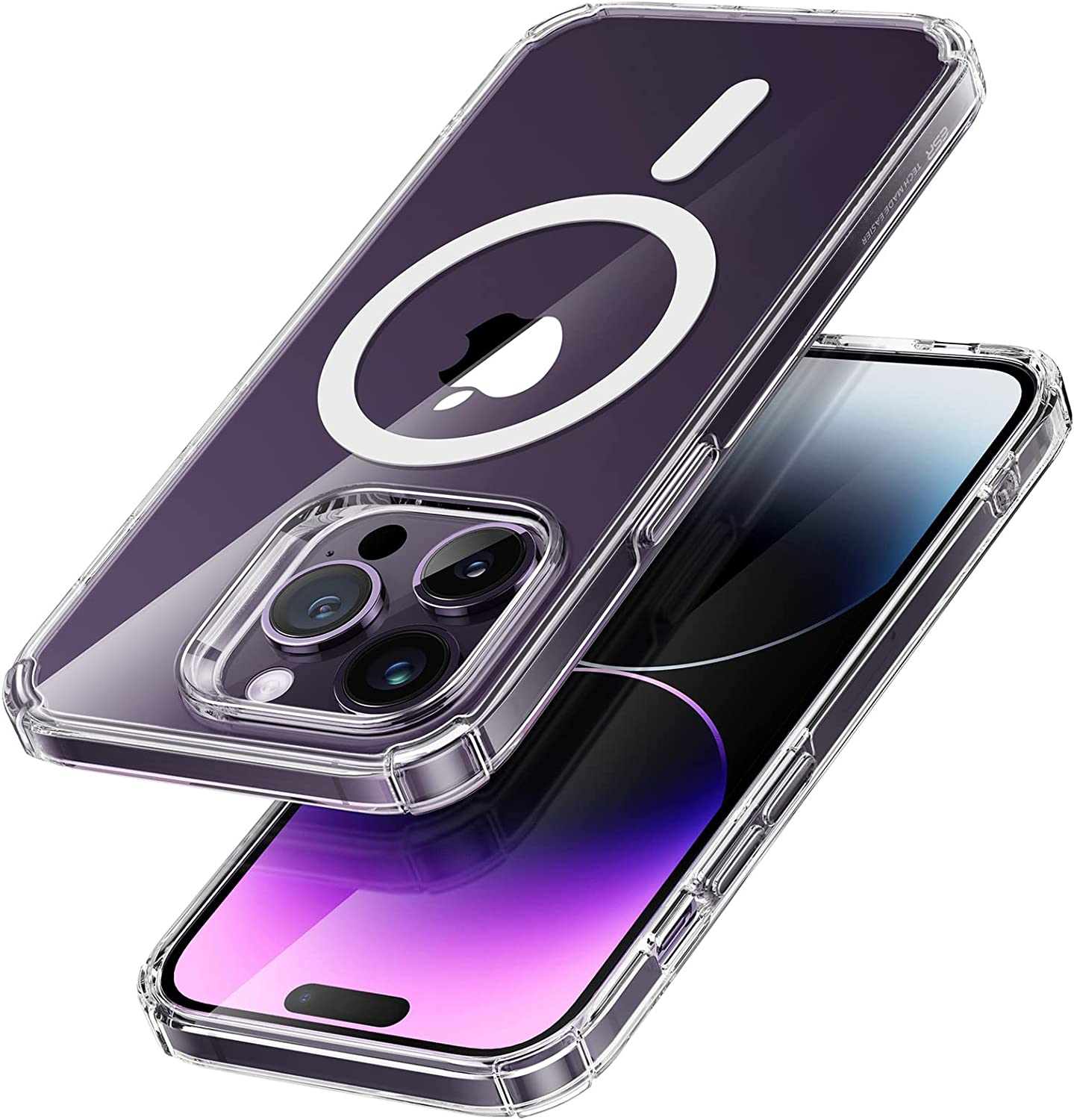 A powerful magnet with a holding force of 1,500 g delivers faster, more effortless wireless charging as well as secure locking for HaloLock and MagSafe accessories
This case boasts cutting-edge technology and is almost entirely made of never-yellowing, ultra-clear polycarbonate.
Featuring shock-absorbing corners and a polymer bottom edge, as well as raised screen edges and Camera Guard lens frames, this phone offers 360-degree protection against drops and bumps.
A thin coating of polymer around the sides provides you with a better, firmer hold and enhances shock absorption
Overall, it is designed specifically for Apple's iPhone 14 Pro Max; easy-to-press polycarbonate buttons, precise speaker, and port cutouts maintain full phone functionality.
Buy ESR Krystec Clear Case with HaloLock for $29.99 here.
Things to Ponder
So this is our list of best MagSafe cases for iPhone 14 Pro Max!
However, before purchasing, ensure that the iPhone 14 Pro Max case you're looking for actually fits the device before you buy it. The iPhone 14 Pro Max has a 6.7-inch screen, but it also has a larger camera array, so cases for the Plus won't work with this phone.
Check out the best iPhone 14 Pro Max slim cases here.
Feel free to leave a comment for any queries.