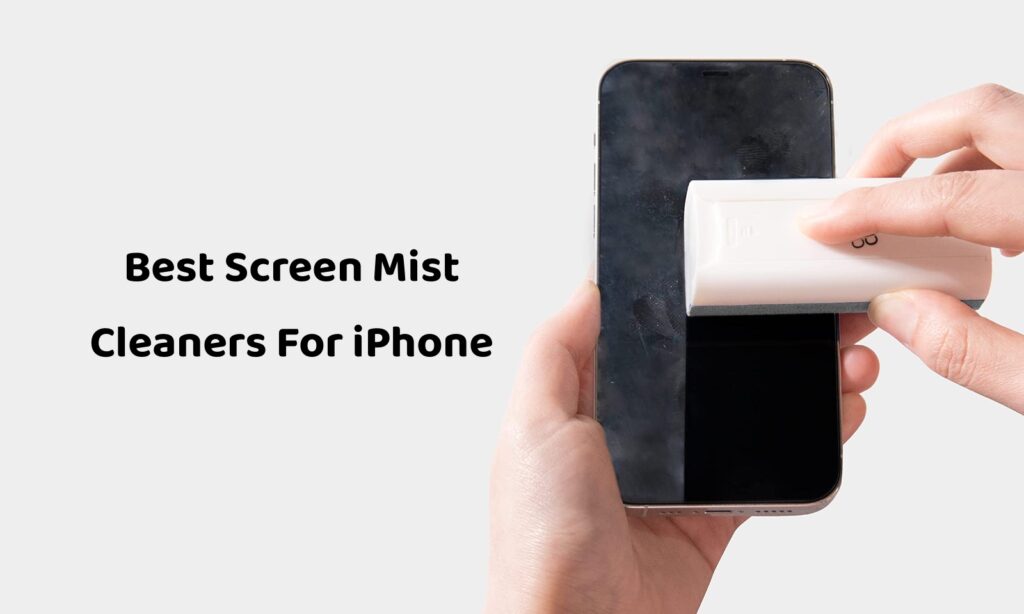 Using an electronic device more often makes it dirtier over time. It is only fair that you would want to know how to clean the screens of your iPhone, given that they are such a significant part of our lives.
If you are worried about wiping down your device properly, you may not know where to begin, especially since it is such a sensitive task. It is strongly recommended not to scrub a smartphone like a dirty dish in the sink, even if it is waterproof.
Here are some of the best screen mist cleaners for iPhone that easily fit in your pocket. You can conveniently store these in your pocket, bag or backpack and use them whenever you need.
If screen mist cleaners are not your thing, then you can also get the best screen cleaner kits for yourself here.
Best Screen Mist Cleaners For iPhone in 2023
Here are the best screen mist cleaners for iPhone users in 2023.
1. iRoller Screen Cleaner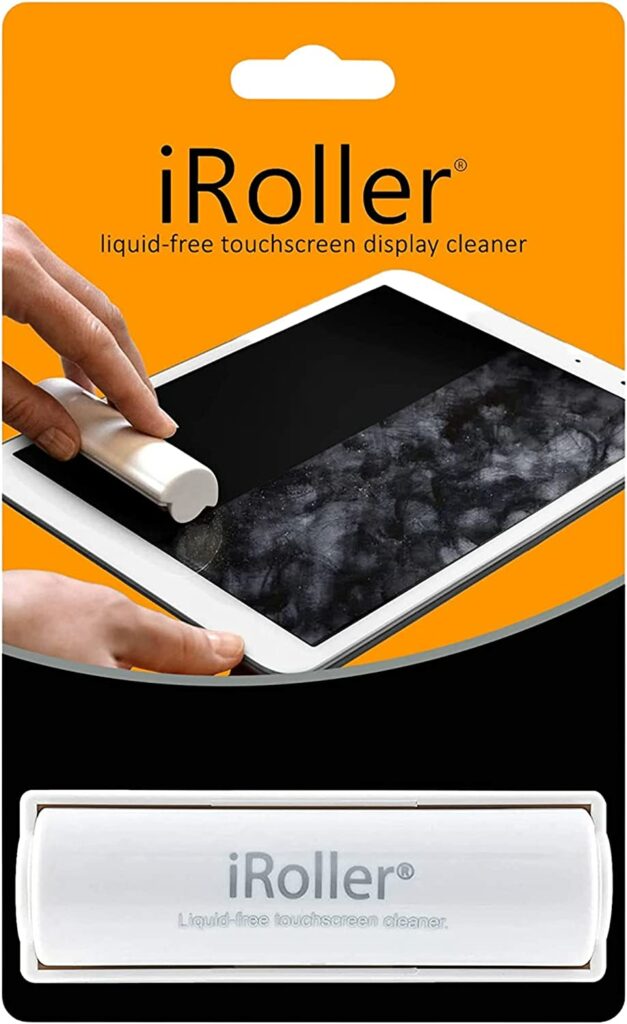 With the iRoller, you get the convenience of a cleaner spray and lens wipe all in one. The cleaner instantly removes fingerprints, smudges, and smears from touch screens on your phone or tablet with just a few quick rolls!
This is designed to clean surfaces thoroughly, and the screen cleaner provides serious cleaning power. It doesn't leave any sticky residue on screens either, making the screen not only clean BUT Monica clean!
This handy screen cleaner measures only 3.5 inches and is portable and reusable. The liquid-free, long-lasting formula prevents spills.
It eliminates the need to spend money on disposable wipes, microfiber cloths, and sprays.
Buy iRoller Screen Cleaner for $19.95 here
2. CLICK CLEAN Touchscreen Mist Cleaner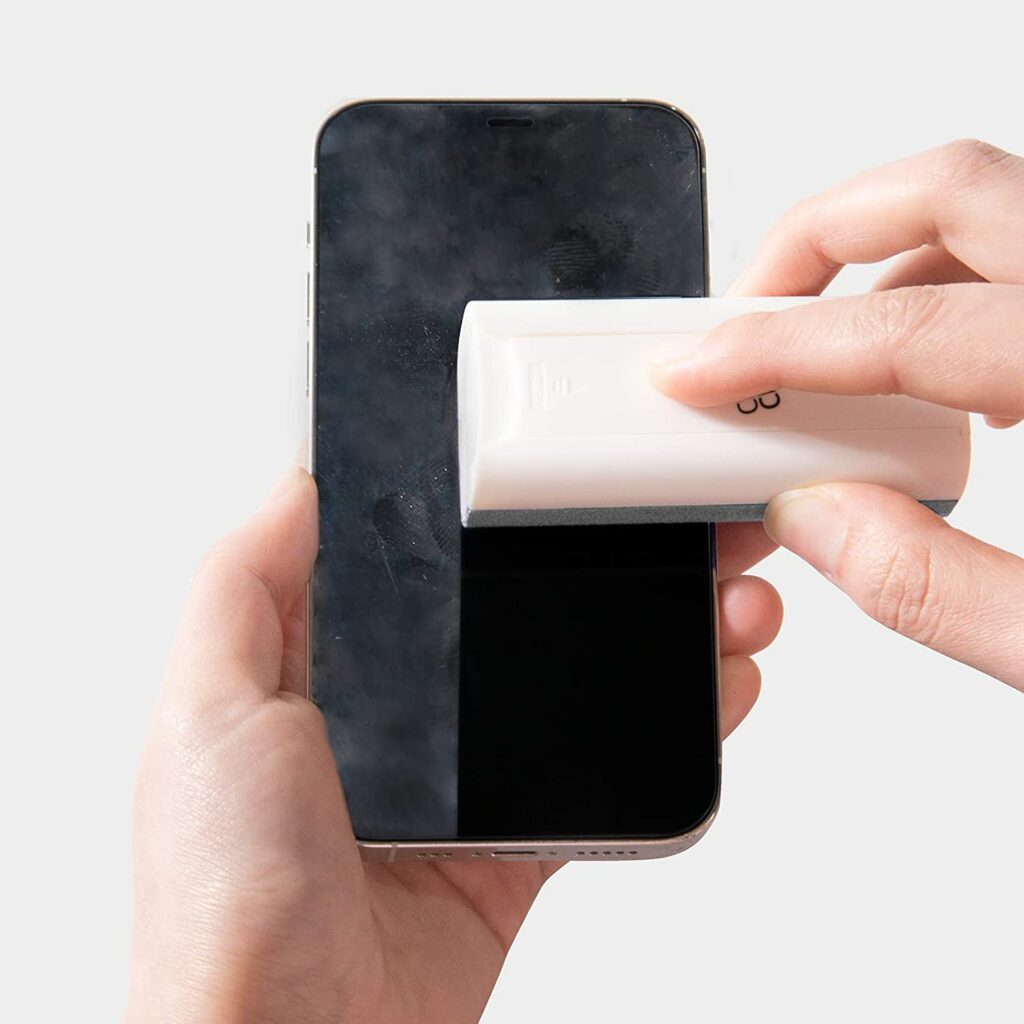 Spraying liquid cleaning solutions on your device can damage it. Some cleaning products also contain chemicals that are harmful to electronic devices. It is safe to say that this product is free of alcohol, ammonia, and odor.
Unlike liquid-based cleaners, Click Clean touchscreen mist cleaners are chemical-free. This screen cleaner uses advanced formulations so that you can use it on anything.
This screen cleaner can remove dust and grease from any screen without leaving streaks, residue, lint, or static electricity behind.
Due to its increased surface area, microfiber cloths are soft, safe for use on any screen, and washable.
It is even safe to use around children and pets, and it is eco-friendly.
Buy CLICK CLEAN Touchscreen Mist Cleaner for $12.99 here
3. Walrfid Screen Cleaner Touchscreen Mist Spray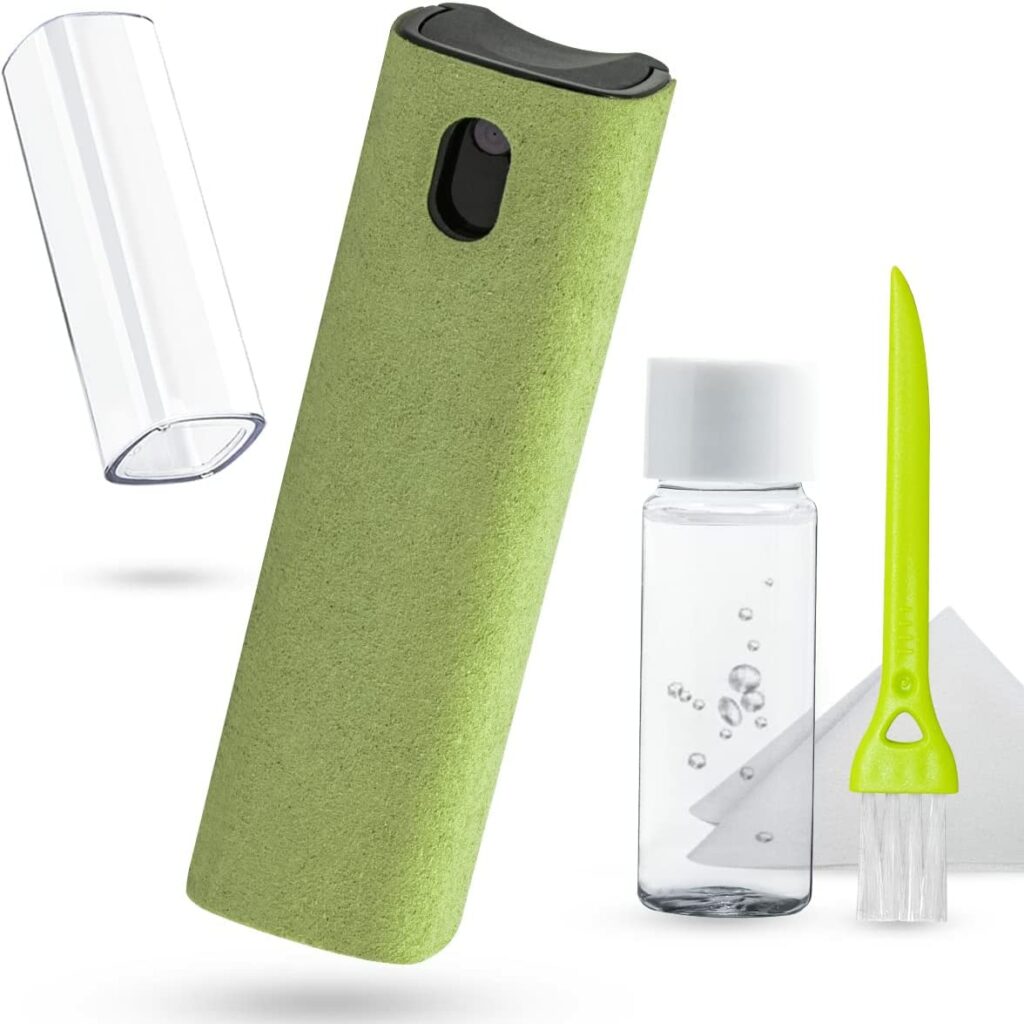 Walrfid is an all-in-one screen cleaner for iPhone. It includes cleaning, disinfection, antistatic, and degreasing.
This cleaning solution is made from deionized purified water and surfactants, etc. It is alcohol-free, safe, does not smear or rub off, and comes in a spray and wipe form. All these features make it convenient and practical to use.
A wipe can effortlessly remove oil and fingerprints from the screens of cell phones, tablets, laptops, TVs, iPads, iPhones, Macbooks, watches, monitors, e-readers, car displays, eyeglasses and sunglasses, and camera lenses.
This product is a bit bigger than lipstick, which makes it easy to carry around. The bonus is, it can be a thoughtful gift for students, teachers, white-collar office workers, photographers, and anyone who loves a gadget cleaning kit.
Buy Walrfid Screen Cleaner Touchscreen Mist Spray for $12.99 here
4. Turoxo Screen Cleaner – Spray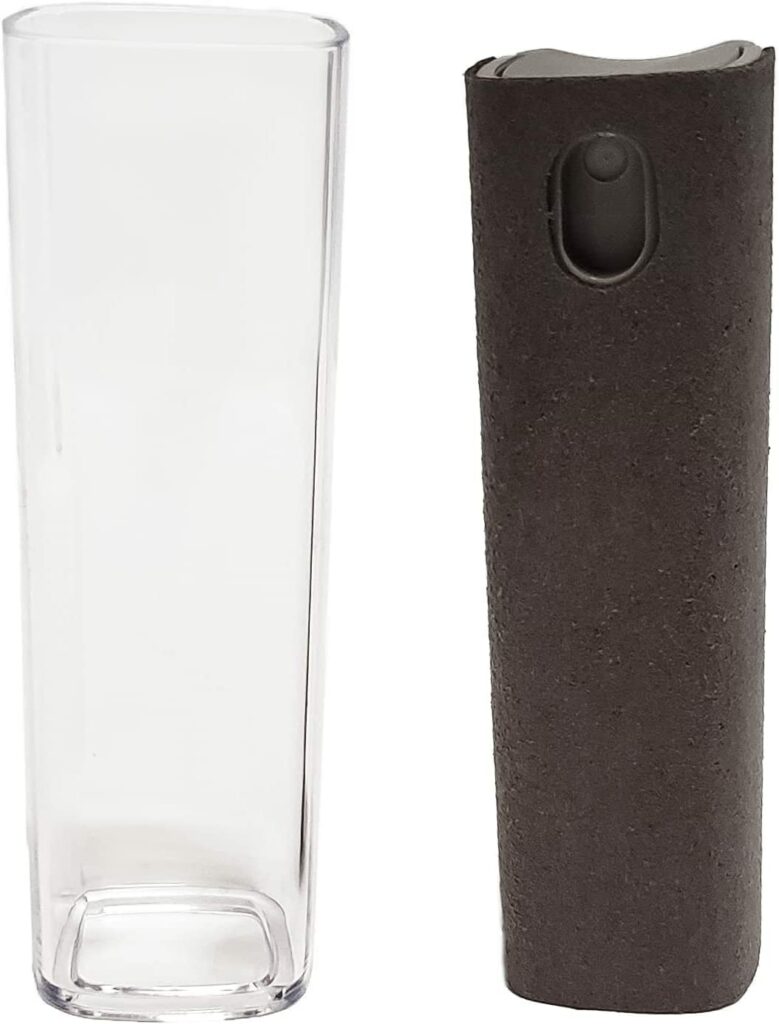 A recently launched line of cleaning accessories from Turoxo features innovative formulas. The cleaning accessories are designed to make it easy to disinfect on the go and hard-to-reach areas daily.
Screen cleaners like Turoxo Screen Cleaner are handy for on-the-go cleaning. With the spray bottle concealed within the microfiber cloth body, you won't have to worry about space in your purse or backpack!
A mixture of Turoxo formula and a microfiber cloth will make fingerprints and dust vanish in seconds. Also, the spray bottle is refillable.
Apply some solution to the screen and wipe it clean with a microfiber cloth. Having a cloth to clean your screen now will be a thing of the past!
Buy Turoxo Screen Cleaner – Spray for $12.49 here
5. AKARY Screen Cleaner Touchscreen Mist Cleaner
In one slim and portable item, this one of the best fingerprint-proof screen cleaners integrates a protective shell with a flat surface, a pre-installed microfiber wipe, and an internal bottle. In addition to the microfiber body, the spray is protected by a clear cover.
With a built-in wiping surface on the bottle, this spray bottle is an all-in-one screen cleaner. You can easily clean your phone screen with just a spray or two and it will be free of fingerprints and smudges afterward. There seems to be enough solution to last at least a few months. Cleaning with this mist cleaner is much more effective than using a cloth alone for maintaining smudge-free screens.
You can even do a quick touch-up while on the go with this small screen cleaning solution – or keep it in your purse, car, or backpack – the convenience is endless!
It works on all electronic devices, including phones, TVs, LED, LCD, OLEDs, monitors, laptops, computers, tablets, pads, e-Readers, car displays, and more.
Buy AKARY Screen Cleaner Touchscreen Mist Cleaner for $9.99 here
6. PROMAS 8PCS Screen Cleaner Kit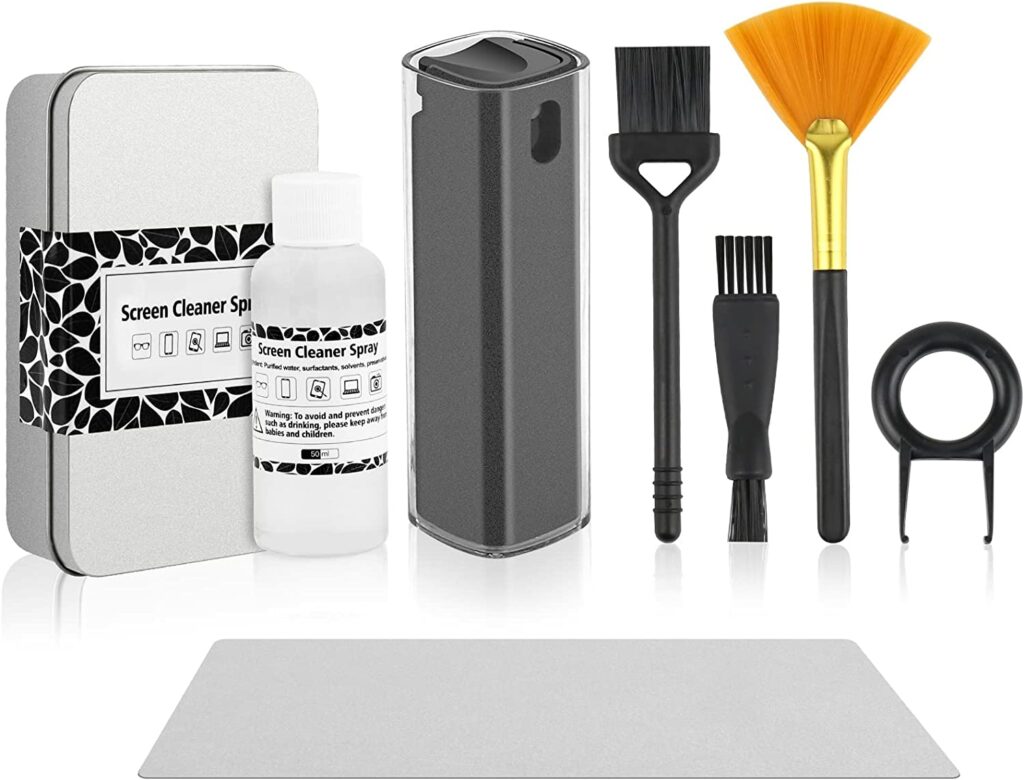 You can use this screen cleaner spray kit to remove fingerprints, oil stains, and dust from your screen, and rest assured that it will leave no trace or damage on the screen.
A flannel shell is washable, reusable, and can be cleaned and dried with a cleaning cloth after use. If the liquid in the spray bottle runs out, you can refill the bottle with the refill and use the spray again.
With a keyboard brush and cleaning cloth accessories, you can effectively disassemble and clean the keyboard. Both the spray and tinplate are lightweight and easy to carry.
Like all screen cleaners on the list, this one is also suitable for cell phones, tablets, computers, TVs, lenses, glasses, and mirrors.
Buy PROMAS 8PCS Screen Cleaner Kit for $12.99 here
7. Lanmino 3 in-1 Fingerprint-proof Screen Cleaner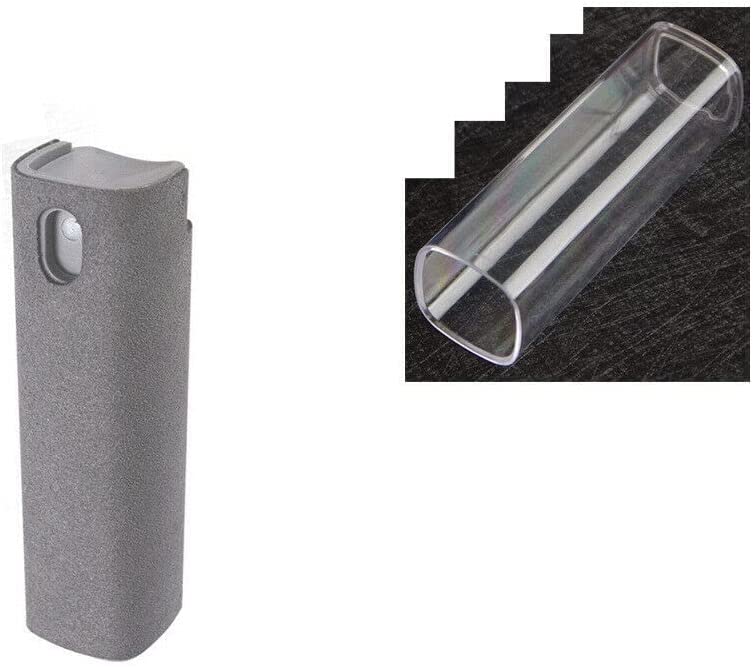 You can clean your smartphone screens without worrying about dangerous chemicals as this one is 100% environmentally friendly and chemical-free. Furthermore, it does not leave unpleasant odors or streaks like many other cleaners.
After only one use, your device's screen will look as good as the newly purchased one. Because the last thing you want is smudgy fingerprints on your new smartphone or tablet.
LANMINO is equally effective at cleaning iPads, laptops, and monitors, and it lasts for quite a long time.
Buy Lanmino 3 in 1 Fingerprint-proof Screen Cleaner for $7.99 here
When All is Said and Done,
In light of the fact that most regular cleaning products contain chemicals that can damage the screen, finding the most effective screen cleaner becomes even more imperative.
Once you have chosen a screen cleaner, be careful not to use too much spray, otherwise, it will drip wet on the screen. Rather than risk damaging the device with excessive liquid, it's recommended to clean the display twice. It is also imperative to apply the right amount of pressure.
So, are you ready to make your iPhone screen Monica clean? Let us know in the comments section.