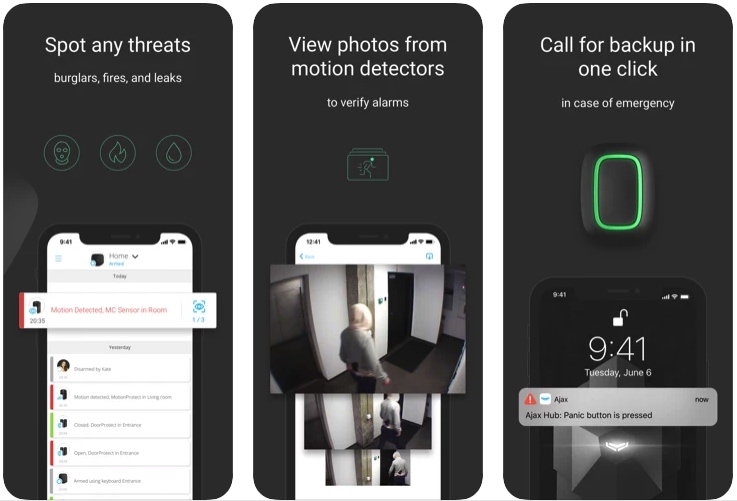 Security systems have changed over the years, and modern solutions are taking over. You can now control and manage your home security from your iPhone or even your Apple Watch. Using the Ajax Security System App and other smart technologies, you can monitor your home security while on the go.
The Home app found in Apple's newly released iOS 15 software also makes it easier for users to monitor their smart security devices on the go.
Modern-day challenges get sophisticated with continued innovations, so safer measures are needed to counteract these concerns. These security efforts are coming through with great technology investments.
Ajax security system solutions have been around for a while now. The company offers smart home security solutions to enhance control of your possessions, whether at home or away from them. With the help of experts, you can have a secure home and experience great peace of mind even in the most desperate moments of your life.
Modern Home Security Solutions Features
Modern-day technologies have changed the way security systems are installed and managed. It all starts with choosing a reliable security company like Ajax with the latest technologies and software in managing security.
Here are essential features and capabilities to consider when looking for help with today's smart security for homes:
Expandability. Modern security systems are designed to give you options to choose what you need at a given time. Ajax security systems can be customized to match different needs at a given moment. Therefore, you can simplify or sophisticate the system as desired.
Ease of Integration. Despite using superior technologies, Ajax systems are easy to integrate. You can connect a host of security devices, including third-party solutions. Old security equipment should easily be connected to your security system with the right adapters.
Smart solutions. The Ajax Security System App is designed and customizable to send you smart alerts for instant response and action. Smart solutions help you control your security network aspects seamlessly from the convenience of your phone.
Reliable security levels. The entire Ajax security ecosystem is built on flawless security protocol layers more than standard security systems. There should be power backup solutions to sustain monitoring efforts even during power cut-outs. Ajax provides you dual communication and encryption to enhance the safety of your data.
What Makes Ajax Security Systems A Good Option?

Considering the security benefits that are offered by Ajax Security Systems, installing it as yo home's main security solution seems like a no-brainer. And the great thing is you don't need to be an expert to do so.
With Ajax, you get monitored home security, Ajax Security System App, Ajax Alarms, and a host of compatible devices connected wirelessly. The idea is to help you manage your home security with ease, owing to the flexibility that comes with their integration and use from wherever.
Here are key benefits that you will get by using the Ajax security system:
Less Bulky and Wireless Solutions. The Ajax system is primarily wireless. Therefore, there is littleinstallation other than for the main hub hence no disruption to your home. All other devices are use batteries and are connected to the network wirelessly.
Easy-to-use smart technology. You can control and manage every security feature through the Ajax Alarm App right from your phone. You can connect while on the go and act promptly when security activation is made.
Interior and Exterior Protection. Internal motion cameras and external motion detectors send instant responses upon detection of any movement within and without your premises.
Affordable Security Solutions. The Ajax security system can be customized to match your budgetary requirements. You can make adjustments as you may please, giving you all the flexibility you need.
All-round security coverage. Door or windows are covered with in-built sensors to ensure they are not compromised. Any limits exceeded more than the set values will trigger alarms and transmit the information to your phone.
Protection against floods. Flood detectors are part of the Ajax system suited for the dishwasher, washing machine, and similar appliances to safeguard your home against flooding.
Intelligent identification solutions. Ajax systems can differentiate between pets and people so that homeowners can take the right decision following any triggers that have been made.
Safety from Fires. Protection from fires is an essential part of any security system. Ajax fire alarms monitor temperatures and fire in the home and transmit information for appropriate action.
Adaptability with other Systems. With Ajax systems, you won't have to throw away your conventional systems. You can integrate your CCTV and burglar systems and still use them.
Modernize your Home Security with Ajax
Shifting to Ajax home security system solutions is is easy and a one time investment. All you need is to engage their dedicated professionals to help you navigate the path and install the systems for you.
Most importantly, they are user-friendly solutions that will not give you a hard time using them Once you have set them up, they will continue to work and only require battery replacements every 7 years. The encryption offered in Ajax products makes sure your data and security feed does not get intercepted and you can easily monitor your home security while on the go.