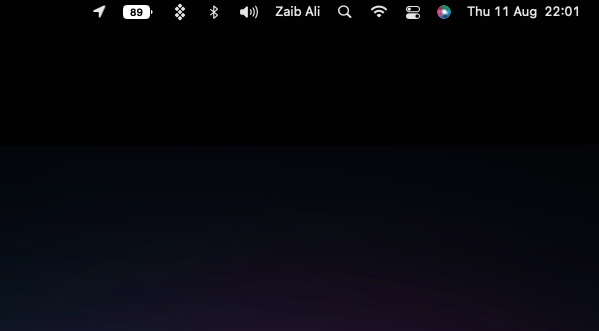 Now that battery percentage is finally part of iPhone's status bar again, isn't it a good idea to add iOS 16 style iPhone battery percentage to MacBook as well?
That is exactly what Batteries app for macOS does, as it has recently added an option that allows MacBook users to add battery percentage icon to their Mac's menu bar, which looks very similar to the one found on iOS 16 beta 5.
As you can see in the image above Batteries app displays the remaining battery of a Mac inside the battery icon, same as it does on the iPhone. This not only looks cool but also brings a level of consistency between Mac and iPhone.
In addition to adding iOS 16 style battery percentage to Mac's menu bar, Batteries app has other useful features as well. One of its most useful features allows users to see the battery levels of all of their Apple devices including iPhone, AirPods, iPad, Apple Watch etc all in one Mac menu.
For those who have a Touch Bar equipped MacBook Pro, Batteries can also display the current battery levels of your devices in the Touch Bar. The app also offers notifications that let the user know when it is time to recharge.
After downloading Batteries app make sure you disable macOS's default battery indicator by going to System Preferences -> Battery -> Choose 'Battery' from sidepane and uncheck 'Show battery status in menu bar' option.
Batteries app is available through the Setapp subscription service. If you don't want to subscribe to Setapp, then you can buy the Batteries app directly from developer's own website, where it costs $8.99 (link). Developer's website also offers a free 14-day trial.