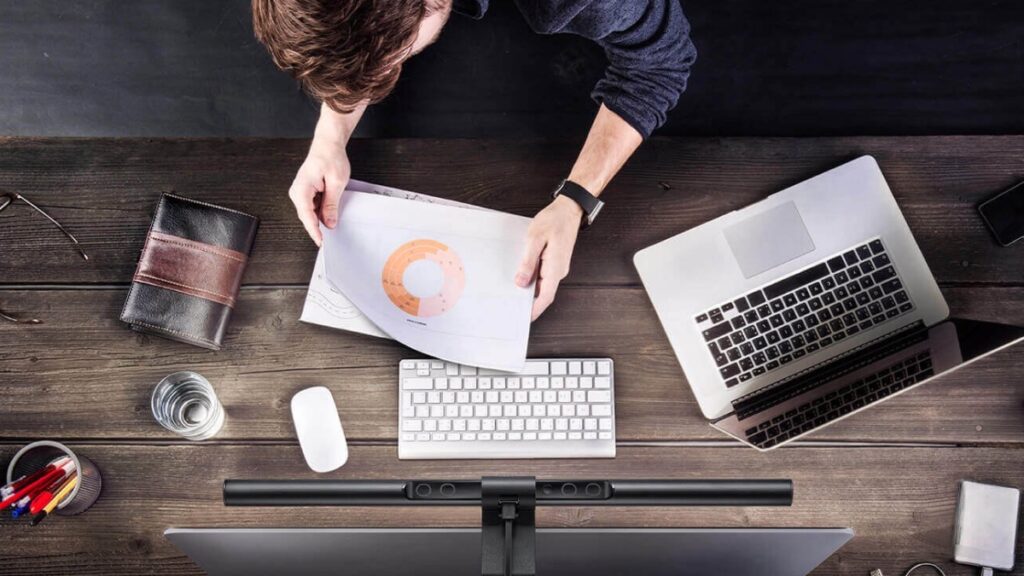 Tired of the traditional lamps on your workstation? This may be the right time to try screen light bars. The biggest pro of light bars is they are compact and leave ample space on your table. 
In this post we have featured some of the best screen light bars that you can buy in 2022. These light bars attach to your monitor and light up your desk, without adding any sort of glare to the screen.
Best Screen Light Bars In 2022
Here are the top 6 screen light bars that you should buy to light up your desk without adding any clutter to it.
1. BenQ Screen Bar Plus with Dial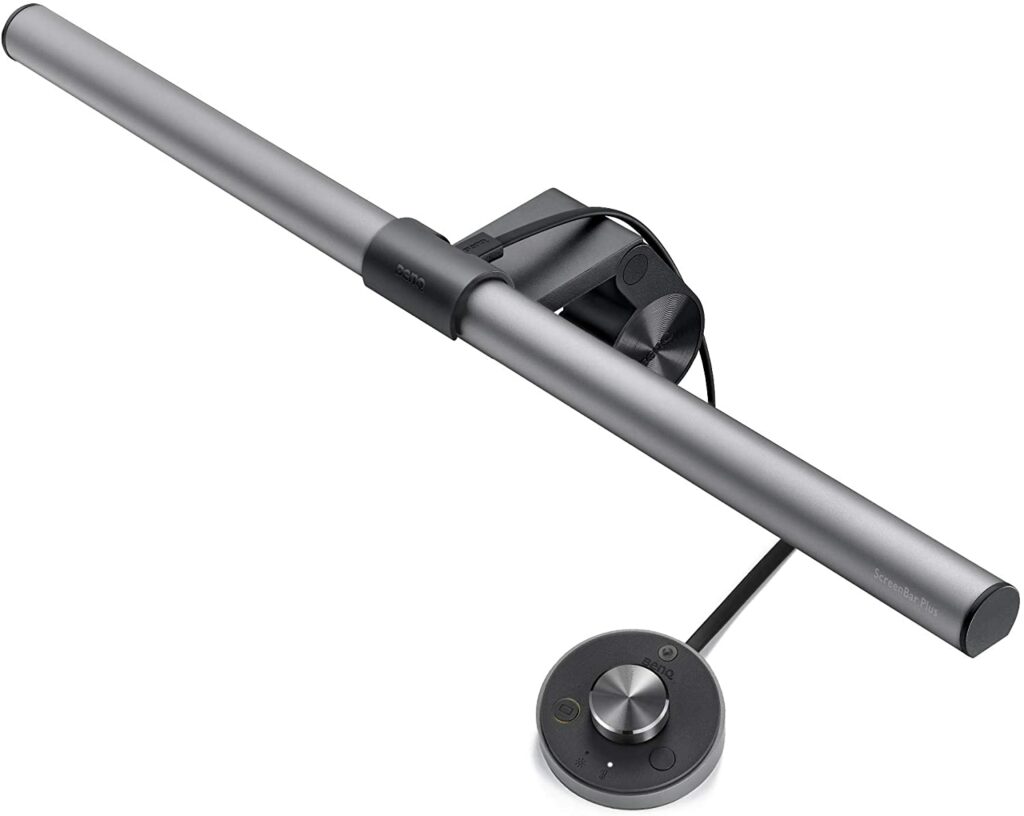 BenQ Screen Bar Plus adjustable light enhances your working experience. Unlike traditional lamps, the BenQ screen bar does not put a strain on your eyes and produces glare-free lighting.
Its asymmetrical optical design keeps light precisely on your computer monitor while keeping your eyes comfortable. This sleek and space-saving screen bar keeps your desk clean and clutter-free. 
Its built-in light sensor allows you to control it with a simple touch to achieve the brightness as well as color temperature level you desire.
This USB-powered monitor light bar is perfectly suitable for reading as well. With a 59inches USB cable, it is compatible with most monitors.
You can buy the BenQ Screen Bar Plus with Dial at a price of $139 from the link below. 
2. BenQ Screen Bar Monitor Light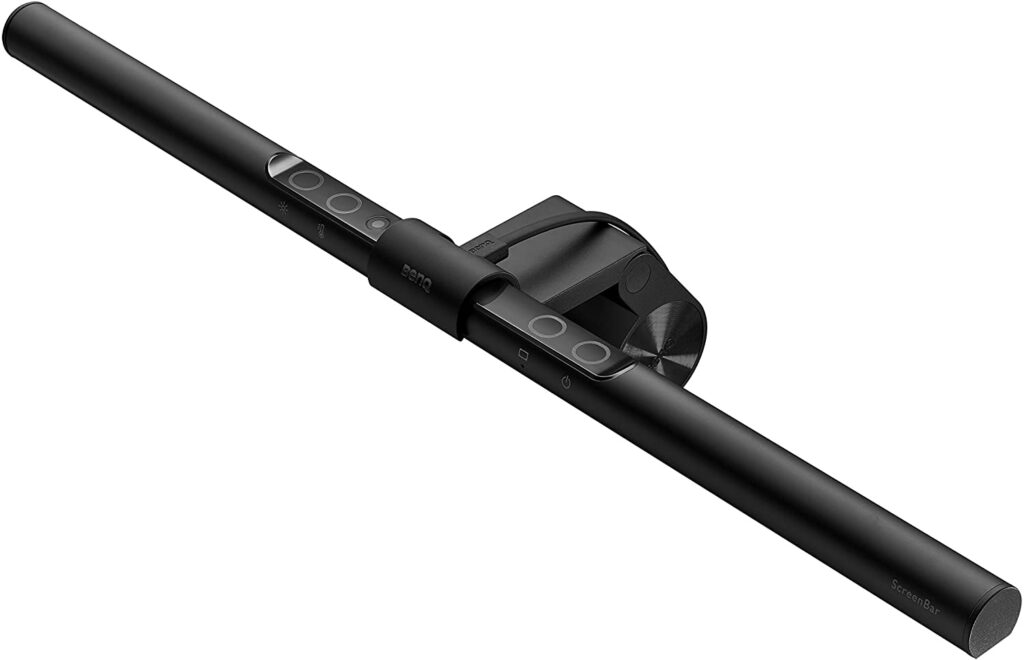 Here is another BenQ screen light bar that enhances your room's environment with lights off. You can play games, watch movies, or study while keeping the rest of the lights off.
This monitor light bar has built-in light sensors that detect the surrounding brightness and adjust the light that is suitable for your eyes. You can also control the brightness manually.
Its sleek body is space-saving with no base. Its clip design makes it super easy to mount on your monitor. In order to connect it with your monitor, simply use its 59inches USB cable. 
You can buy the BenQ Screen Bar Monitor Light at a price of $109 from the link below. 
3. MELIFO Monitor Light Bar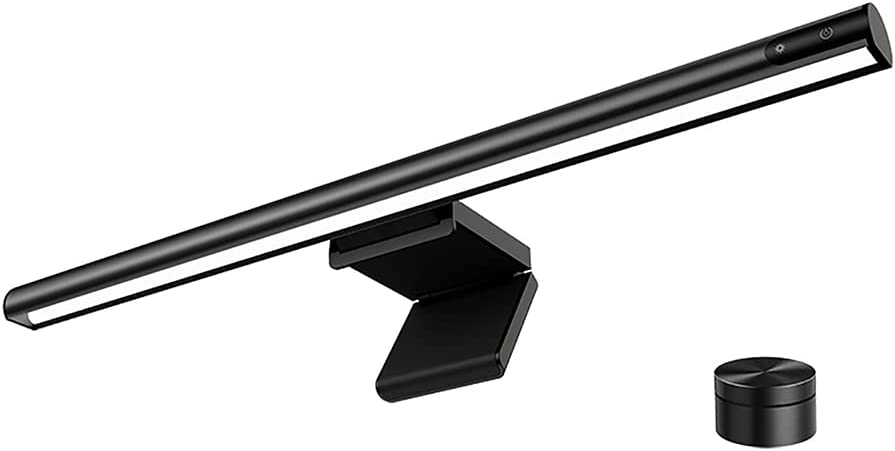 This screen light bar by MELIFO has a mechanical switch and you can also control it manually. With its remote control, you can manage two lights simultaneously.
Its scientific optical design illuminates the keyboard and screen while eliminating the glare on the screen. 
This monitor light bar allows you to adjust the light between cold and warm temperatures until you achieve the desired light.
Moreover, its intelligent memory saves your lighting mode so that you can use it next time without requiring any reset. Its sleek mounting design has no base so that you have ample space on your computer desk. Like other competitors, you can use the light via a USB cable.
You can buy the MELIFO Monitor Light Bar for $49 at the link below.
4. LOFTER-pro Computer Monitor Light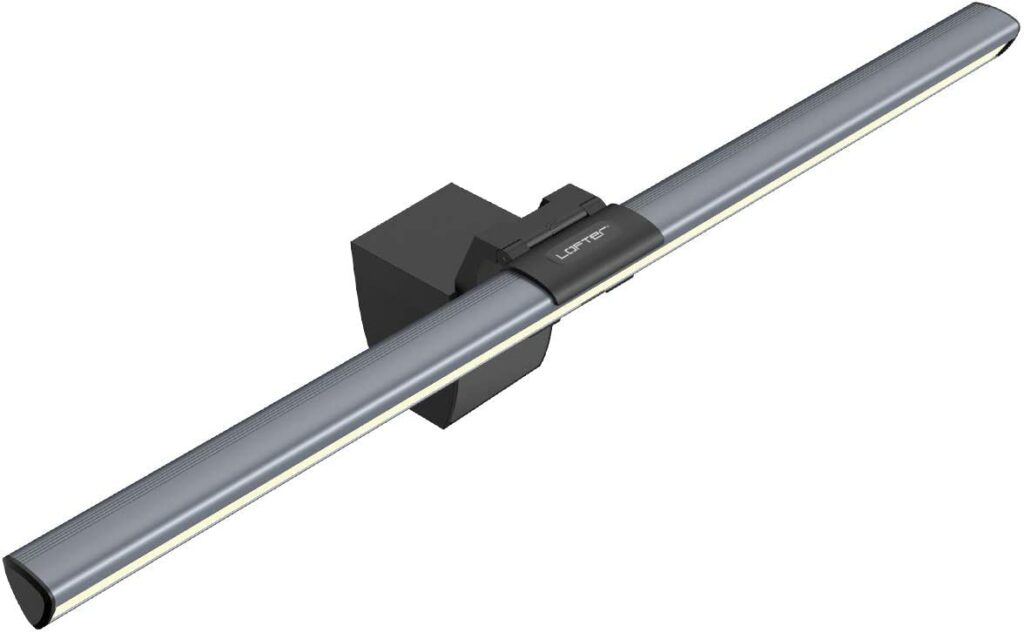 LOFTER-pro's light screen bar is one of the best light bars for your computer. Its elegant and sleek body saves space on your desk and sits on the screen firmly and easily.
If you have a limited workspace, go for LOFTER-pro! This light bar prevents any glare on the screen, protects your eyes, and keeps the keyboard illuminated.
Its built-in 84 LEDs have 42 cool white colors and 42 warm color lights. Simply press the control button for brightness level and personalize the light according to your changing needs. Simple, connect the USB cable and it is ready to use.
This modern design enhances the beauty of your workspace. This light is not suitable for a monitor thicker than 1.06inches. 
You can buy the LOFTER-pro Computer Light Bar for $59.99 at the link below.
5. Quntis Computer Monitor Lamp
Here is another sleek light screen bar for your workstation! Quntis has a unique light bar with an asymmetrical optical design to keep your desk illuminated and your eyes protected.
Its advanced eye protection system blocks blue light and optical radiation which reduces eye strain. 
Its new humanized design allows you to control it with its sensitive touch system. Now you don't need to deal with messy cords! Its built-in light sensors adjust the brightness according to the surrounding lights. In a darker environment, you can adjust the light using its auto-dimming key in 7 to 8 seconds.
In order to adjust the brightness, simply long-press the dimming key. You can also choose between its cool and warm light tones to get the desired light. Its memory remembers the light settings, so you don't have to reset it for your next use. 
This light bar is ideal for a 15 to 22inches monitor with 0.6 to 1.4inches thickness. Please note this is not suitable for laptops or thick monitors. 
You can buy the Quntis Computer Monitor Lamp for $39.99 at the link below.
6. MELIFO Curved Bar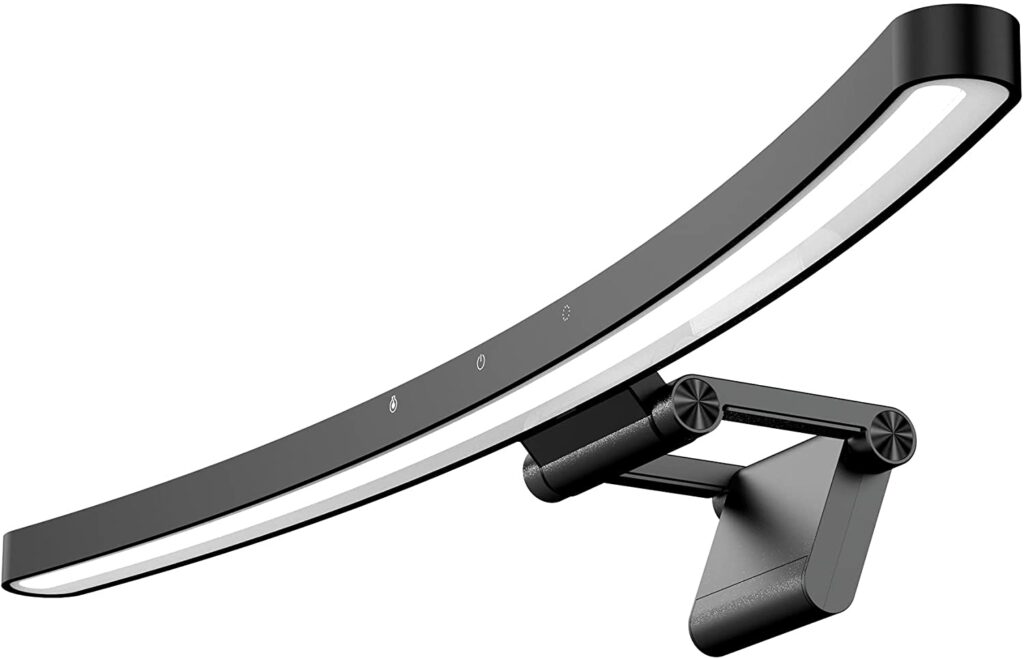 MEIFO's curved bar is ideal for a better gaming experience. Its elegant and modern body is compatible with nearly any display.
Like other competitors on the list, this light bar has a scientific optical design that illuminates the keyboard. Its eye protection system prevents any screen glare so that you can work or play games comfortably for hours.
Control its warm and cool brightness until the desired level is achieved. Moreover, it remembers the light setting and brightness mode you set.
In order to connect it, simply insert the USB cable into your computer or any other power adapter. This space-saving light bar can easily be placed on the top of your monitor so you can have ample space on your workstation. 
You can buy the MEIFO Curved Monitor Light Bar for Curved Monitor for $59 at the link below.
So, which screen light bar from the above list you would like to try? Share with us in the comments below. 
Looking for more desk accessories for your Mac? Then check out these amazing desk mats for Mac, Best MacBook Stands, Best Printers for Mac, Best ergonomic chairs for Mac and more.
For more accessories stay tuned to iOSHacker.com.