iPhones are certainly among the most desirable smartphones out there and they are known to retain their value much better than their competitors. That is because the preowned iPhone market is huge and millions of iPhones are sold and purchased by users who have upgraded their own devices.
If you have ever bought a used iPhone online, then you would know the struggles of making sure you don't end up buying a device that has iCloud Activation Lock turned on.
iCloud Activation Lock if you are not familiar with is a Find My iPhone feature, which locks a device after it has been factory reset. The device is then only activated after the user enters the Apple ID password the device was set up with.
While you can easily remove Activation Lock from an iPhone by entering the required password, things get very tricky if you have either forgotten the iCloud password or the previous owner of the device did not remove his or her iCloud account from the device and you have to enter their password.
There are two ways to remove iCloud Activation password without the previous owner's password. The first way is with DNS Bypass while the other way is using a third-party tool called AnyUnlock – iPhone Password Unlocker. We will take a look at both of these methods in this article.
Method 1: Remove Activation Lock using DNS Bypass
You can use the DND Bypass method in order to remove Activation Lock from an iPhone. Here's how you can do it.
Step 1. Restart your iPhone and select your Country and Language.
Step2. Next click on 'Proceed' option and then go to Wi-Fi settings. When asked to connect to a Wi-Fi network tap on 'i' button located next to the Wi-Fi tab.
Step 3. Now disconnect from the Wi-Fi network your device is connected to. You can do so by going to connection settings and tapping on the 'Forget This Network' button.
Step 4. Now tap on 'i' button and enter the DNS server IP. Enter the following DNS server information depending on your current location. Enter the new DNS server as below:
USA/North America: 104.154.51.7
Europe: 104.155.28.90
Asia: 104.155.220.58
In the rest of the world: 78.109.17.60
Step 5. Now tap on the Back button and turn on Wi-Fi. Choose your Wi-Fi network and connect to it.
Step 6. Now tap on Next page option and then on the Back button to enter iCloud bypass screen.
Step 7. After this, you should be able to set up your device according to your liking and gain access to its various features.
Using the steps outlined above you can use DNS Bypass method to remove iCloud Activation. While this method is known to work it has many 'weaknesses'. For example, it only works with a limited number of iOS versions that includes iOS 8.0 up to iOS 10. Newer versions of iOS such as iOS 15 and iOS 16 do not support this method.
Other weaknesses of this method include it is not available in all regions and its hit-and-miss success rates.
Method 2: Use AnyUnlock – iPhone Password Unlocker to remove iCloud Activation Lock
If you want to increase your chances of success when it comes to removing iCloud Activation Lock on your Mac, then you can use the AnyUnlock – iPhone Password Unlocked tool's iCloud Activation Lock Remover feature on your Mac or Windows PC. Here's what you need to do.
Step 1. First of all download the AnyUnlock – iPhone Password Unlocker tool for Mac or Windows and launch it.
Step 2. Now choose the Bypass iCloud Activation Lock option from the tool's main dashboard.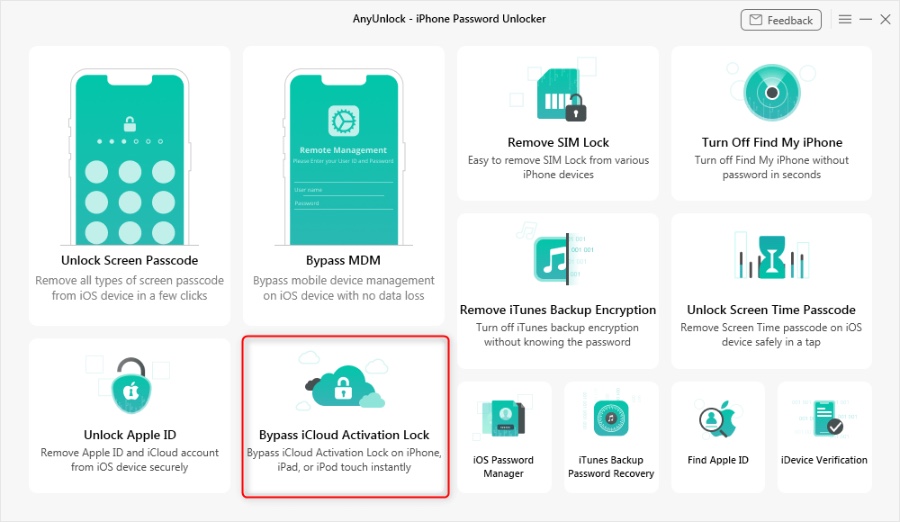 Step 3. Next connect your iPhone to the computer using a USB cable and hit the Start Now button.
Step 4. After confirming the details of your device on screen put your device in DFU mode. After this the process of jailbreak will start on your device.
Step 5. After the jailbreak process has been completed click on the Bypass Now button in order to start bypassing iCloud Activation on your device.
Step 6. Wait for AnyUnlock to remove iCloud Activation Lock from your device. You will be shown iCloud Activation Lock is bypassed successfully on screen after the tool has done its job.
With AnyUnlock tool you can easily remove Activation Lock from an iPhone and start using it. This is a powerful unlocking toolkit for iOS that also offers other benefits to the users including the ability to bypass iPhone passcode screen, unlock Apple ID, remove SIM lock, bypass remote MDM, remove Screen Time restrictions and more.
You can buy and download AnyUnlock – iPhone Password Unlocker tool with a 1-year subscription at a price of $49.99. A better deal is available with a lifetime license, which costs $69.99.