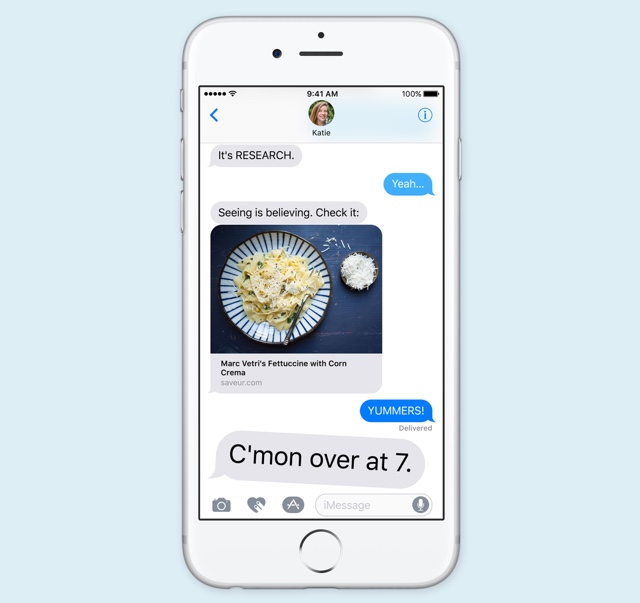 If you ask any iPhone user to name top 5 most important things that are stored on their device, chances are the list will include text messages. The text messages that we exchange on a daily basis contain so much of our lives that it is hard to even imagine losing this data. Today messages not only contain texts but they can also consist of important videos, photos and other types of data.
If you have lost your text messages by deleting them by accident or you have lost your iPhone and it is beyond recovery, then you would lose these messages altogether. Or would you? With PhoneRescue for iOS application you can retrieve deleted text messages and get them back. The application that is available on both Windows and Mac uses your iTunes and iCloud backups to retrieve your Messages and even allows you to read and extract data from them. Don't want to retrieve all messages? With PhoneRescue for iOS you can even retrieve selective messages.
Using PhoneRescue for iOS you can retrieve your text messages in two ways. First method involves extracting messages directly from your iPhone. This means if you have deleted messages accidentally and want to retrieve them, you can do so by following the steps below. The reason why PhoneRescue is able to recover your messages is that when you delete a message from your iPhone, it is not actually deleted right away, and stays on the device until it is overwritten. This gives you a window for retrieving those deleted messages provided you take action before they are overwritten.
Method 1: Follow the steps in method 1 to recover your messages from your iPhone using PhoneRescue app.
1. Launch the PhoneRescue tool and connect your iPhone to your computer with a USB cable.
2. From the menu click on 'Recover from iOS Device' button.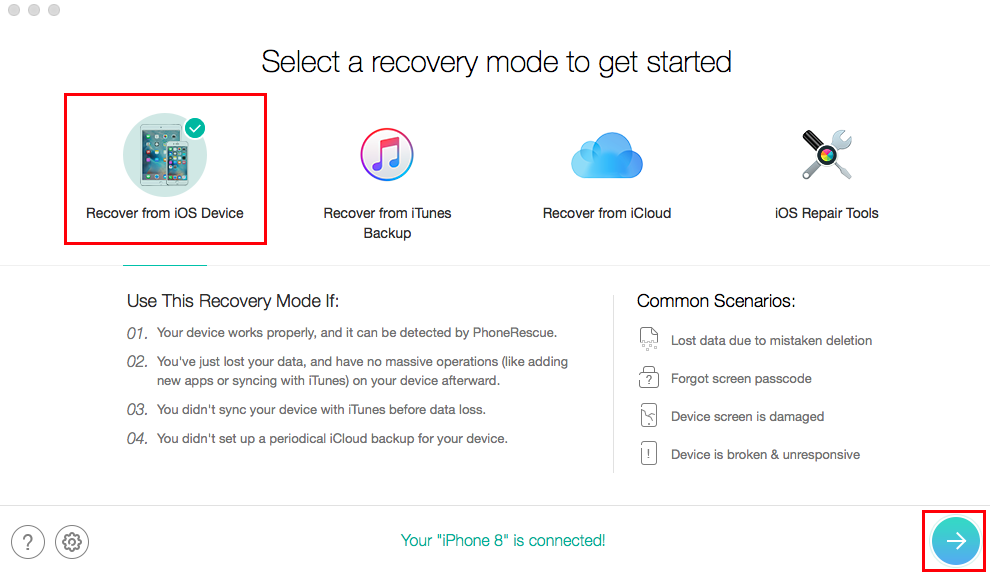 3. On the next page you will notice all categories are selected. Since you only want to recover Messages, uncheck all other options and then click on the OK button.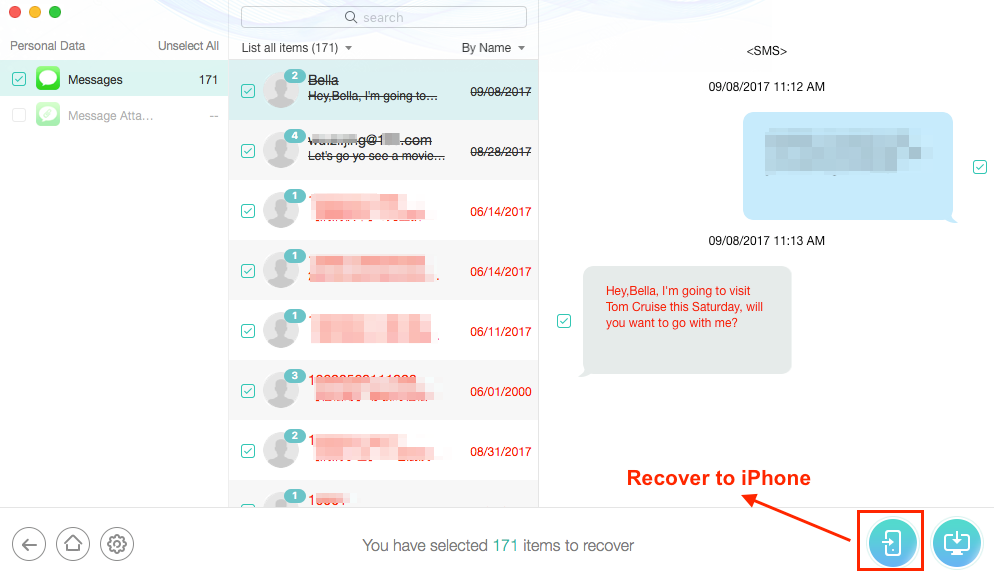 4. Now you will be able to preview all the text messages on your device. Find the ones you want to retrieve and then export those messages to your computer as TXT file. You can then share this TXT file, send it to your iPhone via AirDrop or print the messages.
Method 2: You can also retrieve your lost messages using your iPhone backup. The great thing about this is you can use both iTunes and iCloud backups to recover your lost messages. Follow the steps below.
1. Launch the PhoneRescue tool and connect your iPhone to your computer using a USB cable.
2. Now click on 'Recover from iTunes' backup. Alternatively click on 'Recover from iCloud'.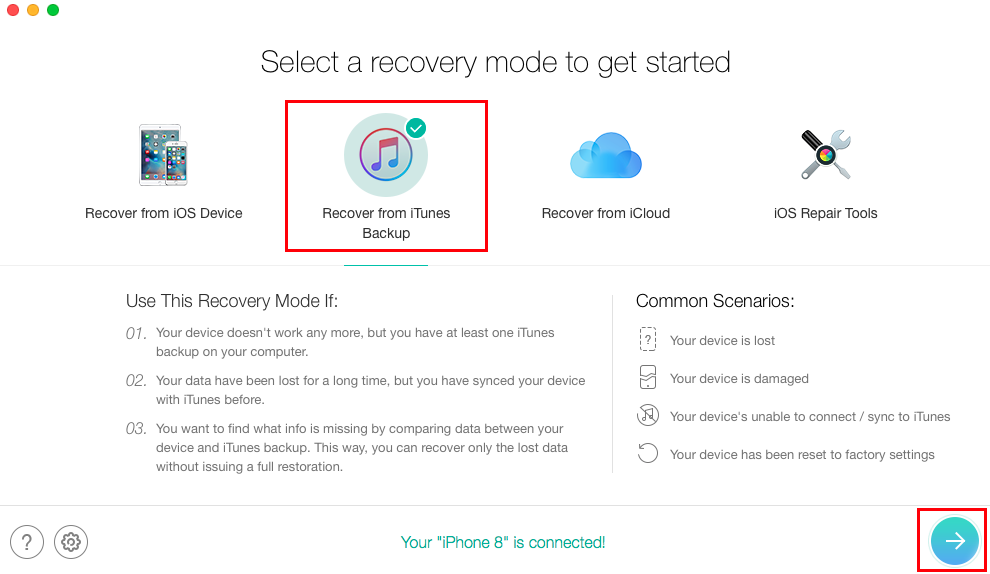 3. Choose the backup that you want to recover deleted messages from and then uncheck all options other than 'Messages' so you can only recover Messages.
4. From the next screen you can preview all the messages and have the ability to export the deleted messages that you want to retrieve from the backup. There you will get two options, one to retrieve messages to your computer and the second one to retrieve message to your iPhone. Choose the option that suits you the best.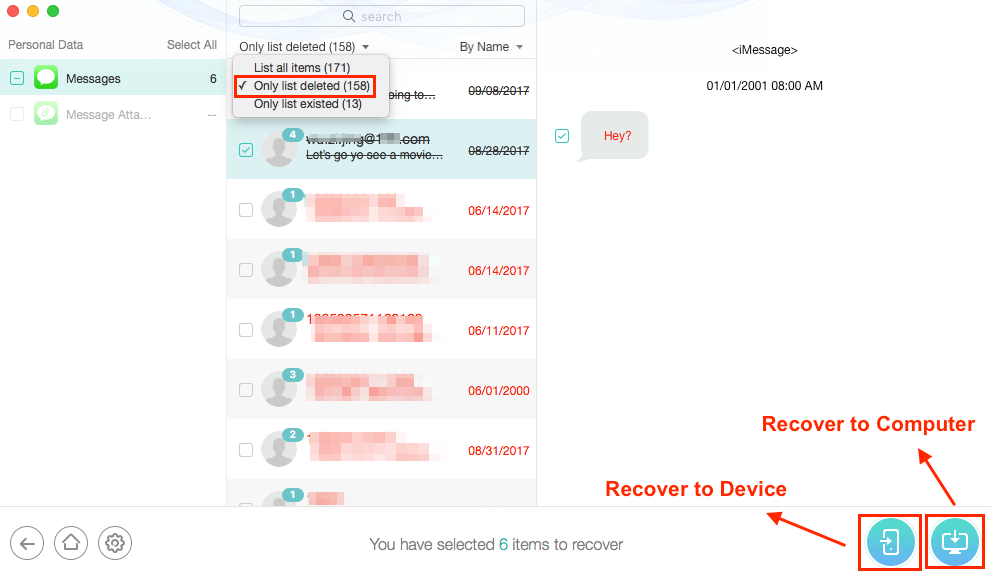 PhoneRescue for iOS is a paid tool so you will need to purchase a license in order to take advantage of its many features. However as demonstrated in this tutorial you can recover precious data such as Messages, Photos, Videos, Notes, Contacts and more using this powerful application. You can buy a single license for PhoneRescue for $49.99. A free trial for PhoneRescue for iOS for both Mac and Windows is available here.