Any responsible parent or guardian would be concerned about the whereabouts of their teenage son or daughter. In today's increasingly dangerous world it is essential for caring parents to keep track of their child's activities both online and in real life.
While iOS includes some useful tools like Screen Time to limit the amount of time children spend on their iPhone or iPad, Apple does not offer advance monitoring features for parents where they can monitor the location, calls, social apps and media on their children's iPhone. For that iPhone users have to rely on tools like FamiGuard Pro for iOS.
FamiGuard Pro for iOS is a powerful iPhone monitoring application, which enables users to track location of a target iOS device. This helps parents and guardians to see the location history of their children without them even knowing. This application is able to provide precise and detailed location history of a target device to the user. Useful details such as address, longitude, latitude and dates of the whereabouts are available for inspection.
While iPhone location history tracking is a useful feature of FamiGuard Pro application it has several additional benefits that make it a worthy monitoring tool for parents.
With this tool you can monitor your child's messages across most of popular messaging apps. This includes WhatApp, WeChat, Viber, LINE, QQ, Kik chat and more. You can not only read the messages they have sent to their friends and others but you can also see the media files, emojis and other items that have been exchanged with other users, making this a very effective monitoring tool.
Tracking calls is another useful feature of FamiGuard Pro, which allows users to track all incoming and outgoing calls and tells users names, timestamps and call durations of calls made by the target device.
The application supports ability to check photos, videos, voice memos, reminders, calendars, notes and items like Safari history and bookmarks on the target device.
Perhaps the best thing about using FamiGuard Pro for iOS, and what makes it stand out among other equally powerful monitoring tools is that it does not require the target device to be jailbroken. Which means you can even use it to monitor iPhones that are running iOS 16 or other recent iOS versions. iPhone 14 and other recent iPhone models can also be monitored using this tool.
Setup and use iPhone with FamiGuard Pro for iOS
When it comes to monitoring iPhones there are two ways users can see location history and other data of a targeted device. We have shared both steps of FamiGuard Pro for iOS setup.
Method 1: Connect to target iPhone physically with a USB cable
If you can access your target iPhone, then you can use a USB cable in order to connect it to FamiGuard Pro for iOS. This can be done with the following steps.
Step 1. First of all download and install FamiGuard Pro for iOS on your computer and run it.
Step 2. Connect your iPhone to the computer using a USB cable and click on View iTunes Data option.
Step 3. Let FamiGuard Pro scan backups stored on your computer and your connected iPhone. Once it has done scanning you should be able to view the data on your computer.
You can also scan data from iCloud backup, however for that you will need to factory reset your device. Before doing that make sure you create a fresh backup of your device. Then to do that in step 1 choose View iCloud Data option, and then choose Apps and Data on your phone. Finally select 'Restore from iCloud Backup' option and then enter iCloud username and password.
Method 2: Connect to target iPhone over Wi-Fi
If you can't physically access your target iPhone but you know its iCloud account details, then you can follow these steps.
Step 1. Download and install FamiGuard Pro for iOS on your computer and launch it.
Step 2. Make sure both target iPhone and your computer are connected to the same Wi-Fi network.
Step 3. Click on the green icon located on top right corner. This will display the list of iPhones that are available for data viewing. Select your target iPhone from the list and click on the Scan Now button.
Step 4. Let FamiGuard Pro for iOS scan your iPhone, after which you will receive a notification saying scanned data is now available for viewing. Click on the 'View It Now' button to view the data that has been scanned.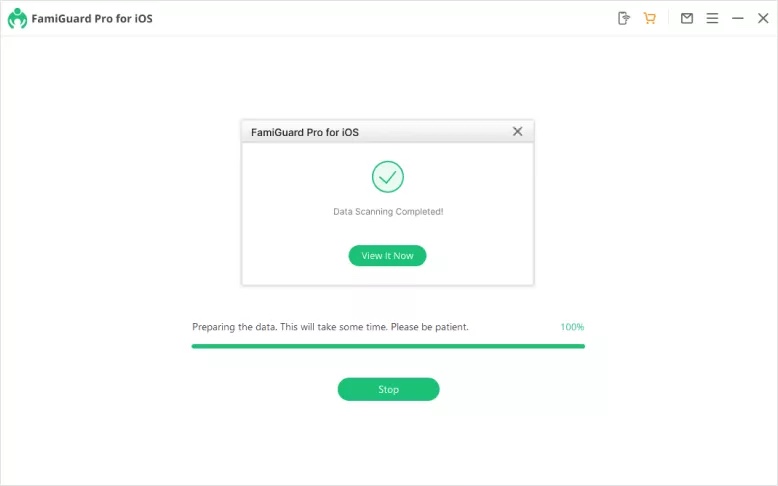 Viewing the scanned data
After FamiGuard Pro for iOS has completed the scanning process using method 1 or method 2, you can start viewing the scanned data. To do so, you can access the Dashboard interface and select the type of data that you want to view.
In addition to that you can use the side pane to view different types of data. To view and track location data click on 'Locations' and you will be presented with iPhone's location data.
FamiGuard pricing and availability
FamiGuard Pro for iOS is a paid tool and comes with a subscription based model. You can get a 1-month subscription of FamiGuard Pro for iOS at a price of $39.95. You also have the option to get a 3-month subscription, which will bring your monthly cost down to $19.98.
The most cost savvy option is the 1-year plan, which brings down the monthly subscription cost to $9.16 only.
To conclude…
Tools like FamiGuard Pro for iOS offer a powerful and effective way for parents to monitor their children's online and offline activities. With its location tracking capabilities and ability to show messages and media content parents can rely on it for safekeeping of their children in this increasingly dangerous world.