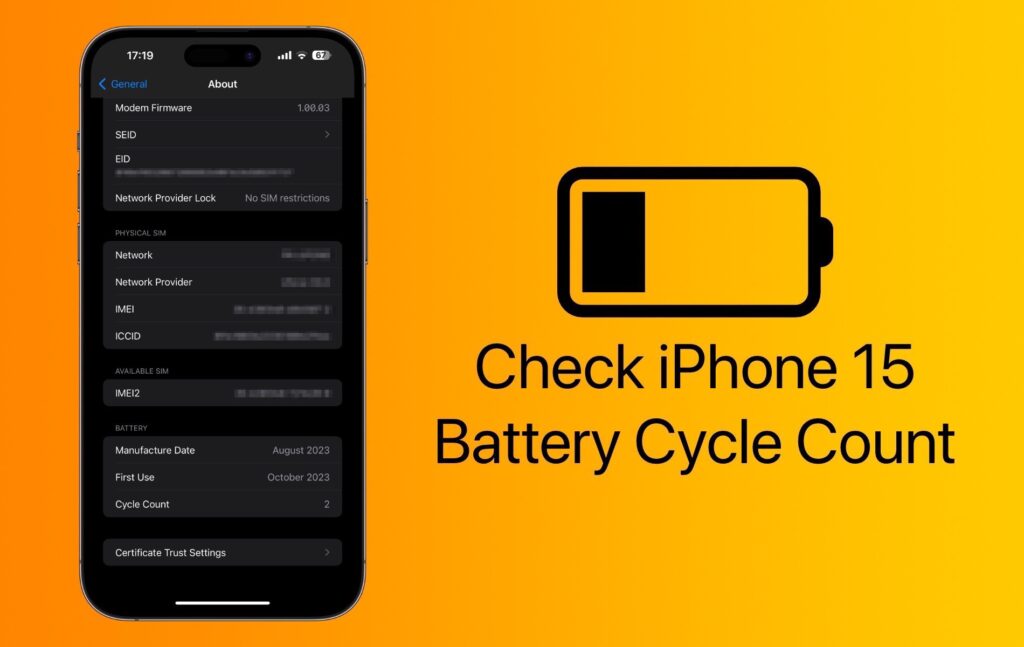 With the release iPhone 15 lineup, Apple has finally provided users with an easy way to check the cycle count of their iPhone 15's battery.
Previously users had to check iPhone battery cycle count with a Shortcut and use other tricks in order to see the battery cycle count of their iPhone 14 or older. But now they can find this useful information right inside the Settings app.
In this guide, we will share on how you can check iPhone 15 battery cycle count. In addition to that you will also be able to see when your iPhone 15's battery was first used and its manufacturing date.
Before you begin do note that this feature is available on the following models only.
iPhone 15
iPhone 15 Plus
iPhone 15 Pro
What is the battery Cycle Count on iPhone?
iPhone's Battery Cycle Count is a useful metric that gives us an idea about the battery health of an iPhone. A battery cycle is the full charge and discharge of an iPhone's battery. A battery has a limited number of cycle counts and needs to be replaced when that cycle count has been reached. A battery with a higher battery cycle count could have a lower battery capacity and run for a shorter period of time on a single charge.
Apple says the iPhone's battery is designed to retain up to 80% of its original charging capacity at 500 complete cycles provided it has operated under normal conditions.
A complete cycle occurs when the device's battery discharges a full 100% charge. So if you charge your device up to 50%, then your iPhone will complete one battery cycle when its battery discharges 50% battery twice.
Now let's proceed and check iPhone 15 Pro battery cycle count…
Check Battery Cycle Count on iPhone 15 and iPhone 15 Pro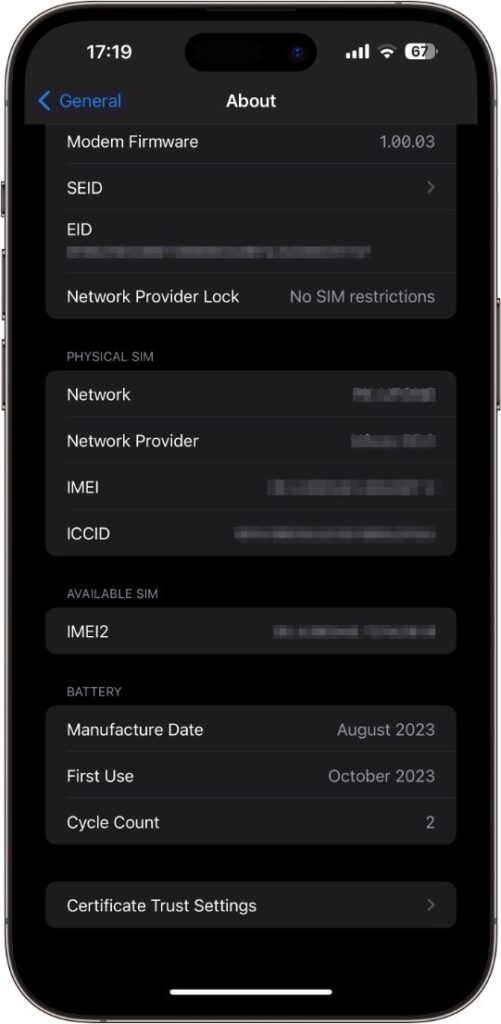 Follow these steps to quickly check iPhone 15 Pro Max Battery Cycle count.
Step 1. First of all open the Settings app on your device.
Step 2. Now go to General and tap on the About option.
Step 3. On the About page scroll down until you see the 'Battery' section.
Under Battery, you will be able to see the Manufacture Date, First Use, and Cycle Count of your iPhone 15's battery. If you have had your battery replaced by Apple or Apple Authorized Service Provider, then you will see the details of your new battery.
There you have it folks, this is how you can view the battery cycle count on your iPhone 15 and iPhone 15 Pro.
If you have any questions related to this guide, then share them with us in the comments below.
Disclosure: iOSHacker may receive a commission if you purchase products through our affiliate links. For more visit our privacy policy page.