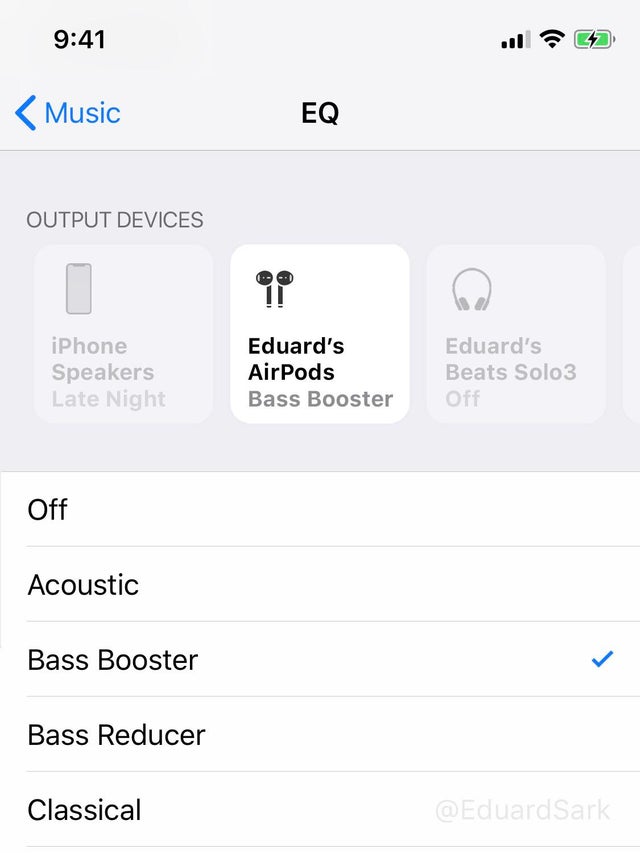 If you change the EQ settings of your iPhone or iPad frequently, then you would be aware of the fact that the EQ or Equalizer settings on iOS need some drastic changes. Since the early days of iOS Apple has given various EQ settings, with each setting offering a different sound profile to the user. While this is good, when you select a particular EQ setting it is applied to all system audio. So if you have selected Bass Booster setting, all types of audio outputs will have this particular setting until you switch to another option.
This is definitely not ideal, especially for those who use multiple output devices with their iPhone or iPad. For example, the Bass Booster setting might work well with your AirPods but the same EQ setting may not be suitable for your car's audio system or your Bose headphones.
To solve this annoyance Reddit user Eduard Sark has shared an innovative concept that will solve the EQ related issues for iPhone users for good.
In the concept users are able to select different EQ setting for each of their audio device. So with this concept you can choose Acoustic for your iPhone Speaker, Bass Booster for AirPods and Classical for your Bose headphones. The EQ Settings page is able to display all audio output devices that are connected to your iPhone via Bluetooth at the top of the screen. User can simply tap on the device to select it and then choose an EQ setting for that particular device, repeating this process for each of the audio device including the built-in iPhone speakers.
The redesigned EQ screen concept has been well received on Reddit where users have also requested Apple to make it easier to access the EQ settings page. Currently you have to go to Settings -> Music -> EQ to access the page. Having shortcut access to EQ settings page from within the Music app will be much more convenient and make it possible for users to quickly change EQ settings on the fly.
While we are at it, it would be cool to have iTunes-style custom EQ settings feature that would allow users to create their own equalizer settings. Perhaps Apple could take inspiration from this iOS tweak that brings full Equalizer to iPhone.
What do you think about this concept? Should Apple implement this in a future version of iOS? Let us know in the comments section below.
Disclosure: iOSHacker may receive a commission if you purchase products through our affiliate links. For more visit our privacy policy page.