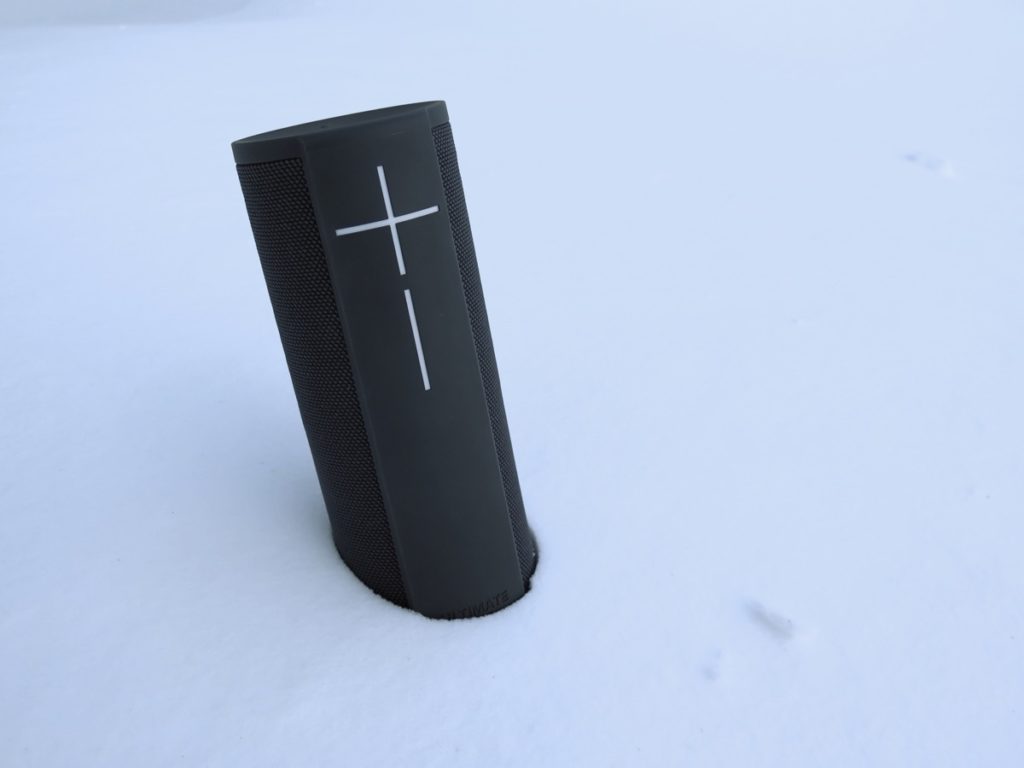 The UE MEGABOOM was my favorite wireless speaker, thanks to its superb battery life, incredible sound, and solid Bluetooth connectivity. One thing I always thought was how the shape of the MEGABOOM bore a resemblance to Amazon's Echo device. I thought it would be great to have Alexa built into it, but being that it was a Bluetooth speaker and Alexa depends on the internet, I didn't think it was going to happen.
Happily, Logitech proved me wrong with the UE BLAST and MEGABLAST speakers, which were recently released. These new speakers now feature Amazon Alexa. Is this new feature worth the higher price tag? Let's find out.
What's In The Box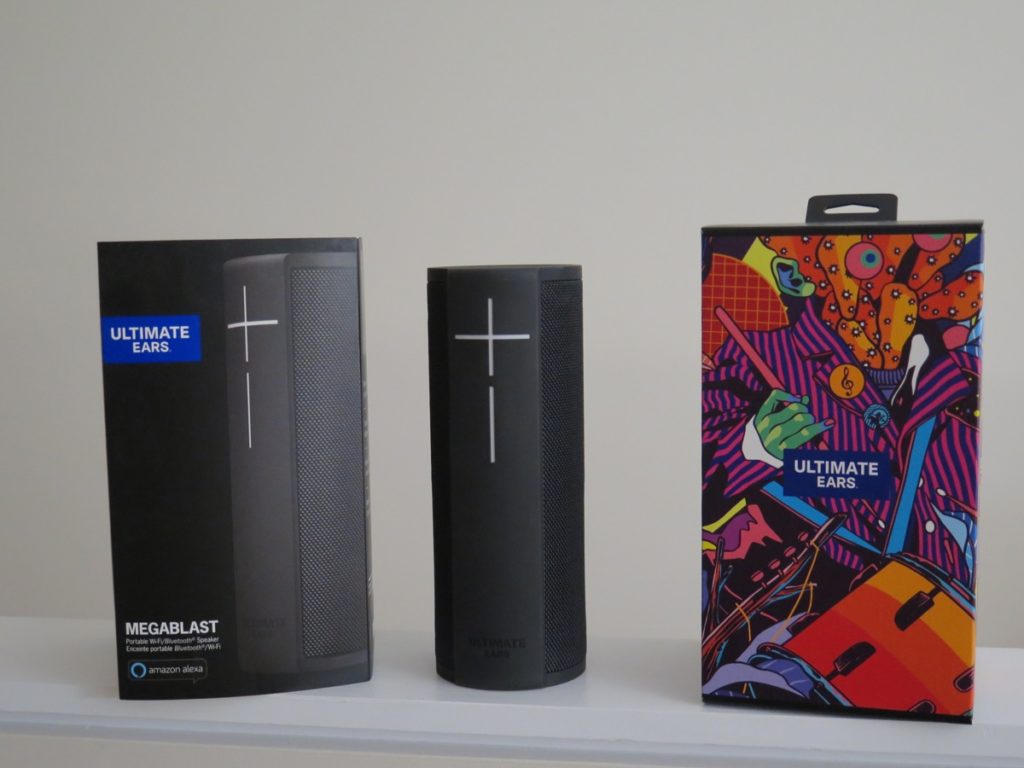 Included in the box of the MEGABLAST is the speaker itself, a micro-USB cable, and a power adapter. The color of the cord and wall brick is now white, which matches the large volume buttons on the speaker, which is an improvement in my opinion compared to the yellow ones that were included with the BOOM speakers. As soon as your turn on the MEGABLAST, you can tell its something special. The bongo sound that was present upon startup is still here, but its louder and packs much more bass. The look of the speaker is quite similar to the MEGABLAST, however, it's a bit bigger, taller, and heavier, with the design being less rounded. Overall, the design feels like a nice refinement over the MEGABOOM.
Setup
Setup is pretty straightforward. You first start by downloading the Ultimate Ears app. (This app works with both the BLAST and MEGABLAST speakers, as opposed to having separate apps for each speaker. I noted this before in my BOOM 2 review, so I'm glad to see Logitech combine the apps into one.) Once you connect to it through Bluetooth, you then connect it to your Wi-Fi network. Ultimate Ears ditched the headphone jack in favor of Wi-Fi, which not only allows Alexa to function, but it also gives you the opportunity to allow the speaker to download firmware updates automatically. Once connected to Wi-Fi, you can then link the speaker to your Amazon account if you wish to use Alexa.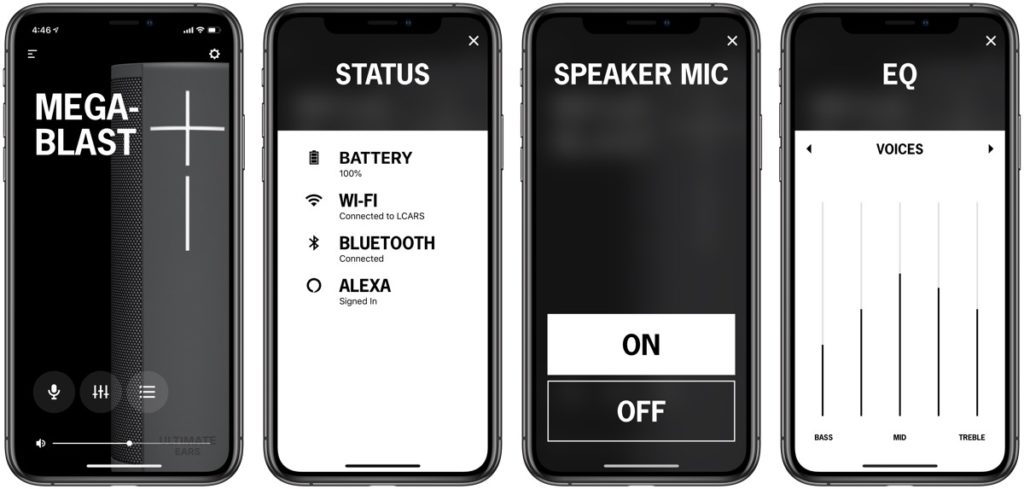 The app gives you access to an equalizer, letting you select from a variety of presets, or if you prefer, allowing you to tweak it yourself. You can also adjust the volume of the speaker and disable the microphone. Sadly, you can not turn the speaker on or off like you could with the MEGABLAST speaker.
Performance
As a Bluetooth speaker, the UE MEGABLAST is amazing. If you thought the MEGABOOM was loud, just wait until you try the MEGABLAST. It can reach a very high volume and has booming bass. The sound easily can easily cover a room, and it's great for use outside too. In fact, Ultimate Ears encourages you to use it outside, since it has an IP67 water and dust rating, which means you can submerge it in a meter of water for 30 minutes.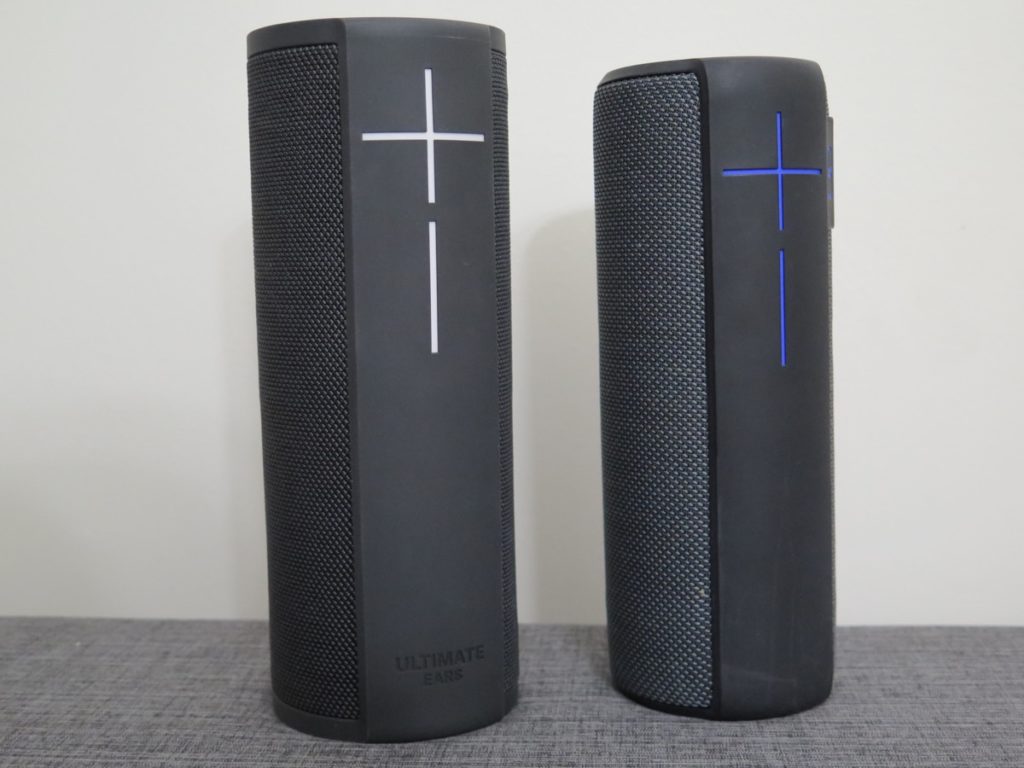 The main new feature of the MEGABLAST compared to the previous speakers though is Amazon Alexa integration. In case you don't know what Amazon Alexa is, it's a virtual assistant, just like Apple's Siri and Google's Assistant. You can ask it for things like the weather, the latest headlines, setting reminders and timers, playing music, controlling smart home devices, and much more. The great thing about having it built into the speaker is that you don't need a phone or computer nearby to play music. You can simply ask Alexa something like "play 80s music" or "play some slow jazz", and Alexa will start playing it. It's very convenient and makes it feel like pulling out your phone to select the music you want to play feel inconvenient. The microphone is excellent, with it hearing my across the room while speaking quietly. When the volume is cranked it won't be able to hear you, but you can give the Bluetooth button a simple press to momentarily mute the audio and speak to Alexa. Unfortunately, since the speaker is not a native Amazon product, Alexa has some limitations, just like any other third-party Alexa device.
Limitations
For starters, you cannot change the wake word on the MEGABLAST. I personally prefer using the wake word "Computer", but it's not a deal breaker. This might be more of an issue however if you or someone else in the household bears the name Alexa, or one that sounds like it. The communications feature doesn't work with third-party Alexa devices, so you can't use it to place calls or as an intercom. Also, Apple Music was recently released on Amazon Alexa, but it only works on native Amazon devices, so you can't use Alexa to play Apple Music on your MEGABLAST.
Amazon has said it will enable Apple Music on third-party devices in the future, but at the time of this writing, this feature has not been released yet. It still works fine with other music services, such as Spotify and Amazon Music. On one occasion, I set an alarm and received a response that it was set, but later on, I asked for the status of the timer and Alexa stated that no timers were set. To be fair, most of these things are the fault of Amazon, not Logitech or Ultimate Ears, and they could be fixed via software in the future, but it is worth considering before you decide to buy it. Thankfully, Amazon does have a good track record, as it enabled ESP (Echo Spatial Perception, where it will automatically detect the closed Alexa device to you and only let that one respond to your query) on third-party devices earlier this year.
Wireless Charging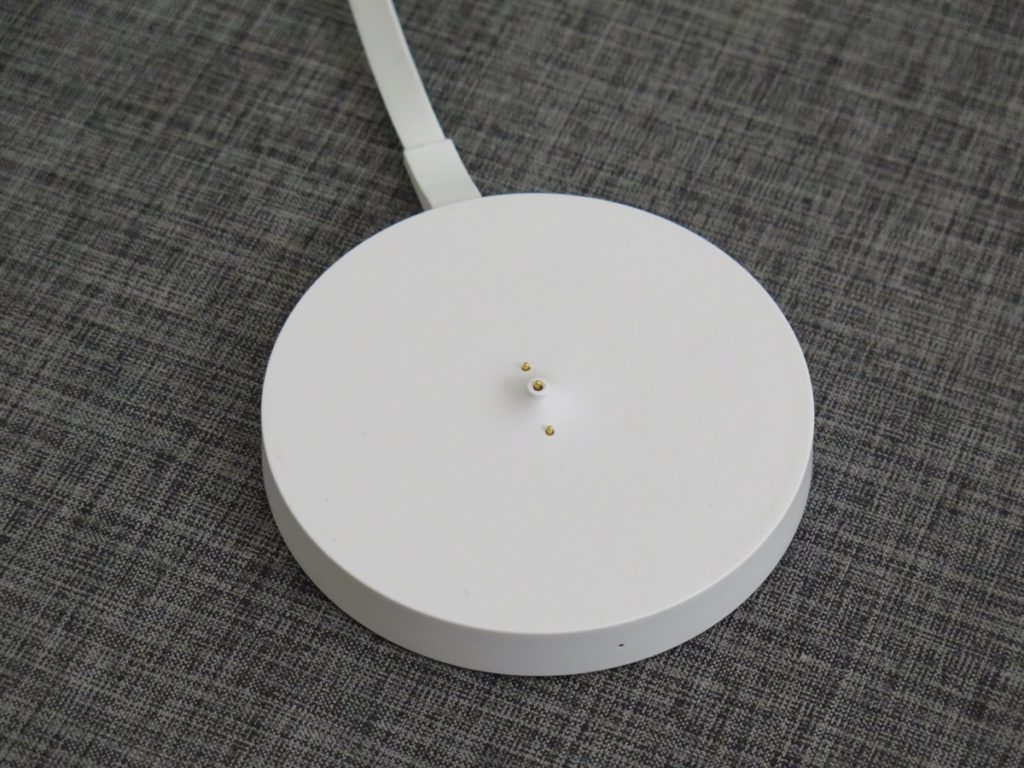 The greatest feature of the UE MEGABLAST, in my opinion, is not the louder sound or Amazon Alexa integration, but rather, support for a new accessory that was released alongside the BLAST speakers, and that's the POWER UP dock. The POWER UP dock is a basic, minimalistic dock that can charge your speaker wirelessly. Simply remove the D-ring from your speaker, and replace it with the one included with the POWER UP dock. Now, you can simply place the MEGABLAST on the dock and it'll begin charging. This, to me, is the greatest feature of the MEGABLAST. If your speaker remains mainly stationary, you'll never need to charge it, since it's always topped up. When you do remove it from the dock to use it somewhere else, the battery will be fully charged and ready to give you an estimated 16 hours of playback. The MEGABOOM had an estimated 20 hours of music playback, so it appears that Alexa takes its toll, but you could squeeze more by disabling the mic, which can be done pressing both the volume down and Bluetooth button simultaneously, or by selecting it in the app. Also, while using it on my Mac, I sometimes encountered a bug that would cause the speaker to disconnect, in which case I would need to repair it with my Mac.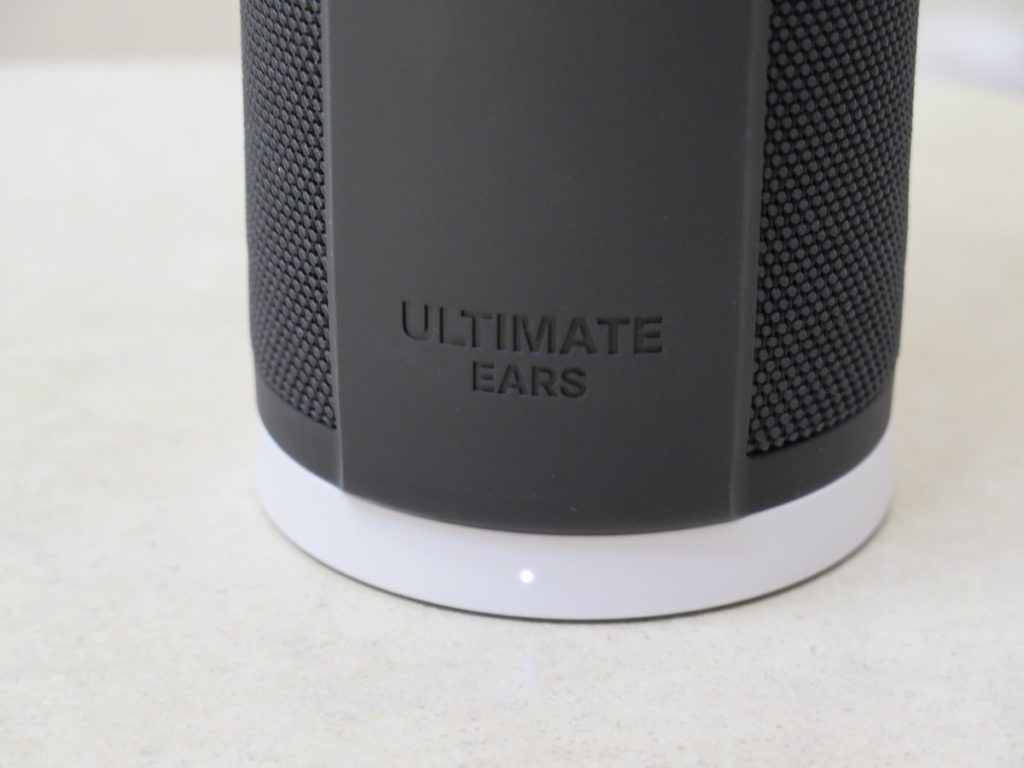 My MEGABLAST remains mostly stationary on my desk, so I absolutely loved the POWER UP dock. With the MEGABOOM, I hardly ever had to charge the device. With the MEGABLAST, I never needed to think about charging it. Seriously, if you already have a UE speaker, this feature alone could warrant an upgrade. I was a bit disappointed that UE decided to go with micro-USB instead of USB Type-C, but quite honestly, I didn't care after using the POWER UP dock. I even wouldn't have minded if Logitech went with their own proprietary connector since I never plug a cord into the speaker (although I'm glad they didn't, in case you're on the go and don't have the dock with you.)
Verdict
Sadly, while the MEGABLAST adds some great new features, it also removes a lot when compared to the MEGABOOM. Let's start with the app. As mentioned, the app used to manage the MEGABLAST is fairly basic. You can view and change basic settings on the device, and you can tweak the sound with an equalizer, but that's about it. With the MEGABOOM however, not only do you have these features, but you also have a musical alarm function, remote on/off control, the Block Party feature which allowed you to DJ with two friends, and the PARTYUP feature, which allows you to pair up your speaker with over 150+ BOOM and MEGABOOM speakers. The MEGABLAST currently doesn't have ANY of these features. The ability to pair it up with up to 8 BLAST speakers is promised to be released in 2019, but I can't help but feel like, in terms of features, the MEGABLAST is a bit of a downgrade.
That being said, if you don't care about those features, then you'll love the UE MEGABLAST. It's great being able to control it with Alexa, and the sound it outputs is simply incredible. If you already have a UE speaker, it's probably not worth upgrading, since you only gain a few features at the expense of losing more. A good substitute seems to be the BOOM 3, which allows for wireless charging while retaining most of the features of the previous BOOM series. However, if you're looking for the greatest speaker Ultimate Ears has to offer in terms of sound quality, you won't find anything better than the MEGABLAST.
The UE MEGABLAST is available in a variety of colors and retails for $249, with the smaller BLAST speaker retailing for $179. You can also grab the POWER UP wireless charging dock for $39. What do you think of the UE BLAST speakers? Is having Amazon Alexa worth giving up some of the features present on the BOOM lineup? Let us know in the comments down below!
Disclosure: iOSHacker may receive a commission if you purchase products through our affiliate links. For more visit our privacy policy page.