In this buying guide we have shared a list of 5 best cases for Apple Pencil 2 that you need to consider buying. These awesome Apple Pencil 2 cases not only protect your stylus but they also help in improving its grip.
All of the Apple Pencil 2 cases protect the device without adding bulk to the device. In fact they make using the Pencil with iPad even more fun and prevent your wrist to getting tired.
Using an Apple Pencil 2 without a case on has many disadvantages. The first and most important disadvantage is that your device will not be protected if you drop it and it will get easily scratched and damage.
Another big reason why many users should get a case for Apple Pencil 2 is adding a silicone case to it will help with the grip and make the Pencil softer to hold.
All of the Apple Pencil 2 cases that are listed in this post support magnetic charging, allowing you to easily stick the Pencil on iPad's side for recharging. This means you do not need to remove the case every time you need to charge the Pencil or you want to attach it to the iPad for safe keeping.
So without any further ado, here's our list of the best cases for Apple Pencil 2 every iPad user should consider.
Best Cases For Apple Pencil 2
Here are the best cases for Apple Pencil 2nd generation that you can buy right now. This includes protective cases from Uppercase, MoKo, Eletiuo, Elago and Hom Leapartd.,
1. UPPERCASE Designs NimbleSleeve Silicone Case for Apple Pencil 2
This sleek NimbleSleeve protective case for Apple Pencil 2 keeps it stylish while offering added comfort with its silicone surface. And if you need to protect it, UPPERCASE's protective cases for Apple pencil 2 are a good choice. It gives the pencil complete coverage against dirt and dust; its strong grip prevents accidental drops.
Its premium silicone body has a soft finish and feels great with ultimate ease of use. Its magnetic charging compatibility along with the double tap feature makes it one of the best cases for Apple Pencil 2. Its slim body makes your creative work easy and comfortable as it sits perfectly in your hands.
You can buy the UPPERCASE Designs NimbleSleeve Premium Silicone Case for $8.95 here.
2. MoKo Holder Case For Apple Pencil 2
MoKo's Apple Pencil 2 covers are exclusively designed to protect it from wear and tear, dust, and shocks. Its unique retractable design helps you retract the tip of your pencil into the case in order to protect it from any accidental damage when not in use.
Its beautiful, sleek, and ergonomic design gives a secure and comfortable grip. Its soft exterior layer offers you an enjoyable experience without disturbing your creative projects. Its multi-functions include an integrated clip design that enables you to clip it on your bag and carry it around.
Its surface also prevents the pencil from rolling on smooth or angled surfaces. And when it comes to installing or removing the case, it becomes upper easy through its pin pusher.
You can buy the MoKo Holder Case for Apple Pencil 2 for $9.30 here.
3. ELETIUO Cute Ear Silicone Case Cover for Apple Pencil 2
If you are looking for some cute pencil cases, ELETIUO's offers stylish and cute protective cases for Apple Pencil 2. This silicone ear case is exclusively designed to protect your Apple Pencil 2. Its environment-friendly soft silicone surface is super-convenient to hold and use without any hurdles.
This nice-looking case with a comfortable and non-slippery grip is one of the best cases for Apple Pencil 2. Its double-sided shape is ergonomic and thoughtfully designed to provide relief to your aching hands. This can be a cute Christmas or birthday gift to your friends and family.
In addition to the cute design, it is quite easy to install and remove this case. You simply need to push the pencil slowly into the case and that's it. its complete 360 coverage protects the pencil from all sides and prevents it from rolling away on surfaces. Moreover, the tip cover prevents making sounds when you draw or write on the screen. And when it comes to charging, its thin design is wireless charging-compatible and magnetically attaches to the iPad Pro.
You can buy the ELETIUO Cute Ear Silicone Skin case for $5.99 here.
4. Elago Classic Pencil Case for Apple Pencil 2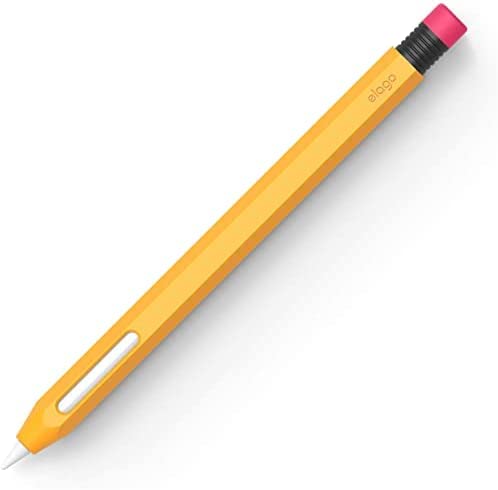 Elago's Apple Pencil 2 cases will make you recall your school days! The design is classic yet ergonomic. Elago's cases are compatible with iPads having pencil cases or holders. In order to provide you with the best quality, its surface is made up of premium quality silicone. This protective case for Apple Pencil 2 prevents it from scratches and wear and tear from daily use.
Its amazing grip keeps the pencil securely in your hands to prevent any accidental drops. Its surface is wireless charging compatible meaning there will be no interference in charging your pencil with the case on. Its protective cap at the other end keeps its edge secured. for pencil users, this is can be a perfect birthday present!
You can buy the Elago Classic Pencil Case for Apple Pencil 2 for $10.49 here.
5. Hom Leopartd iPad Pencil Case for Apple Pencil 2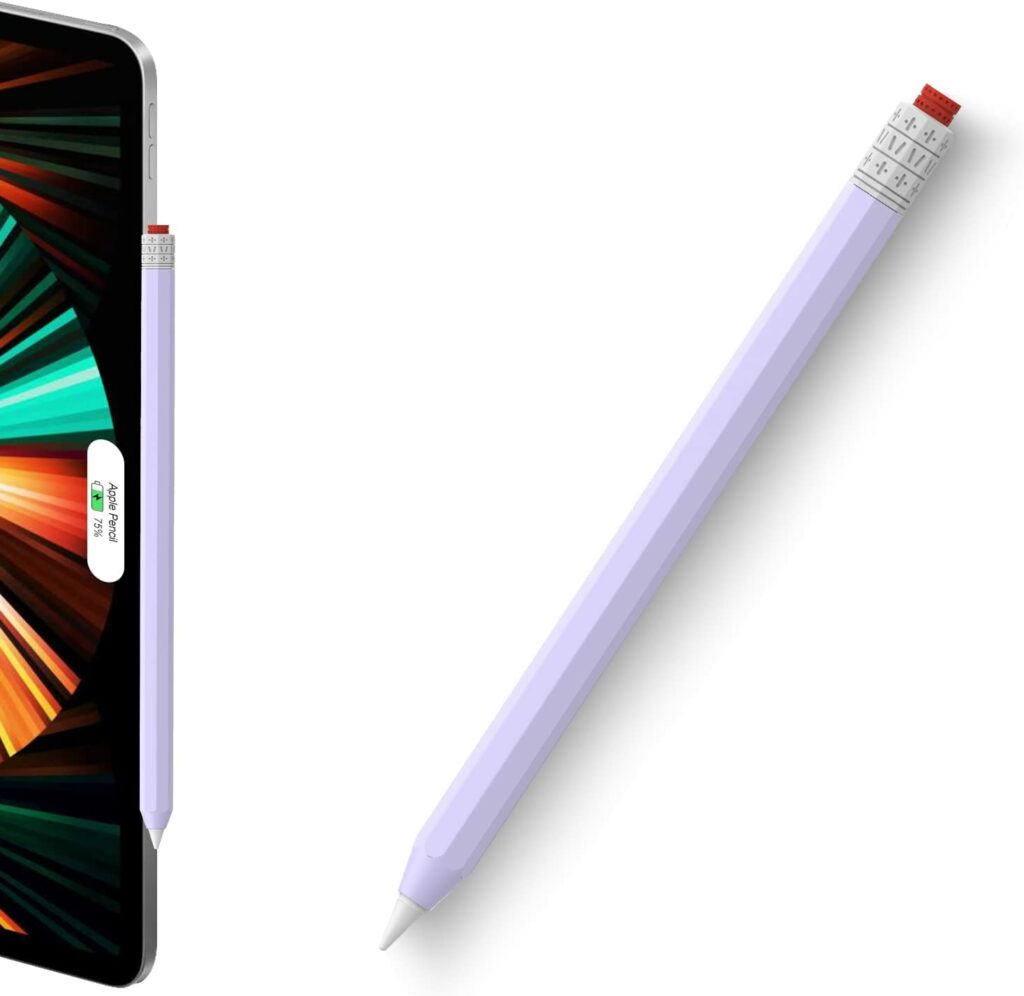 Hom Leopartd's cases are one of the best cases for Apple Pencil 2 made up of high-quality silicone. Although it is magnetic charging compatible, however, with your iPad covered, this charging will be affected. Hom Leopartd's Apple Pencil 2 case does not interfere with magnetic charging.
Its ultra-thin silicone sleeve gives a better grip; it is lightweight and lasts longer. The ergonomic design of this case retains the original performance of your Apple pencil. In order to keep your pencil stylish and classy, this personalized case should be your go-to choice.
You can buy the Hom Leopartd iPad Pencil Case for $6.99 here.
Which of the above-listed Apple Pencil 2 covers did you like the most? Share with us in the comments section below.
For the latest Apple gadgets, accessories, and tech updates, stay tuned to iOSHacker.com.
Looking for more iPad accessories? Then check out the lists below.