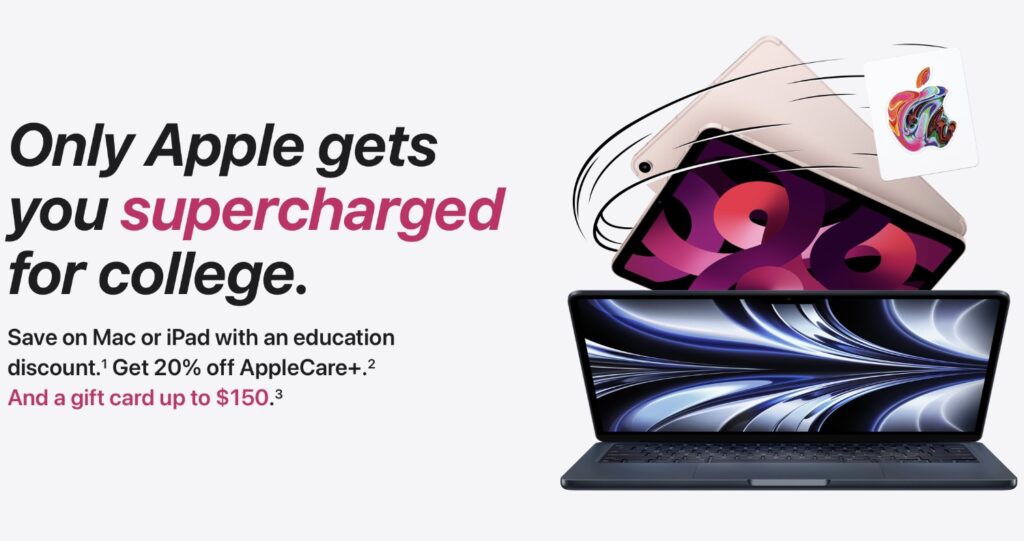 Apple's 2022 Back to School promotion is now live. The promotion will allow students, educators and staff an opportunity Apple gift cards on their purchases from Apple's Education Store.
Apple has launched the Back to School promotion with "Only Apple gets you supercharged for college" tagline. The company is offering the following rewards with eligible purchases from the Education store.
Customers purchasing a Mac will get a $150 Apple gift card
Customers purchasing an iPad will get a $100 Apple gift card
Customers can use the Apple Gift card to purchase anything they like from the store. This year Apple has changed its gifting policy, as it is offering gift cards to the customers rather than giving them free AirPods or Beats headphones like last year and a year before that.
While this offers more flexibility to buyers and is good for those who do not want a pair of AirPods, it also brings down the value of the gift from $159 to $150. So if you wanted a pair of AirPods you will have to pay the difference in value.
The Back to School promotion is offered on top of discounts that were already available to users. Customers buying Macs and iPads from the Education Store are also eligible for 20% discount on AppleCare and a $100 discount on Mac and $50 discount on iPad Pro and iPad Air.
The promotion will run from June 24 through September 26 in the US. Dates may vary in other countries.
Which Mac models are included in Back to School promotion in 2022?
Apple is offering the Back to School 2022 promotion on MacBook Pro, MacBook Air and iMac. Those buying iPads will be able to take advantage of this offer on iPad Pro and iPad Air.
Apple is offering the promo on MacBook Air, MacBook Pro, and iMac plus the iPad Air and iPad Pro. It runs from today June 24 through September 26 for US customers (other dates and details may apply for other countries).
Even though the new 2022 MacBook Air isn't available, Apple is linking to it so customers don't accidentally buy the 2020 M1 MacBook Air without realizing the new M2 is arriving in July.
Disclosure: iOSHacker may receive a commission if you purchase products through our affiliate links. For more visit our privacy policy page.