A good iPhone car charger is one of the most essential iPhone accessories that every smartphone user needs. Luckily there are plenty of best iPhone car chargers that you can consider buying.
There is no doubt that our smartphones nowadays are a permanent and pervasive part of our lives. Our phones are always at our fingertips, whether we need them for navigation or emergency purposes.
It has thus become essential for us to have a charging option, even on the go. That's why we have compiled this list of the best car charger for iPhone.
Best iPhone Car Chargers
Here are some best iPhone car chargers within your budget that you might want to consider.
1. Anker Mini 24W Dual USB Car Charger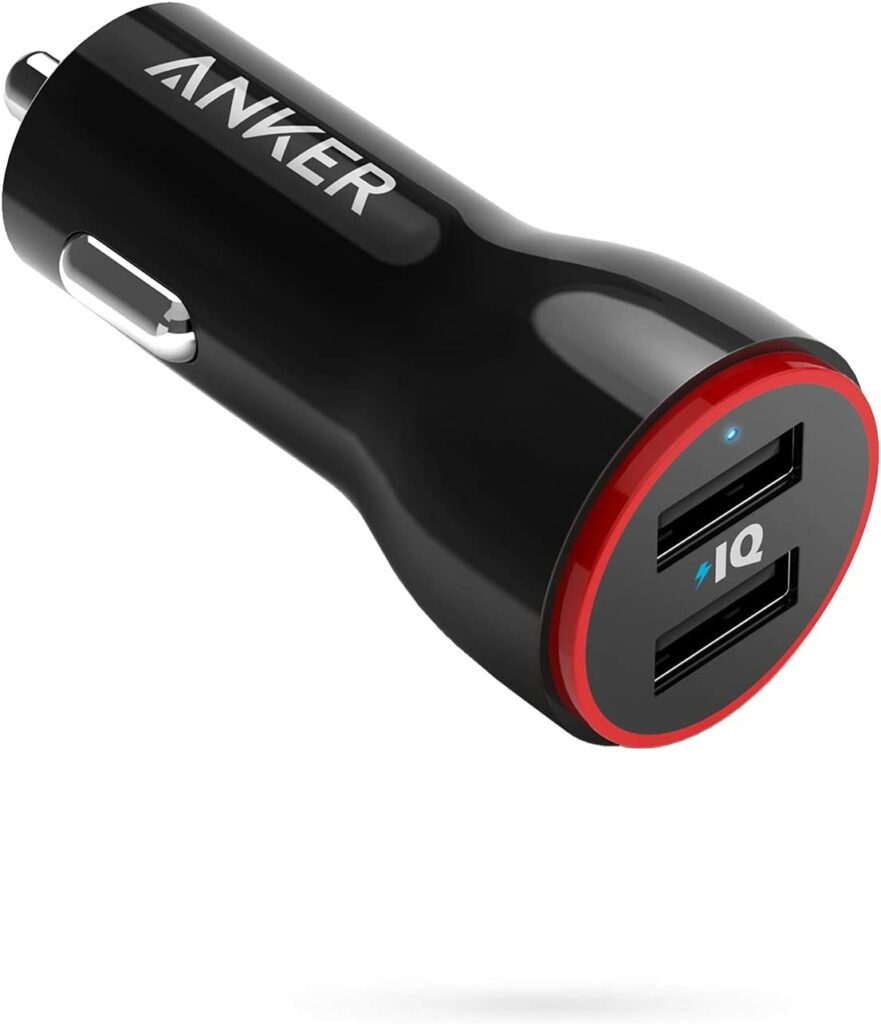 The Anker is one of the leading USB charging brands in the USA with over 50 million+ satisfied customers.
A combination of PowerIQ and VoltageBoost provides the fastest charging up to 4.8 amps or 2.4 amps per port. However, the USB is not compatible with Qualcomm Quick Charge. Its MultiProtect safety system ensures that you and your devices are protected at all times.
Moreover, it has a compact design with an LED light. So, you can carry this smallest iPhone car charger with you anytime and anywhere.
Click here to purchase Anker Dual USB Car Charger for $13.99
2. UGREEN USB C Car Charger
UGreen USB C apple car charger allows you to achieve quick charging with your PD-enabled devices with a power of up to 20W via the PD connection. Generally, it takes half an hour for your cell phone to be fully charged by 60%.
Two devices can be charged simultaneously with the UGREEN car charger adapter, which is equipped with a power delivery USB C charger and a Qualcomm Quick Charge 18W base. When charging two devices with the massive power input, its built-in smart chips distribute power automatically between each port to prevent damage to your devices.
This product is constructed from an aluminum alloy that is scratch-resistant, heat dissipative, lightweight, attractive, and durable. Besides, the compact design lets it sit flush with the cigarette lighter, saving space to the maximum.
Click here to purchase UGREEN USB C Car Charger for $13.99
3. Anker Alloy 24W Dual USB Car Charger
A pair of USB-A ports provides a total of 24W of charging power, enough to charge two phones at once at full speed. But it does not support Qualcomm Quick Charge.
The gold-plated circuitry reduces heat while charging, allowing for fast and efficient charging. Due to its small size, the car charger conserves space on your dashboard, allowing you to use it seamlessly.
The best part is it features a scratch-resistant aluminum alloy surface to match even the most pristine interiors of your car.
Click here to purchase Anker Dual USB Car Charger for $12.99
4. Syncwire Smallest USB C & USB Car Charger
The Syncwire USB-C Dual Port Car Charger features the smallest 30W power adapter, compatible with iPhone 13/13 Pro/13 Mini/12 Pro/12/X, Galaxy S21/20, Pixel, iPad, and GPS. A small car charger can be plugged into the cigarette lighter of any vehicle model that operates on DC 12-24V power.
The USB C car charger is compact, has a double pull ring design that allows for one-handed operation, and is easy to plug and unplug. As soon as you push it in, it fits flush with the face of the console, and it comes with a foldable handle so that you can easily pull it out.
This car phone charger features a zinc alloy metal body & a smart chip that is scratch-resistant, have exquisite textures, and lasts for a long time. In addition, the gold-plated circuit suppresses heat generation during charging and prevents overcharging, overheating, and overcurrent.
Click here to purchase the Syncwire Smallest USB C & USB Car Charger for $15.99
5. 45W 4 Ports Super Fast Car Charger Adapter
45W multi-port charger adapter is equipped with 1 USB C port and 3 USB A ports. With a 3.0 port and 30W/max output, it charges iPhone 13 Pro max from 0-50% in just 25 minutes, which is 3X faster than a 2.1A charger. Also, most Android devices can be charged from 0% to 60% in 35 minutes with the QC 3.0 port, which outputs 18W.
An LED light indicates whether the USB cigarette lighter adapter is connected to a power source at a glance. In addition, it emits just the right amount of light, allowing you to charge your devices in the dark without being too distracting.
Featuring an intelligent circuity safety system, the FLYLEAD car cigarette lighter fast charger protects against short circuits, overheating, overcurrent, and overcharging. The USB car charger can automatically detect devices you plug in and distribute the best charging efficiency to them.
Click here to purchase 45W 4 Ports Super Fast Car Charger Adapter for $16.77
6. Syncwire iPhone Car Charger
Combining a lightning cable and USB port, the Syncwire Lightning car charger can charge two devices simultaneously with a max output of 4.8a, and the output is automatically adjusted based on the device installed on the car charger.
The cable can extend 3.9ft (1.2M) if coiled tightly, and naturally extends approximately 1.3ft (0.4M), with great shape retention!
Syncwire iPhone car charger is UL, CE, and FCC certified and fits all vehicle models with DC 12-24V input. In addition to its sturdy polycarbonate shell and its built-in "smart IC", the car adapter also features a thermal material design that prevents it from overheating and over-charging the devices.
Click here to purchase Syncwire iPhone Car Charger for $19.99
Summing up
We have included only the best car charger for iPhones in the list that suits all tastes and budgets. However, it is suggested to for the one that also fulfills your requirements seamlessly.
Please share your thoughts on any iPhone car charger you have used in the comments section below.
More iPhone Accessories