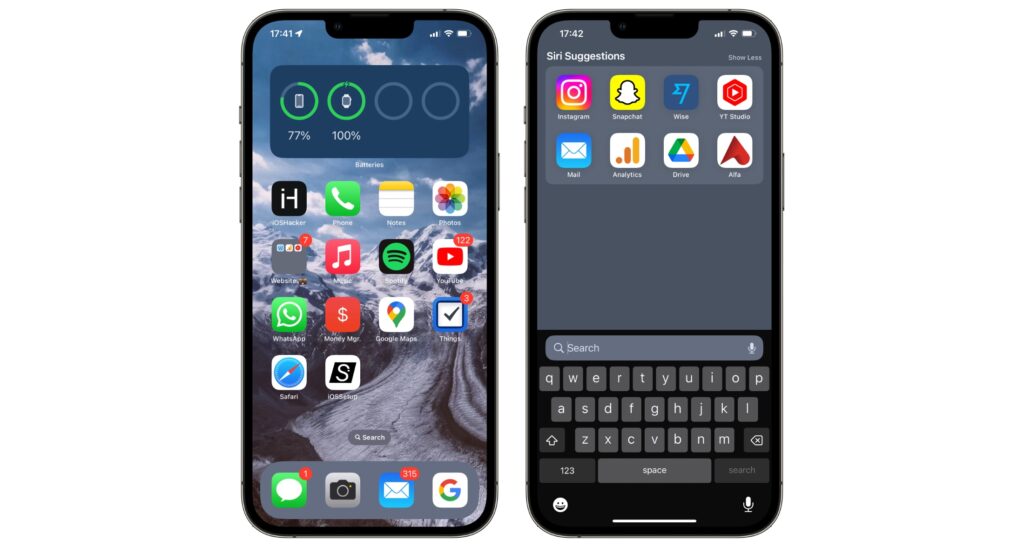 The new iOS 16 update makes Spotlight search on iPhone and iPad more powerful. On iOS 16 or later Spotlight offers amazing new features like image search, easier access, rich results and more.
Today we are taking a look at all the cool new features that have been added to Spotlight search with iOS 16 and iPadOS 16.
Spotlight on the home screen
With iOS 16 Spotlight search has received a more prominent position on iPhone's home screen. Previously Spotlight search was accessible with a swipe down gesture and through the left most widget page.
On iOS 16 users can also access Spotlight using a dedicated Search button that is found right underneath the home screen icons.
The Search button replaces the page dots until user swipes right or left. When you tap on the new home screen Search button you can access the Spotlight search page and perform searches.
Ability to perform image search in more apps
Spotlight search's image search feature expands to new apps and now includes Messages, Notes and Files. Users can now type up their queries and Spotlight will search for them from images found in these apps.
Spotlight can search for locations, people, scenes, text in images and for subjects like dog or a car.
Perform useful quick actions
On devices running iOS 16 or later users can now use Spotlight search to quickly start actions like starting a timer, turning on a Focus mode, finding the name of a song with the help of Shazam, run shortcuts and more.
Users can quickly search for an app's name and find all of its shortcuts right in the search results.
Better Rich Results
Now users can receive richer search results when they perform a search related to sports leagues, sports teams or businesses right in the Spotlight search.
Start Live Activities
Users can quickly start live activities such as tracking a sports game right from a spotlight search.
Siri Suggestions are better
On devices running iOS 16 or later Spotlight presents better Siri Suggestions by showing recent searches so users can quickly revisit a previously perform search. Siri Suggestions can also consider context making searches faster.
More iOS 16 features
Disclosure: iOSHacker may receive a commission if you purchase products through our affiliate links. For more visit our privacy policy page.