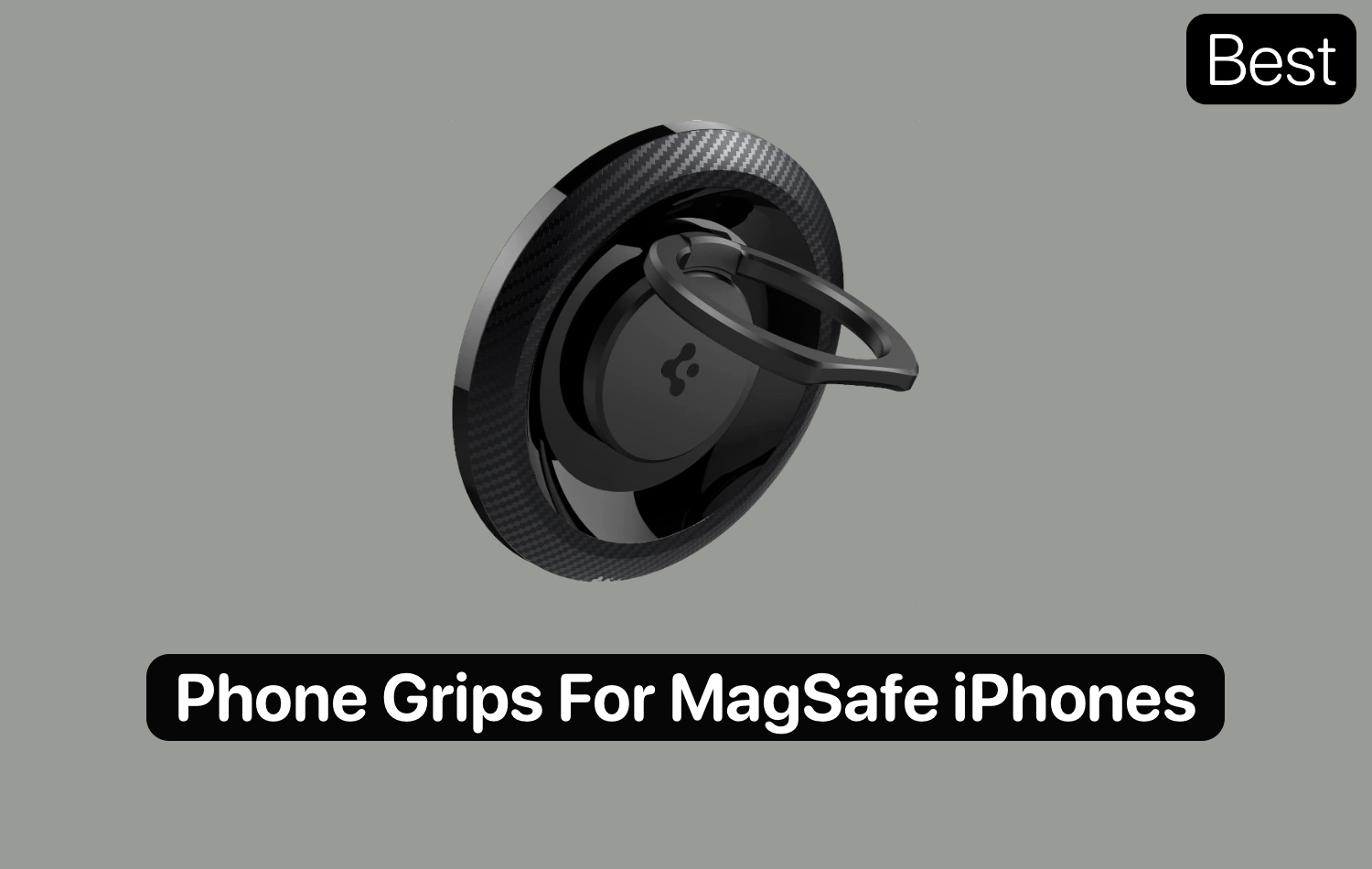 iPhone phone grips are a life safer and you cannot deny it. If you are looking for one, then we have listed some of the best MagSafe iPhone grips for 2023 here.
Are our hands getting any bigger with time? No. But our phones are and that is a major problem – especially for those of us who are not direct descendants of Elastigirl.
While as normal boring humans, we cannot stretch our limbs at whim. We did, however, come up with a smart solution for the grip problem. Phone grips (or pop sockets as I lovingly know them).
The best phone grips allow you to take selfies that don't blur, send text messages with one hand, watch videos by setting up the phone in one place, and even allow MagSafe charging.
All pop sockets help with better phone grip, but only a selected few are compatible with MagSafe and actually worth buying. Here are our top seven picks:
1. PopSockets Phone Grip Compatible with MagSafe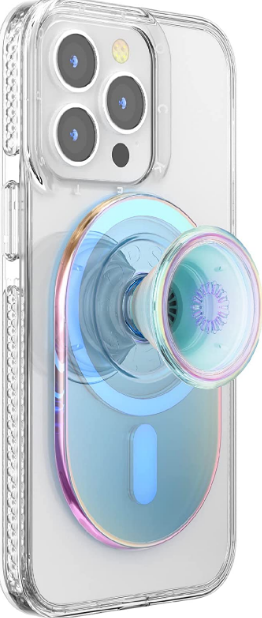 My personal favorite and for the right reasons, the PopSockets phone grip is one of the best MagSafe pop sockets for iPhone.
The Magsafe-compatible "PopGrip" comes with a magnetic mount and securely and easily attaches to your MagSafe-compatible case. To wirelessly charge your phone, just slide off the magnetic PopSocket and set your phone on the charging pad.
No more committing to permanent phone grips, this one not only slides off easily but also comes with a swappable top. If your style changes, you don't need to replace the whole grip. Just swap out the top for a PopTop of your choice.
The anti-drop PopGrip allows you to single-handedly use your phone while you conquer other battles with your other hand.
Buy the PopSockets Phone Grip Compatible with MagSafe for $28.00 here.
2. ESR Magnetic Phone Ring Holder (HaloLock)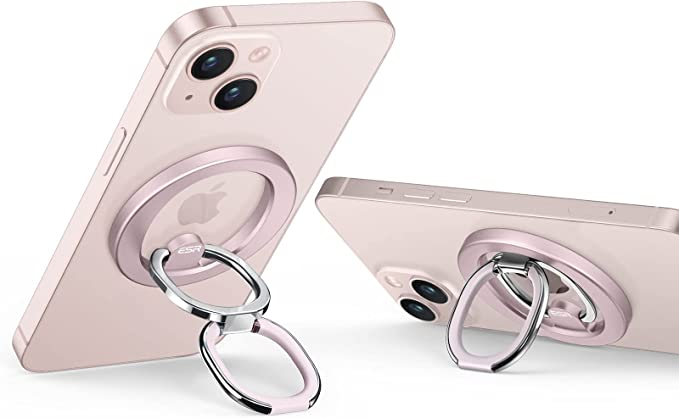 With a sturdy magnetic phone grip, the ESR Magnetic Phone Ring Holder comes with an adjustable stand and a strong magnetic lock.
The MagSafe phone grip for iPhone is made out of zinc alloy and TPE lining and packed with magnets that boast a holding force of 1200g. This means you can go caseless without worry that the ring may come off.
Those of us who love to watch videos on our phones know the struggle of holding the phone.
With the ESR ring holder, you can enjoy hands-free viewing in either portrait or landscape mode and adjust the dual joint design with a 360° ring of magnets as you like.
Buy the ESR Magnetic Phone Ring Holder (HaloLock) for $18.99 here.
3. Anker Magnetic Phone Grip (MagGo)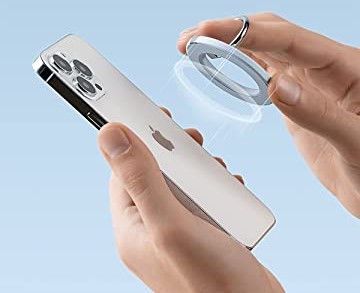 Magnetic, lightweight, and adjustable the 610 Magnetic Phone Ring Holder is your iPhone's handy sidekick that will never go awry.
The phone ring grip works best without a case or only with a MagSafe iPhone case which allows it to deliver on its lightweight promise. While the magnetic grip can hold up to 800g guaranteeing a secure and strong hold.
Rotate it 360° or flip it up to 125° to find the perfect angle or the most comfortable grip. You can also attach and detach it quite easily without having to deal with adhesive tapes and sticky residues.
Buy the Anker Magnetic Phone Grip (MagGo) for $12.97 here.
4. Spigen O-Mag Ring Magnetic Phone Holder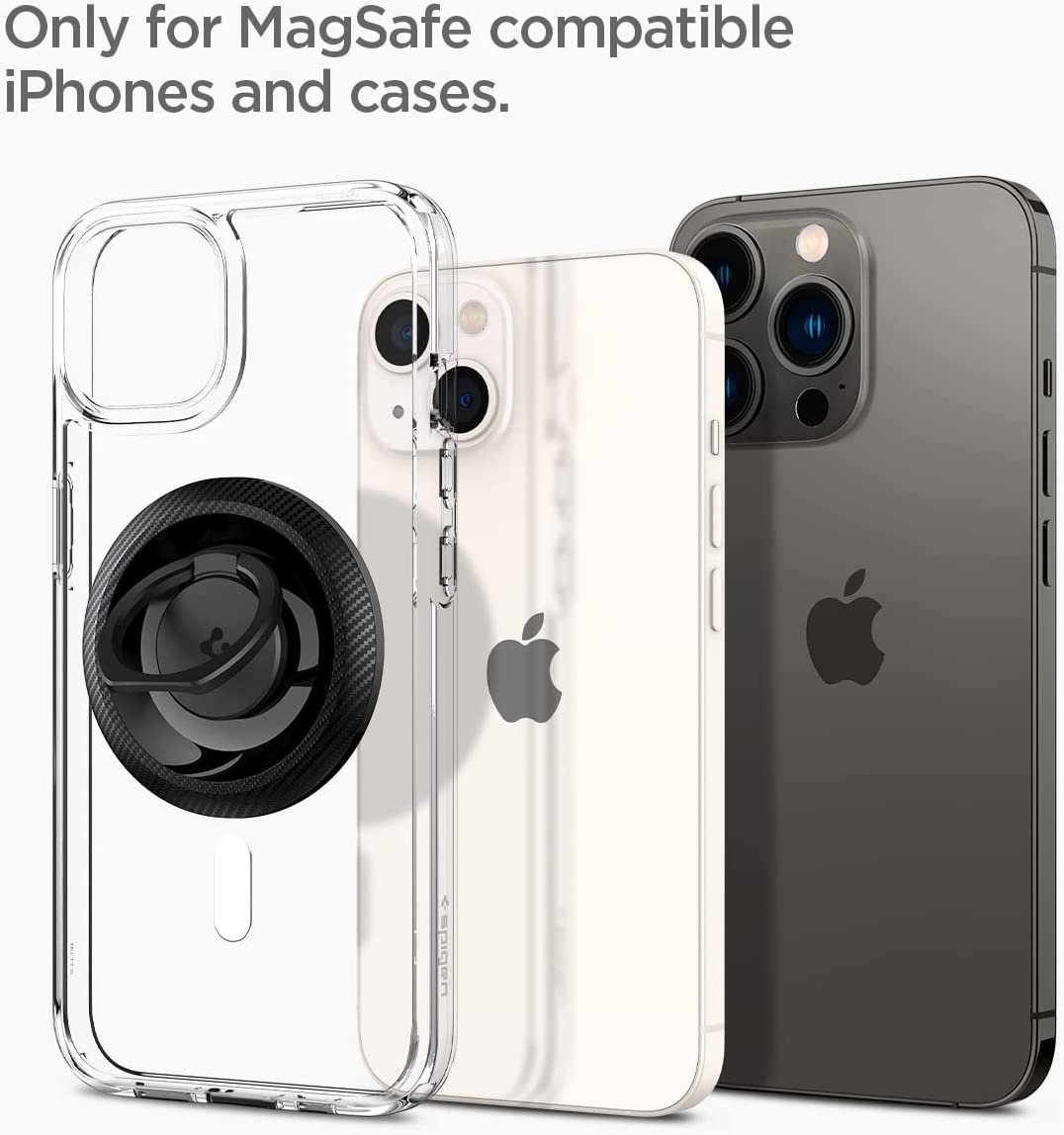 The Best phone grips for MagSafe iPhone should come with an anti-scratch design that takes away the worries of damaging the beauty of your iPhone.
Luckily, this minimalistic yet stylish Spigen O-Mag Ring Magnetic Phone Holder Grip offers exactly that.
The anti-scratch design provides a firm and comfortable grip and a 360° ring rotation to help you find the best angle. Say goodbye to sudden drops and slips and having to find something to support your phone when you want to go hands-free.
Just like the rest of the phone grips listed above, this one is super easy to attach and detach with a strong magnetic hold of 1300g.
Buy the Spigen O-Mag Ring Magnetic Phone Holder for $21.99 here.
5. Miss Arts Magnetic Phone Grip for MagSafe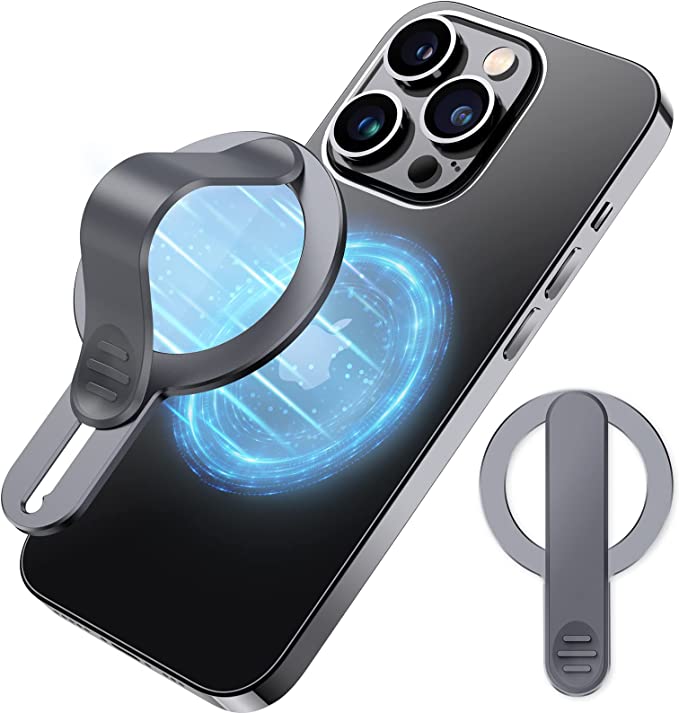 Like all good magnetic phone grips, the Miss Arts Magnetic MagSafe phone is all about improving the grip of your phone minus the bulk. The MagSafe accessory is made out of a lightweight and flexible silicone and aluminum material with built-in N52 Magnets.
This double agent acts as a kickstand when needed and the soft yet strong silicone ring ensures your phone does not slip away or drop.
Buy the Miss Arts Magnetic Phone Grip for MagSafe for $15.99 here. 
6. EWA The New MagOne Phone Grip Stand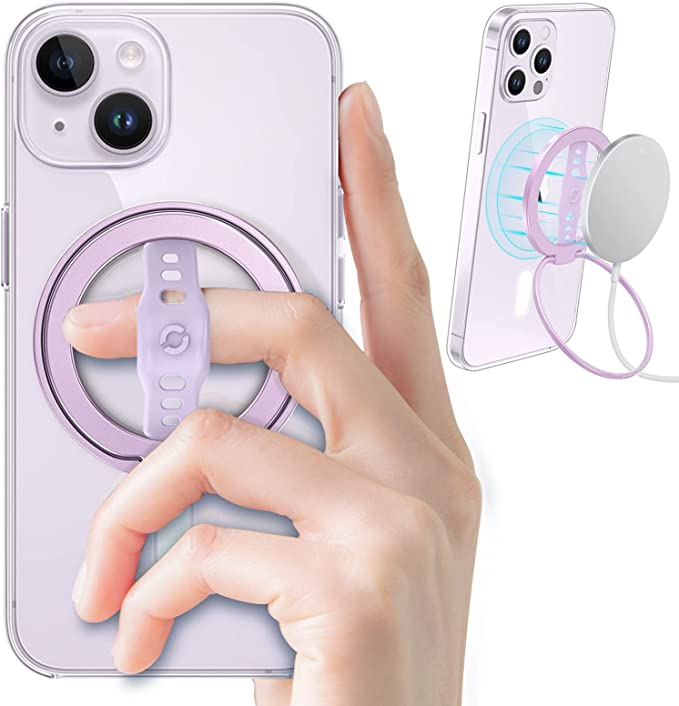 EWA The New MagOne phone grip comes with a super strong alignment of built-in N52 magnets guaranteeing a stick that is so firm that it won't drop out easily.
However, you will have to use it with an iPhone-compatible MagSafe case only as a traditional non-magnetic case will weaken the connection and not deliver on the strong grip promise.
The wide ring strap is made out of silicone which allows a more comfortable, non-scratchy grip compared to other materials. You can flip the hinge in and out 1000-3000 times before it starts losing only 20% of its tightness. It can also be adjusted in a landscape or portrait mode as per your viewing choice.
Buy the EWA The New MagOne Phone Grip Stand for $17.59 here.
7. Doflyesky Magnetic Phone Ring Holder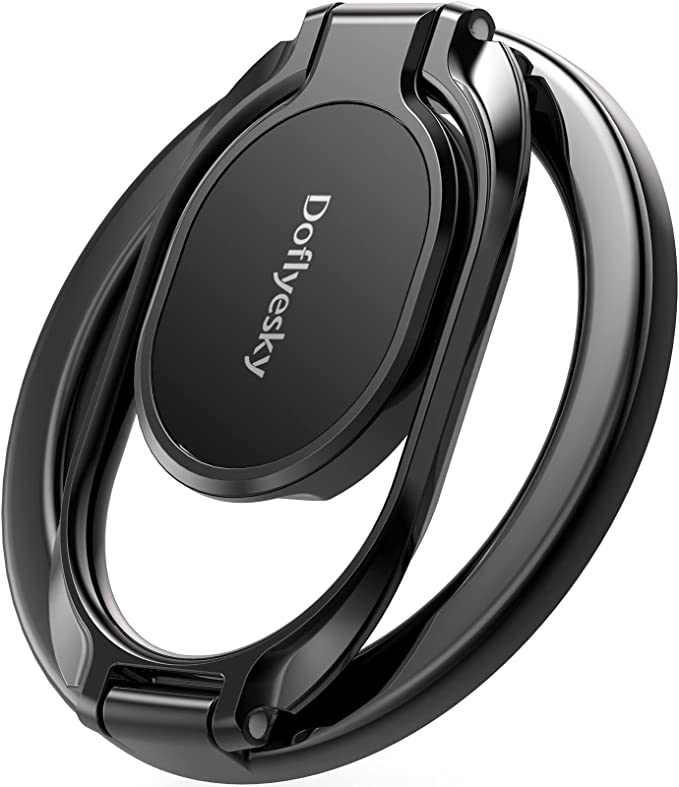 One of the best phone grips for the MagSafe iPhone, the Doflyesky Magnetic Phone Ring Holder is an indispensable accessory for anyone who owns an iPhone 14, 13, or 12.
The sleek and stylish phone grip comes in two modest colors: black and silver. Made out of zinc with all metal precision structure, the anti-scratch design, 360° rotation, and flip 280° feature allow you the most comfortable experience ever.
This phone grip is not only ergonomic, foldable, adjustable, and pocket-friendly, but can also attach to all things magnet. Be it your fridge, coffee machine, fitness equipment, and even your car, it will stick securely in place.
Buy the Magnetic Phone Ring Holder for $22.99 here. 
Ending Note
There are a ton of good reasons to buy a phone grip but the intensely competitive market may make the decision-making a bit exhausting.
Personally, I love PopSockets' PopGrips because they help calm down my commitment phobia by allowing me to try new designs whenever I want.
Whether you go for a ring phone grip or a PopSocket, any of the above-mentioned phone holders will make a handy grip for your iPhone.
What will you be choosing? Let us know in the comments below.
Check out more MagSafe accessories for iPhone: